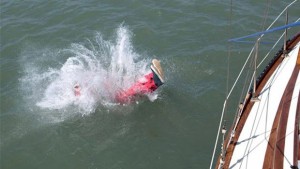 Falling overboard can occur unexpectedly and end tragically. Staying onboard is always a priority, but even the most experienced can find themselves off the boat. David James shares his experiences.
I write this while vigorously knocking on wood, but over the last 47 years or so I have not, personally, involuntarily left a keelboat and have lost only one crewmember (a mast-man during a busy gybe-set who we recovered promptly), but we have rescued six people from other boats and learnt some lessons. Freeboard plays a role in this story, so for reference the boat is a Lapworth 36 which you can accurately envisage as a 90% scale model of a Cal 40.
In the first instance, on the way back from Tinsley Island in Northern California we came across three men on a deserted San Pablo Bay in a blustery 30 knot Westerly against a 4 knot ebb kicking up a vicious chop. Their small fishing skiff had swamped, and they had been in the 53 degree water about 40 minutes – a robust teenage son, a middle aged father, and a portly grandfather.
None was wearing a PFD, and they had only an overturned bucket between the three for buoyancy. We got them aboard with great difficulty, with the helpless grandfather at the end of his figurative rope in approximately 50 pounds of sodden clothing. One of our crew, an extraordinarily fit ex-submariner who you would not want to meet in a dark alley, dislocated his shoulder getting grandpa over the rail.
After getting them down below, stripped, swaddled in blankets and revived with brandy (this was the 1970s), they seemed dispirited on the trip back to port rather than elated at their good fortune. It soon emerged that their black Lab had been on the skiff.
As a family of Lab owners, this was not acceptable and we reversed course to find the dog. We eventually did find him in that seething cauldron but only because a couple of seabirds were circling over his head. Recovering the dog was not easy but I doubt there was a happier Lab that day.
The next two instances were very similar. Both were very windy Friday Night beer can races when a boat in front of us (in one case an Express 27 and the other a J/30) rounded down and lost a crewmember and were temporarily out of control and unable to promptly recover their crew, so we doused our spinnaker and picked them up.
In both cases we recovered the MOB, stuck them down below, stripped them and gave them a beer and finished the race. It is not clear that it violates RRS 47.1 to finish with more crew than those with which you started, but anyway those races ended up being throwouts.
The point is that in each case we were extremely fortunate that locating the MOB was not the central conundrum. The problem was getting a heavy, often helpless, MOB (or COB – Canine Over Board) over the freeboard onto our boat. This is no issue on a boat with an open transom, but many of us don't have that luxury.
There is a simple, easy and elegant solution that every keelboat sailor ought to have in his or her repertoire for this scenario. I refer to it as the elevator, and while I have most frequently utilized it to recover skinny dipping females, it works equally well with MOBs.
The technique is to drop a long bight of line in the water (engine off obviously) and secure the bitter end to a cleat or something with the working end on a winch. The MOB (or skinny dipper) places his/her foot in the bight and stands up as the line is ground in with the winch. The next thing you know the person is effortlessly at deck level.
Source: sailingscuttlebutt
600
true
thumbnails
bottomright
300
true
800
none

600
true
dots
under
150
true
800
https://www.sualtigazetesi.com/wp-content/plugins/thethe-image-slider/style/skins/white-square-2
5000

fade

https://www.sualtigazetesi.com/dadd-sunum-her-yonuyle-teknede-enerji-ve-enerji-sistemleri-zafer-turkmen/

5000

fade

https://www.sualtigazetesi.com/riza-epikmen-schuco-bayk-kis-trofesi-2-ayak-yarislari-oncesi-duygu-ve-dusunceleri/

5000

fade

https://www.sualtigazetesi.com/the-bodrum-cup-turkiyeyi-yelkencilik-dunyasinda-temsil-etti/

5000

fade

https://www.sualtigazetesi.com/banu-oney-ile-denizden-denize-marmarisden-seattlea-yelkenli-tekne-ile/

5000

fade

https://www.sualtigazetesi.com/rsx-kadinlar-sinifinda-2020-tokyo-olimpiyat-oyunlari%e2%80%99ndayiz/