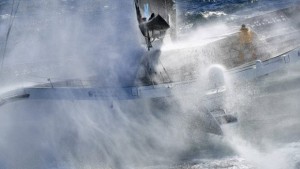 The tenth edition of the Mirabaud Yacht Racing Image award will be judged by the international team of Ricardo Pinto, Cliff Webb, Magda Makowska, Helena de la Gandara, Rob Hodgetts, and Nicolas Mirabaud to choose the best sailing photographs taken in 2019.
2019 Jury:
• Rob Hodgetts, International sports journalist, CNN
• Ricardo Pinto, professional sailing photographer and winner of the 2018 edition
• Cliff Webb, President of the Yachting Journalists' Association
• Magda Makowska, professional sailor and organizer of the Sopot Match Race
• Helena de la Gandara, press officer
• Nicolas Mirabaud, managing partner and member of the Executive Committee, Mirabaud & Cie SA
Initiated in 2010, the Mirabaud Yacht Racing Image award is the leading international photo competition dedicated to the sport of sailing. Its objective is to give the opportunity to sailing photographers from all over the world to share their passion with the public.
"We have been supporting this event since day one, ten years ago," recounts Nicolas Mirabaud. "During this time, we have witnessed the evolution of the photographers' work, as well as the type of events and sailing boats with passion. The images, whether artistic or highly technical, reflect the recent history of competitive sailing and the tremendous developments of the sport."
The top eighty images will be pre-selected by three professional photographers/picture editors: Ricardo Pinto, Rob Hodgetts, and Cliff Webb. The top 80 will be published on the event website on October 22. The public will then be invited to vote for their favorite photo.
The twenty best images selected by the International Jury will be exhibited at the 2019 Yacht Racing Forumon on November 25-26 in Bilbao, Spain. The prestigious award will be presented in public on November 26.
The main prize, the Mirabaud Yacht Racing Image award, will be selected by the international jury. Two secondary distinctions will be awarded in parallel: the public prize, based on votes collected on social networks, as well as the Yacht Racing Forum prize, chosen by the event delegates.
Hall of Fame: the winners of the Mirabaud Yacht Racing Image award:
2010: Thierry Martinez (FRA)
2011: Thierry Martinez (FRA)
2012: Kurt Arrigo (MAL)
2013: Abner Kingman (USA)
2014: Alfred Farre (ESP)
2015: Nikos Zagas (GRE)
2016: Jean-Marie Liot (FRA)
2017: Sören Hese (GER)
2018: Ricardo Pinto (POR)
Source: MaxComm Communication / sailingscuttlebutt
600
true
thumbnails
bottomright
300
true
800
none

600
true
dots
under
150
true
800
https://www.sualtigazetesi.com/wp-content/plugins/thethe-image-slider/style/skins/white-square-2
5000

fade

https://www.sualtigazetesi.com/deniz-kuvvetleri-kupasi-oncesi-murat-tan-atilla-gokova-yaris-ekibi-roportajlari/

5000

fade

https://www.sualtigazetesi.com/tayk-sunum-kuzey-kutup-dairesinden-guney-kutup-dairesine-gronland-ve-antarktika-prof-dr-talat-kiris/

5000

fade

https://www.sualtigazetesi.com/dadd-sunum-her-yonuyle-teknede-enerji-ve-enerji-sistemleri-zafer-turkmen/

5000

fade

https://www.sualtigazetesi.com/riza-epikmen-schuco-bayk-kis-trofesi-2-ayak-yarislari-oncesi-duygu-ve-dusunceleri/

5000

fade

https://www.sualtigazetesi.com/the-bodrum-cup-turkiyeyi-yelkencilik-dunyasinda-temsil-etti/

5000

fade

https://www.sualtigazetesi.com/banu-oney-ile-denizden-denize-marmarisden-seattlea-yelkenli-tekne-ile/

5000

fade

https://www.sualtigazetesi.com/rsx-kadinlar-sinifinda-2020-tokyo-olimpiyat-oyunlari%e2%80%99ndayiz/