Enoshima, Japan (August 19, 2019) – As Ready Steady Tokyo – Sailing, the official test event for Tokyo 2020, reaches its mid-way point, it's fair to say that all 353 athletes here have been put through their paces so far.
While the high heat and humidity remain consistent, today produced a different bout of conditions to the previous two days as sailors were met with shifty winds from the east-northeast at about eight-12 knots which have helped to somewhat shake up the standings.
The variety of racing scenarios faced by the sailors will provide them with plenty of experience for the Tokyo 2020 Olympic Games in one year's time; the old regatta adage of "consistency is key" certainly applies here.
One team who have demonstrated this with a typically professional performance so far are reigning Nacra 17 Olympic champions, Santiago Lange and Cecilia Carranza Saroli (ARG).
They won two of today's four races to move up into second place, also picking up a fourth and a 12th (discarded). And though Lange was disappointed to finish the day with their worst result of the week, he believes they have both taken a lot out of a varied three days of racing.
"It was a really difficult day – really tiring for an old man!" he said. "It's a shame we ruined the day a bit in the last race, but overall we are happy; we sailed well with some really good racing.
"It seems like sailing in Japan is about getting used to difficult conditions and performing. Today we were expecting the wind to die to a sea breeze, but actually the last race was in some of the strongest winds. We need to be really focused to understand what the wind does every day, so we learn something for next year."
Ruggero Tita and Caterina Banti (ITA) remain in front, despite also picking up their worst result of the week today (ninth). John Gimson and Anna Burnet (GBR) move into the top three with a race win, while Iker Martinez and Olga Maslivets (ESP) took the fourth win of the day.
There's a new leader in the Laser fleet; Jesper Stalheim (SWE) has risen to the top with a string of consistent results. Picking up two seconds and a third today, and with his discard a 15th from earlier in the week, he's knocked Sam Meech (NZL) off top spot. Assessing the week's mixed conditions, and up against a strong fleet, Stalheim knows it will be difficult to maintain his good form so far.
"Apart from a bit of a shocker in the second race, I've had a really good week," he said. "We've had a bit of everything. Today we had a shifty offshore wind, whereas on the first day we had epic southwest winds and big waves. It looks like there will be two more light wind days coming up, so we'll see what they get!
"Both of the Aussies and Sam [Meech] have been quite consistent so far. They're really strong – they've been the strongest throughout this season. It will be hard to keep them behind me, but I'll try my best!"
The Swede has a nine-point lead over Meech, who won one of today's three races, with Matt Wearn (AUS) in third. William De Smet (BEL) and Chris Barnard (USA) won the other two races of the day.
In the Laser Radial fleet, a 32nd-placed finish for Maria Erdi (HUN) sees her lose her lead, as she already has a discard of 35th from yesterday. Emma Plasschaert (BEL) now leads the way, ahead of Sarah Douglas (CAN), who won one of today's races to move up into second. Marit Bouwmeester (NED) and Svenja Weger (GER) picked up the other race wins.
The 49ers got four races in, and Kiwis Peter Burling and Blair Tuke have regained top spot with two second places and a third.
Lukasz Przybytek and Pawel Kolodzinski (POL) move down into second, despite winning a race, while Benjamin Bildstein and David Hussl (AUT) keep third after picking up two wins today. Mathieu Frei and Noe Delpech (FRA) bagged today's other race win.
The 49erFX fleet now have nine races under their belt after also completing another four today, and Charlotte Dobson and Saskia Tidey (GBR) keep their lead, topping off with a win to build a 10-point advantage. But as Tiddy notes, battling the heat continues to be a theme.
"It was pretty hot today. The team has done a great job to help us conquer that but I must admit I went for a bit of a swim between races – intentional of course – to cool down. I'm sure everyone is feeling it out there and it's about trying to focus and not let it take over all your thoughts."
Martine Grael and Kahena Kunze (BRA) stay second, with Alexandra Maloney and Molly Meech moving into the top three having collected a race win today. The day's other two victories were taken by Helene Nass and Marie Ronningen (NOR) and Tamara Echegoyen and Paula Barcelo (ESP).
Elsewhere, Mat Belcher and Will Ryan (AUS) have taken top spot off Jordi Xammar and Nicolas Rodriguez (ESP) in the 470 Men, who took a win apiece today. Anton Dahlberg and Fredrik Bergström (SWE) stay third, with the top three 16-points clear of the rest of the pack. Paul Snow-Hansen and Daniel Willcox (NZL) claimed the day's other race win.
It's tight between the top two in the 470 Women's fleet, with just a point separating Ai Kondo Yoshida and Miho Yoshioka (JPN), who won the final race of the day, and Hannah Mills and Eilidh McIntyre (GBR).
Camille Lecointre and Aloise Retornaz (FRA) are nine points behind the Brits in third, with Linda Fahrni and Maja Siegenthaler (SUI) and Haiyan Gao and Mengxi Wei (CHN) claiming the day's other two victories.
In the RS:X Men's fleet, Mengfan Gao (CHN) went from third to first, collecting a race win along the way. Thomas Goyard (FRA) and Mattia Camboni (ITA) follow, with Piotr Myszka (POL) & Mateo Sanz Lanz (SUI) also winning races today.
Yunxiu Lu (CHN) continues to dominate in the RS:X Women, with a 12-point lead over second-placed Katy Spychakov (ISR), who won the last of three races. Charline Picon (FRA) moves down into third, while Stefania Elfutina (RUS) took two victories today to move within a point of her in fourth.
And on Day 3 of racing in the Finn fleet, Zsombor Berecz (HUN) is back in front ahead of Giles Scott (GBR), with a race win taking him nine points clear of the Brit. Andy Maloney (NZL) triumphed in the day's other two races and he is now within two points of third-placed Nicholas Heiner (NED).
The forecast tomorrow suggests a 10 knot southerly with racing to start at around 12:00 for all fleets, apart from the Laser Radial, 470 Men, and 49er who begin at 14:00.
Source: World Sailing, US Team, British Team
Event details – Entry list – Results – Facebook
Top North Americans:
Men's One Person Dinghy – Laser (6 races): 9th Chris Barnard (USA)
Women's One Person Dinghy – Laser Radial (6 races): 2nd Sarah Douglas (CAN)
Men's Two Person Dinghy – 470 (6 races): 6th Stu McNay/ David Hughes (USA)
Women's Two Person Dinghy – 470 (6 races): 18th Nikole Barnes/ Lara Dallman-Weis (USA)
Men's Skiff – 49er (9 races): 20th Andrew Mollerus/ Ian MacDiarmid (USA)
Women's Skiff – 49erFx (9 races): 8th Stephanie Roble/ Maggie Shea (USA)
Men's One Person Dinghy Heavy – Finn (6 races): 14th Luke Muller (USA)
Men's Windsurfing – RS:X (7 races): 19th Pedro Pascual (USA)
Women's Windsurfing – RS:X (8 races): 18th Farrah Hall (USA)
Mixed Multihull – Nacra 17 (9 races): 15th Riley Gibbs/ Anna Weis (USA)
Racing in Enoshima commenced on Saturday August 17. The 49er, 49erFX, Nacra 17, and RS:X fleets will conclude racing on August 21 with the 470s, Laser, Laser Radial, and Finns following on August 22.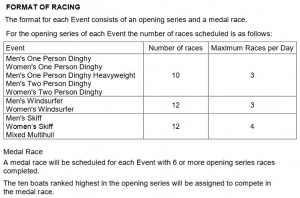 Source: sailingscuttlebutt
600
true
thumbnails
bottomright
300
true
800
none

600
true
dots
under
150
true
800
https://www.sualtigazetesi.com/wp-content/plugins/thethe-image-slider/style/skins/white-square-2
5000

fade

https://www.sualtigazetesi.com/deniz-kuvvetleri-kupasi-oncesi-murat-tan-atilla-gokova-yaris-ekibi-roportajlari/

5000

fade

https://www.sualtigazetesi.com/tayk-sunum-kuzey-kutup-dairesinden-guney-kutup-dairesine-gronland-ve-antarktika-prof-dr-talat-kiris/

5000

fade

https://www.sualtigazetesi.com/dadd-sunum-her-yonuyle-teknede-enerji-ve-enerji-sistemleri-zafer-turkmen/

5000

fade

https://www.sualtigazetesi.com/riza-epikmen-schuco-bayk-kis-trofesi-2-ayak-yarislari-oncesi-duygu-ve-dusunceleri/

5000

fade

https://www.sualtigazetesi.com/the-bodrum-cup-turkiyeyi-yelkencilik-dunyasinda-temsil-etti/

5000

fade

https://www.sualtigazetesi.com/banu-oney-ile-denizden-denize-marmarisden-seattlea-yelkenli-tekne-ile/

5000

fade

https://www.sualtigazetesi.com/rsx-kadinlar-sinifinda-2020-tokyo-olimpiyat-oyunlari%e2%80%99ndayiz/