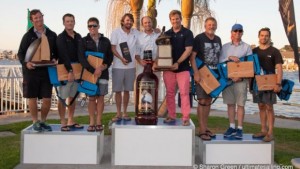 Long Beach, CA (August 24, 2019) – The Goslings 2019 Viper 640 World Championship wrapped up today as the 41 teams added three more races to the scorecard. Marcus Eagan, Andrew Eagan, and Jackson Benvenutti (Mandeville, LA) won the World Championship without having to sail the final race.
Hosted by Alamitos Bay Yacht Club, the four-day Championship consisted of 13 races in atypical Long Beach conditions – light, 8-10 knots except for the final race on Day 2 and the last two on the final day when winds were mid to high teens. It was a regatta where sailors were faced with a wide range of conditions and those atop the podium had to be capable of dealing with them all.
Eagan ended with 33 points atop the 41-boat fleet. In second was Geoff Ewenson (Annapolis, MD), Ryan Cox, and Jon Ziskind with 44 points having an extremely consistent series with 11 top-ten finishes. In third, from South of Perth Yacht Club in Western Australia, were former Viper 640 World Champions Nick Jerwood, Brian DeVries, and Matt Jerwood.
The real story about this regatta was the blend of sailor experiences both on and off the water. The sailing, despite many light-air races, was keenly competitive; but it was the blend of great racing and spectacular on-shore activities that made the Goslings 2019 Viper 640 World Championship the event it was.
Up to 14 races were scheduled for August 20-24.

Source: sailingscuttlebutt
600
true
thumbnails
bottomright
300
true
800
none

600
true
dots
under
150
true
800
https://www.sualtigazetesi.com/wp-content/plugins/thethe-image-slider/style/skins/white-square-2
5000

fade

https://www.sualtigazetesi.com/deniz-kuvvetleri-kupasi-oncesi-murat-tan-atilla-gokova-yaris-ekibi-roportajlari/

5000

fade

https://www.sualtigazetesi.com/tayk-sunum-kuzey-kutup-dairesinden-guney-kutup-dairesine-gronland-ve-antarktika-prof-dr-talat-kiris/

5000

fade

https://www.sualtigazetesi.com/dadd-sunum-her-yonuyle-teknede-enerji-ve-enerji-sistemleri-zafer-turkmen/

5000

fade

https://www.sualtigazetesi.com/riza-epikmen-schuco-bayk-kis-trofesi-2-ayak-yarislari-oncesi-duygu-ve-dusunceleri/

5000

fade

https://www.sualtigazetesi.com/the-bodrum-cup-turkiyeyi-yelkencilik-dunyasinda-temsil-etti/

5000

fade

https://www.sualtigazetesi.com/banu-oney-ile-denizden-denize-marmarisden-seattlea-yelkenli-tekne-ile/

5000

fade

https://www.sualtigazetesi.com/rsx-kadinlar-sinifinda-2020-tokyo-olimpiyat-oyunlari%e2%80%99ndayiz/