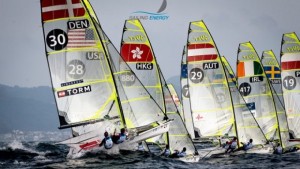 Enoshima, Japan (August 29, 2019) – The physical limits of the 496 sailors from 46 nations racing at the Hempel World Cup Series regatta in Enoshima, Japan were pushed today as big waves rolled through Sagami Bay.
With thousands of miles of the Pacific Ocean to the East and South of Enoshima, coupled with deep waters around Sagami Bay, the waves have plenty of time to build to a rolling swell. The sailors contested 2.5m high waves with regularity and ensured that each and every one had a stern test on the water.
The powerful rolling waves, combined with a stiff south westerly 20-25 knot breeze, meant that capsizes were plentiful with many sailors unable to finish some of their races due to breakages.
Despite this, every fleet sailed a good number of races to get the competition back on track after light breeze on day one and too much on the second.
The victory of the day for the US Sailing Team goes to the performance of Andrew Mollerus (Larchmont, N.Y.) and Ian MacDiarmid (Delray Beach, Fla.). After finishing today's three races in fourth, third and third, the Men's 49er team moved up 16 places to ninth overall.
"It was pretty wild out there," said Mollerus. "The conditions ended up separating the fleet quite a bit. We were lucky to keep upright for the first couple races and have some energy for the last ones."
The pair was glad to have some practice in windy conditions before this week. MacDiarmid added, "It was pretty fun to be out there while it was ripping. It's definitely the biggest breeze we've raced in since Palma, so training in San Francisco this summer certainly helped a lot."
The 49er fleet were the last ones off the water having sailed their races after the 49erFX fleet. After three additional races, Tim Fischer and Fabian Graf (GER) lead on 24 points. Poland's Dominik Buksak and Szymon Wierzbicki are second on 33 and Federico and Arturo Alonso (ESP) sit third on 35 points.
In the 49erFX, a number of the pre-event favorites were all black flagged in the first race of the day. Annemiek Bekkering and Annette Duetz (NED), Martine Grael and Kahena Kunze (BRA), Helene Naess and Marie Rønningen (NOR) and Ida Marie Baad Nielsen and Marie Thusgaard Olsen (DEN) were the most high profile casualties of the black flag.
Bekkering and Duetz hit back with two third places which pushes them into the lead.
In the 49erFX class, Stephanie Roble (East Troy, Wisc.) and Maggie Shea (Wilmette, Ill.) broke their mast after capsizing just above the finish line. Shea's ankle was injured in the crash, and the pair will be staying ashore for the remainder of the event.
In the final race of the day, a large percentage of the fleet capsized and only five boats were able to complete the race in the time limit available. Baad Nielsen and Thusgaard Olsen took the race win, their second of the day, following their BFD. They sit in fifth.
One mistake cost Italy's Ruggero Tita and Caterina Banti the perfect day in the Nacra 17. The Ready Steady Tokyo, Olympic test event, gold medallists clinched the first and last race win of the day but their scoreline was slightly tainted with an eighth in the middle. Tita explained, "We made a big mistake on the laylines in the second race. We ended up in a hard situation. We were fast in the downwind so we were able to gain some positions."
The steep and regular waves made racing in the Nacra 17 an intense and sometimes daunting experience. Capsizes and near misses were a regular occurrence but Tita and Banti had the measure of the race track.
"It looks pretty intense when you're out there," commented Tita. "The waves are short and quite big for the wind. It's hard to sail the Nacra with the foils. For sure we like the conditions with wind and waves in Enoshima. We suffer a bit in the light wind. At the moment we've always had good winds here so we're happy with that."
The Nacra 17 became fully foiling after Rio 2016 and quite often those who have a high percentage of time on the foils get round the race track quicker. But that all changed on Thursday in the waves as Tita continued, "I would 5-10% of our time was on the foils. It was really hard to foil today. You'd maybe foil 100 metres and then crash. It was really hard.
"What we try to do is keep it in the water. When we are too fast we brake, which is strange for a sailboat. We put a hull in the water to brake and looked to maintain an average speed.
"The boat always wants to accelerate a lot and when you're too fast, you crash in the waves. It's better to slow down a bit, keep an average speed and keep safe."
The Italians two wins and an eighth puts them fourth overall. They are nine points off Ben Saxton and Nicola Boniface (GBR), winners of the second race, with Jason Waterhouse and Lisa Darmanin (AUS) and Nathan and Haylee Outteridge (AUS) in second and third spot.
U.S. Nacra 17 athletes also suffered some breakdowns. Riley Gibbs (Long Beach, Calif.) and Anna Weis (Fort Lauderdale, Fla.) broke their spinnaker pole just after finishing the first race. They were able to make the repair quickly and return in time for their third and final race of the day.
Despite the breakdown, Gibbs and Weis sailed well today. They finished seventh in the first race, and fourth in the third. Sarah Newberry (Miami, Fla.) and David Liebenberg's (Livermore, Calif.) spinnaker pole also snapped after colliding with another boat midway through the second race. They were unable to return to the race course before the start of the third race.
Last week's Ready Steady Tokyo was a high scoring affair in the Laser Radial with consistency scarce amongst the fleet. That trend looks set to continue and following three more races, Belgium's Emma Plasschaert holds the lead.
Plasschaert sailed her way to an 8-(15)-7 scoreline, not a typical set of results that would propel a sailor into top spot, but her rivals also recorded similar scores.
"It was an alright day for me," said Plasschaert. "A medium but okay day – no big scores. No firsts, seconds or thirds but that's okay at this stage of the event.
"I think it was pretty solid racing with nothing crazy going on. The Race Committee nailed the races one after each other. Nice waves and big winds, it was good fun. Especially going downwind."
Anne-Marie Rindom (DEN) is two points off Plasschaert and Manami Doi (JPN) is a further one point behind.
Marit Bouwmeester (NED) was the most consistent sailor on the race track and picked up a 9-3-3. However a 35th and a retirement on day one positions her in 12th overall.
Pavlos Kontides (CYP) has moved into pole position in the Laser after a first, a fifth and a second. Overnight leader Tonci Stipanovic (CRO) and Jean Baptiste Bernaz (FRA) are in second and third respectively.
In the Men's Laser fleet, Chris Barnard (Newport Beach, Calif.) also sailed in early. He did not compete in the final two races of the day, electing to rest a recovering ankle injury instead. At this point, he intends to compete in tomorrow's races.
Mat Belcher and Will Ryan (AUS) are the masters of 470 sailing in strong wind and big waves. That statement was confirmed today as they recorded two race wins and a second to grab the lead the 32-boat fleet. Jordi Xammar and Nicholás Rodriguez (ESP) won the final race of the day and are in second.
In the Women's 470, Nia Jerwood and Monique de Vries (AUS) advanced to lead the fleet following a 4-2-2 scoreline. They are five points clear of Elena Berta and Bianca Caruso (ITA). Race wins went to Mengxi Wei and Haiyan Gao (CHN), Berta and Caruso as well as Benedetta Di Salle and Alessandra Dubbini (ITA).
Nicholas Heiner (NED) found form again in the Finn. Heiner started the event with a pair of seconds and added a 3-3-(5) to his points score on Thursday. He has moved six points clear of Canada's Tom Ramshaw who won the last race today. Overnight leader Joan Cardona Mendez (ESP) took the first race win but dropped to 18th and 15th in the following races.
China's Yunxiu Lu sailed the perfect day in the Women's RS:X, winning each race. As a result, Lu has opened up an 11-point advantage over Charline Picon (FRA). Katy Spychakov (ISR) was also a consistent performer, recording a third and two seconds. She is a point off Picon in third.
Korea's Wonwoo Cho moved into medal contention in the Men's RS:X following a 3-2-1 scoreline. Cho struggled in the light breeze on Tuesday, posting a (24)-6-13 scoreline but has thrived in stronger conditions.
He is joint third with China's Kun Bi on 37 points. After a 2-8-8 scoreline Louis Giard (FRA) sits on 32 points at the top of the leaderboard with Pierre le Coq (FRA) second on 34 points.
Racing resumes on Friday, August 30 at 12:00 local time. The forecast is for further strong winds and two metre waves.
The 49er, 49erFX, Nacra 17 and RS:X fleets will conclude racing on Saturday, August 31 with their Medal Races at 12:00 local time. The 470s, Laser, Laser Radial and Finn fleets will follow on Sunday, September 1 at 12:00 local time.
Top North Americans (Canada, Mexico, and USA)
• Men's One Person Dinghy – Laser (5 races): 19th Charlie Buckingham (USA)
• Women's One Person Dinghy – Laser Radial (5 races): 16th Erika Reineke (USA)
• Men's Two Person Dinghy – 470 (4 races): 14th Stu McNay/ Dave Hughes (USA)
• Women's Two Person Dinghy – 470 (4 races): 13th Atlantic Brugman Cabot / Nora Brugman (USA)
• Men's Skiff – 49er (6 races): 9th Andrew Mollerus/ Ian MacDiarmid (USA)
• Women's Skiff – 49erFx (5 races): 20th Paris Henken / Anna Tobias (USA)
• Men's One Person Dinghy Heavy – Finn (5 races): 2nd Tom Ramshaw (CAN)
• Men's Windsurfing – RS:X (9 races): 18th Pedro Pascual (USA)
• Women's Windsurfing – RS:X: No entry
• Mixed Multihull – Nacra 17 (5 races): 16th Riley Gibbs / Anna Weis (USA)
The World Cup Series is an annual circuit of Olympic sailing for elite and professional sailors, and a key touchpoint for fans and media to connect to the sport of sailing and develop support for athletes on their road to Tokyo 2020 Olympics and beyond. Over 2,000 of the world's leading sailors, representing 75 nations, have competed in the World Cup Series since its inception in 2008.
2019-20 Hempel World Cup Series
Aug 27-Sep 1, 2019 – Enoshima, Japan
January 21-26, 2020 – Miami, USA
April 14-19, 2020 – Genoa, Italy
June 16-21, 2020 – Enoshima, Japan
Source: World Sailing and US Sailing / sailingscuttlebutt
600
true
thumbnails
bottomright
300
true
800
none

600
true
dots
under
150
true
800
https://www.sualtigazetesi.com/wp-content/plugins/thethe-image-slider/style/skins/white-square-2
5000

fade

https://www.sualtigazetesi.com/deniz-kuvvetleri-kupasi-oncesi-murat-tan-atilla-gokova-yaris-ekibi-roportajlari/

5000

fade

https://www.sualtigazetesi.com/tayk-sunum-kuzey-kutup-dairesinden-guney-kutup-dairesine-gronland-ve-antarktika-prof-dr-talat-kiris/

5000

fade

https://www.sualtigazetesi.com/dadd-sunum-her-yonuyle-teknede-enerji-ve-enerji-sistemleri-zafer-turkmen/

5000

fade

https://www.sualtigazetesi.com/riza-epikmen-schuco-bayk-kis-trofesi-2-ayak-yarislari-oncesi-duygu-ve-dusunceleri/

5000

fade

https://www.sualtigazetesi.com/the-bodrum-cup-turkiyeyi-yelkencilik-dunyasinda-temsil-etti/

5000

fade

https://www.sualtigazetesi.com/banu-oney-ile-denizden-denize-marmarisden-seattlea-yelkenli-tekne-ile/

5000

fade

https://www.sualtigazetesi.com/rsx-kadinlar-sinifinda-2020-tokyo-olimpiyat-oyunlari%e2%80%99ndayiz/