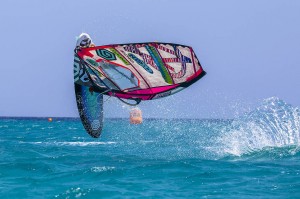 Current Freestyle World Tour Leader Youp Schmit Faces Race Against Time To Be Fit For Sylt
2019 couldn't have been going much better for Youp Schmit (I-99 / Avanti Sails) with the Bonairean winning the single elimination at his home event before eventually finishing second at the Bonaire PWA World Cup – which was his best result on the world tour to date.
Schmit then built on that brilliant start to the season by not only earning his first top 10 finish in Fuerte since 2013, but by earning his best ever Fuerte result – 4th – to show he was in the best form of his life, while also taking the lead in the race for the 2019 PWA Freestyle World title. However, after injuring his knee during a recent freestyle training session the 24-year-old now faces a different race entirely as he battles to be fit for the final event of the season in Sylt, which starts on the 27th September.
Youp Schmit: "I injured myself during a windsurf training session a week ago, I was sent immediately to Colombia to get an MRI scan as soon as possible, so we know what the exact problem is within my knee.
The results came in and the doctors could see there is a piece of my meniscus broken and that has to be removed.
Yesterday, Monday the 19th, I am going into the operation room for surgery. The recovery is going to be hard but I am confident and strongly believe in myself that I can make the impossible happen and to make it to the final World Cup in Germany(Sylt)!
Sylt is gonna be hard, but I will be there that's for sure!"
Since we last spoke to Youp he had undergone the operation and he says it has been a success with the surgeons removing 40% of his meniscus. Everyone from the PWA would like to wish Youp all the best with his recovery!
You can stay up to date with Youp Schmit's recovery via his Social Media Channels:
Facebook: @youp.schmit.1
Instagram: @youpschmit
Source: PWA
600
true
thumbnails
bottomright
300
true
800
none

600
true
dots
under
150
true
800
https://www.sualtigazetesi.com/wp-content/plugins/thethe-image-slider/style/skins/white-square-2
5000

fade

https://www.sualtigazetesi.com/dadd-sunum-her-yonuyle-teknede-enerji-ve-enerji-sistemleri-zafer-turkmen/

5000

fade

https://www.sualtigazetesi.com/riza-epikmen-schuco-bayk-kis-trofesi-2-ayak-yarislari-oncesi-duygu-ve-dusunceleri/

5000

fade

https://www.sualtigazetesi.com/the-bodrum-cup-turkiyeyi-yelkencilik-dunyasinda-temsil-etti/

5000

fade

https://www.sualtigazetesi.com/banu-oney-ile-denizden-denize-marmarisden-seattlea-yelkenli-tekne-ile/

5000

fade

https://www.sualtigazetesi.com/rsx-kadinlar-sinifinda-2020-tokyo-olimpiyat-oyunlari%e2%80%99ndayiz/