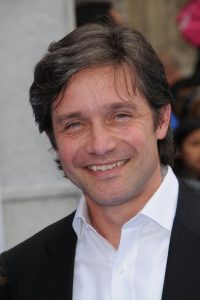 Plans for the future of undersea research are well underway.
Fabien Cousteau, a grandson of legendary ocean explorer Jacques Cousteau, recently announced plans for a $135 million underwater research facility that will lie 60 feet below the surface off the coast of Curaçao.
Thanks to his aquanaut grandfather, Fabien Cousteau learned to dive when he was just four years old. He grew up tagging along on research expeditions and was able to see firsthand the pros and cons of scientific diving.
"Scuba diving is an amazing blessing, but there's a very real limit of time," he tells Forbes.
His newest endeavor, an underwater habitat called Proteus, aims to put time back on researchers' sides. It would be one of the largest subaquatic stations ever built.
"Most of the [previously built] habitats were purpose-built for one mission or set of missions," says Fabien Cousteau. "They were never conceived as an International Space Station, something that's to be deployed for a longer period of time."
Proteus will be about 4,000 square feet, providing enough room for up to 12 people to live and work for weeks or months at a time. It will take three years to complete, and its building and first three years of operating costs will total about $135 million, which Fabien Cousteau is currently working to raise.
The project was named for a Greek god who was known as a "protector of the sea" and who could shapeshift to take different forms. Cousteau's Proteus will have similar abilities. It's designed to be modular, so it can be expanded, upgraded, and reconfigured as needed.
The initial Proteus configuration will include a laboratory, medical bay, living and sleeping quarters, a video production unit that can stream live from depth in 16K resolution, and a hydroponic greenhouse where aquanauts can grow their own food. It will be connected to the surface through an umbilical cord-like line that will supply breathable air and can be used for communication.
After it's established, the facility will have a yearly operating cost of about $3 million, Fabien Coustau estimates. This will be subsidized by independent scientists, universities and corporations that can rent out habitat space to carry out research on a number of topics, including drug discovery and biopharmaceuticals, oceanography, climate change, sustainable food production—just about anything except for warfare.
After Proteus is built, Fabien Cousteau plans to start on an extension facility around 600 feet deep, called Triton after another Greek sea god, and use ROVs to explore to depths of about 2,000 feet.
This pioneering follows a family tradition of limitless thinking and curiosity about the big blue.
"I'm just a crazy person with a dream," Fabien Cousteau says. "[I see] this as being not only possible—but absolutely necessary—for our future well-being, as well as a better understanding of our life support system."
Source: sport diver
600
true
thumbnails
bottomright
300
true
800
none

600
true
dots
under
150
true
800
https://www.sualtigazetesi.com/wp-content/plugins/thethe-image-slider/style/skins/white-square-2
5000

fade

https://www.sualtigazetesi.com/tayk-sunum-kuzey-kutup-dairesinden-guney-kutup-dairesine-gronland-ve-antarktika-prof-dr-talat-kiris/

5000

fade

https://www.sualtigazetesi.com/dadd-sunum-her-yonuyle-teknede-enerji-ve-enerji-sistemleri-zafer-turkmen/

5000

fade

https://www.sualtigazetesi.com/riza-epikmen-schuco-bayk-kis-trofesi-2-ayak-yarislari-oncesi-duygu-ve-dusunceleri/

5000

fade

https://www.sualtigazetesi.com/the-bodrum-cup-turkiyeyi-yelkencilik-dunyasinda-temsil-etti/

5000

fade

https://www.sualtigazetesi.com/banu-oney-ile-denizden-denize-marmarisden-seattlea-yelkenli-tekne-ile/

5000

fade

https://www.sualtigazetesi.com/rsx-kadinlar-sinifinda-2020-tokyo-olimpiyat-oyunlari%e2%80%99ndayiz/