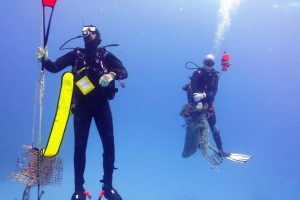 What started in the Florida Keys could go nationwide, and that's a good thing.
The National Marine Sanctuary Foundation is out with a report on the impact of marine debris cleanups as part of a program called Goal: Clean Seas Florida Keys. Actress Sissy Spacek lent her voice to a video about it.
In its first year, from July 2018 through July 2019, the effort completed 49 cleanup trips, using hundreds of recreational and professional divers to remove almost 14,700 pounds of debris, along with 78 intact lost and damaged fishing and lobster traps, hundreds of pieces of trap debris, and 16,369 feet of line, according to the report.
Kris Sarri, the foundation's president and CEO, says there are plans to bring the program later this year to the Channel Islands off the coast of Southern California. That Clean Seas effort aims to build on previous shoreline cleanups at the Channel Islands National Marine Sanctuary.
Plans there are to remove thousands of pounds of marine debris from difficult-to-access shorelines. The project will benefit resources including some of California's most productive fishing grounds and rocky intertidal and coastal/beach habitat, home to rookeries including California sea lion and seabird nesting sites, Sarris adds.
"Removal of lost fishing gear, especially lost lobster traps, will be prioritized, which in turn is expected to benefit the valuable local California spiny lobster commercial fishery by reducing ghost fishing, as well as benefit the sanctuary resources by reducing habitat destruction and marine mammal entanglements."
Back to what's already happened in the Florida Keys and how this works
Goal: Clean Seas Florida Keys is a partnership between the Florida Keys National Marine Sanctuary along with the National Marine Sanctuary Foundation and its local chapter, Blue Star dive operators and a Project AWARE seafloor monitoring program called Dive Against Debris.
The initiative brings together recreational and professional divers to remove marine debris to protect wildlife, corals and sponges.
Blue Star is a voluntary National Oceanic and Atmospheric Administration (NOAA) recognition program for dive operators who have been trained in removal and prevention of underwater marine debris from fragile environments.
"Divers allow for the most environmentally-responsible removal of the debris, especially as we focus on removal of debris that has accumulated on the seafloor," Sarri says.
Since coral reefs are sensitive, permitting and protocols have been established to ensure that the reef and the divers remain protected during the removal of lodged or entangled debris. Engaging the local community about the sources and impacts of marine debris also is essential to preventing marine debris in the future, foundation officials say.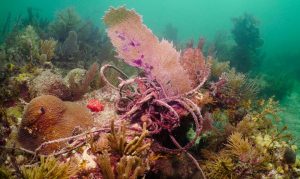 The information and data gathered on each dive (and reported to Project AWARE) is crucial for decision-making, including prevention, Sarri says.
"We are currently looking at the data to see if there have been hot spots and trends for debris accumulation that can inform future removals …"
A little more about that national expansion
The foundation is working with partners to use lessons learned from marine debris collected to date to better prevent marine debris from entering the environment in the first place.
The foundation also intends to build a national Goal: Clean Seas initiative by engaging partners to develop similar marine debris removal and recycling efforts in other national marine sanctuaries.
Sarri says the foundation and a local chapter are engaging more Blue Star dive operators up and down the Keys in hopes of mobilizing additional businesses to become involved in cleanups and identifying cleanup spots.
They're also emphasizing cleanups overlapping with a NOAA effort called Mission: Iconic Reefs and seeing how Blue Star operators can assist with regular monitoring and maintenance for coral reef restoration.
"Working in partnership with the sanctuary and dive community has been at the core of Goal: Clean Seas Florida Keys," the foundation president says, "and we recognize many others in the community want to be part of the solution. Other partners have continued to help with kayak and shoreline cleanups as well as promoting education for prevention with students, especially at Ocean Guardian Schools."
Source: forbes
600
true
thumbnails
bottomright
300
true
800
none

600
true
dots
under
150
true
800
https://www.sualtigazetesi.com/wp-content/plugins/thethe-image-slider/style/skins/white-square-2
5000

fade

https://www.sualtigazetesi.com/tayk-sunum-kuzey-kutup-dairesinden-guney-kutup-dairesine-gronland-ve-antarktika-prof-dr-talat-kiris/

5000

fade

https://www.sualtigazetesi.com/dadd-sunum-her-yonuyle-teknede-enerji-ve-enerji-sistemleri-zafer-turkmen/

5000

fade

https://www.sualtigazetesi.com/riza-epikmen-schuco-bayk-kis-trofesi-2-ayak-yarislari-oncesi-duygu-ve-dusunceleri/

5000

fade

https://www.sualtigazetesi.com/the-bodrum-cup-turkiyeyi-yelkencilik-dunyasinda-temsil-etti/

5000

fade

https://www.sualtigazetesi.com/banu-oney-ile-denizden-denize-marmarisden-seattlea-yelkenli-tekne-ile/

5000

fade

https://www.sualtigazetesi.com/rsx-kadinlar-sinifinda-2020-tokyo-olimpiyat-oyunlari%e2%80%99ndayiz/