The museum, which has both fully and partially submerged pieces, spreads down the coast of Queensland, with exhibits at Palm Island, Magnetic Island, John Brewer Reef, and off the coast of Townsville.
The first two installations to open were the Coral Greenhouse at John Brewer Reef and Ocean Siren, a sculpture that can be seen from The Strand jetty in Townsville. The pieces at Palm Island and Magnetic Island are still being developed.
Following the conservation themes seen in his other exhibits around the world, deCaires Taylor created his Australian installations with ocean health in mind.
The Coral Greenhouse, designed as a 40-foot-tall working greenhouse that contains more than 2,000 growing coral fragments, lies 60 feet below the surface at John Brewer Reef. Plus, the site has 20 ocean-safe sculptures that will become artificial reefs.
"It's living artwork," deCaires Taylor tells Condé Nast Traveler. "It's a constantly evolving piece that will never be the same for every visit. Part of creating an underwater museum was to inspire people to think about the sea as something sacred, something that we should be protecting, and not taking for granted."
Ocean Siren is a 15-foot-tall sculpture modeled after a young descendant of Australia's Wulgurukaba aboriginal people. With the help of the Australian Institute of Marine Science, the sculpture has been outfitted with lights that display real-time temperature readings from around the reef, drawing attention to the impacts of climate change on the ocean.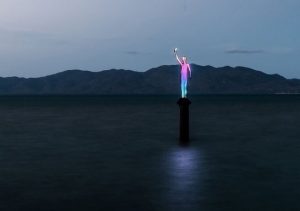 "It's not just a pretty light display," says deCaires Taylor. "It's a visual warning of global warming."
The final two installations at Palm Island and Magnetic Island will focus on indigenous peoples' relationship with the reef and the importance of reef science, respectively.
In practicing what they preach, deCaires Taylor and his team followed strict conservation guidelines for constructing the installations, obtaining permits and working with the Great Barrier Marine Park Authority (GBRMPA) to ensure minimal impact to surrounding reefs.
"The GBRMPA has some of the strictest regulations in the world and sent out inspectors to monitor the installation," says deCaires Taylor. "There were some logistical challenges, but no negative impact on any of the surrounding reefs. In fact, quite the opposite—already schools of juvenile fish, squid, and many invertebrates have already moved into the Greenhouse."
Plus, having visitors congregate around dedicated underwater sites has shown to lighten pressure on vulnerable sections of the reef, increasing the overall health of the area. And each visitor to the reef — local authorities estimate an additional 50,000 people will come to see the sculptures annually — must pay a $4.20 fee to the GBRMPA, which helps conservation and research efforts.
Source: Scuba Diving
600
true
thumbnails
bottomright
300
true
800
none

600
true
dots
under
150
true
800
https://www.sualtigazetesi.com/wp-content/plugins/thethe-image-slider/style/skins/white-square-2
5000

fade

https://www.sualtigazetesi.com/dadd-sunum-her-yonuyle-teknede-enerji-ve-enerji-sistemleri-zafer-turkmen/

5000

fade

https://www.sualtigazetesi.com/riza-epikmen-schuco-bayk-kis-trofesi-2-ayak-yarislari-oncesi-duygu-ve-dusunceleri/

5000

fade

https://www.sualtigazetesi.com/the-bodrum-cup-turkiyeyi-yelkencilik-dunyasinda-temsil-etti/

5000

fade

https://www.sualtigazetesi.com/banu-oney-ile-denizden-denize-marmarisden-seattlea-yelkenli-tekne-ile/

5000

fade

https://www.sualtigazetesi.com/rsx-kadinlar-sinifinda-2020-tokyo-olimpiyat-oyunlari%e2%80%99ndayiz/