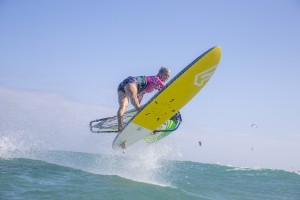 Arrianne Aukes relives her highlights of 2017
Arrianne Aukes (Fanatic / NorthSails / Maui Ultra Fins) competed on both the Women's Wave and Freestyle World Tours in 2017 – earning 9th place in the waves while finished 4th in the freestyle. Now after another action packed year, the 31-year-old has taken the time to reflect on her highlights from 2017, which you can read below.
Another year has gone by and although I am super keen and looking forward to the new year with new adventures, opportunities, competitions and experiences, it's nice to take a moment and look back to 2017 with all its magic moments.
2017 was another unforgettable year. I feel very lucky to have been able to visit all those amazing places for competition or training: South Africa – Bonaire – California – Oregon – Pozo – Fuerteventura – Tenerife – Mexico – Sylt – Brazil.
Every place has its own charm and magic. Some of those places feel like home, like South Africa, Bonaire and Brazil as I have been there for many years. It's so nice to feel at home at different places in the world when you live out of your suitcase most of the year!
Still, I love adventure and exploring new countries, new cultures and windsurf spots is the BEST thing ever! So for me the most outstanding trips of 2017 were my road trip all around the coast of Oregon and my trip to Baja, Mexico.
Oregon was stunning. Nature there is so pretty. It's green, wide and breathtaking. I have hugged the biggest trees I have ever seen in my life. The water was freezing, but the outside temperature was hot which made your frozen feet burn in the sand within seconds after walking back from a session. Mexico delivered beautiful waves and I had the best wave sailing sessions of my life there.
My most outstanding day of 2017 was in San Francisco and will stick in my mind forever! It was the day I went windsurfing under the Golden Gate Bridge with some friends. The whole scenery was incredible and breathtaking. Having the whole city, Alcatraz and the bridge as background, while trying to avoid boats, ferries and the biggest cargo ships I have ever seen in my life. I was petrified. And that was before we got company from multiple Humpback Whales for hours. It puts a smile on my face writing about it again. At that moment, I wasn't even scared, just overexcited of seeing those beautiful creatures and having this unique chance of sharing the water with them.
2017 was another good year of competition. I started off winning the freestyle event in the Gorge with crazy strong wind. Pozo was going off as well, we had over 50 knots while competing and it was a survival. Fuerteventura was a full on week, competing every day and seeing and having such close battles between good friends can be hard sometimes. Tenerife was fun. In Sylt I had bad luck having a jump score missed by the judges which made me lose my heat while I would have climbed up in to the top 8 otherwise. Part of the game.. but pretty upsetting at that moment ;-). The European competition in Brouwersdam was a good event again, where I came 3rd.
Another highlight of this year was moving to a new city in Holland called Haarlem. I didn't know the city at all (and I'm still exploring ;-)) but I fell in love with it. It looks a bit like Amsterdam, but smaller and with less tourists, and it's very close to the ocean and my two favourite wave sailing spots.
I topped off the year with a trip to Jericoacoara in Brazil. The place where it has all begun for me, and definitely one of my all time favourites. Wind every day, fresh coconuts at the beach and flip-flops and bikinis all day long. I work in a restaurant there, which helps me getting fluent in Portuguese, and this year I was living with a very good Brazilian friend of mine. She was cooking Brazilian breakfast every morning before I would go out for my first windsurf session or to my yoga class. What a luxury!
I have so many good friends there, that it always makes me very sad leaving again. But flying home for Christmas is something that I do every year. When being away so often, it's nice to get to spend these days together with the whole family and for me Christmas does not feel the same in thirty degrees and a bikini.
The day after I got home from hot and sunny Brazil I caught a cold, but besides that I enjoyed my last week of the year a lot just being together with my family. The last two days of 2017 were windy ones and I couldn't have wished for a nicer way of finishing the year! I had a very nice wave session at Scheveningen, a beach I normally never sail, and on the last day of the year I had a session at my homespot Wijk aan Zee together with a lot of friends.
Looking back to another year of windsurfing makes me realise how lucky I am to be able to travel and compete all year round. To meet so many wonderful people and to be able to enjoy the purity of life and to play in the ocean most of the days, and I'm super grateful for this.
This year wouldn't have been possible and special without my sponsors, friends, family, participants, fans and everyone else who supported or helped me. THANK YOU!!!!
And a special word of thanks to a few people. I could not have done this without your help. Albert, Angela, Herman, family Botman, Patrick, Nick, Barry, Debra, Alex, family Mertens, André, Andy, Cami, family de Man, Mart, Carol, Oscar, Marije, Alain, Liesbeth, Trees, Allard, Gian Luca, Annika and Atse. THANK YOU!!
Source: PWA
600
true
thumbnails
bottomright
300
true
800
none

600
true
dots
under
150
true
800
https://www.sualtigazetesi.com/wp-content/plugins/thethe-image-slider/style/skins/white-square-2
5000

fade

https://www.sualtigazetesi.com/4denizemeydanoku-film-gosterimi-akmnin-yesilcam-sinemasi-sahnesinde-gerceklesti/

5000

fade

https://www.sualtigazetesi.com/tayk-sunum-kuzey-kutup-dairesinden-guney-kutup-dairesine-gronland-ve-antarktika-prof-dr-talat-kiris/

5000

fade

https://www.sualtigazetesi.com/dadd-sunum-her-yonuyle-teknede-enerji-ve-enerji-sistemleri-zafer-turkmen/

5000

fade

https://www.sualtigazetesi.com/riza-epikmen-schuco-bayk-kis-trofesi-2-ayak-yarislari-oncesi-duygu-ve-dusunceleri/

5000

fade

https://www.sualtigazetesi.com/the-bodrum-cup-turkiyeyi-yelkencilik-dunyasinda-temsil-etti/

5000

fade

https://www.sualtigazetesi.com/banu-oney-ile-denizden-denize-marmarisden-seattlea-yelkenli-tekne-ile/

5000

fade

https://www.sualtigazetesi.com/rsx-kadinlar-sinifinda-2020-tokyo-olimpiyat-oyunlari%e2%80%99ndayiz/