Michael Amos, 20, from Cornwall, was near a paddleboarder when he caught the magic moment on camera
The marine and natural history photography student says it has long been a dream of his to snap these sharks
'Looking back at my photos, I feel ecstatic that I had been able to photograph such an amazing sighting'
Despite regularly reaching more than 23ft long, basking sharks are harmless to humans and feed on plankton
A photographer has snapped an incredible sighting of basking sharks on the Cornish coast as they swam around a paddleboarder.
Michael Amos, 20, from Penryn, Cornwall, caught the second largest living sharks on camera as they swam below the cliffs at Porthcurno, Cornwall, alongside a paddleboarder.
Michael, a marine and natural history photography student, explained how he spent more than an hour photographing the huge fish in 'perfect' conditions.
'The clear water at Porthcurno allowed me to get great views of them swimming at the surface.
'In one of my photos, you can see one of the sharks swimming right next to a paddleboarder, which gives a sense of scale to show how big these sharks can be.'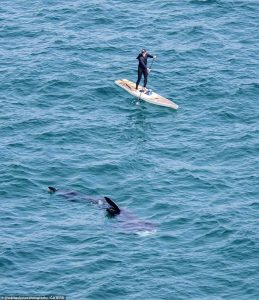 Michael's photographs capture the exact moment the black-clad paddleboarder spotted the huge basking shark, causing him to let out a wry smile.
Showing off their powerful fins, the two enormous sharks drifted towards the coast before circling back.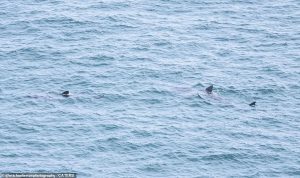 Despite regularly reaching more than 23ft, basking sharks are harmless to humans as their diet dictates they feed on plankton at the bottom of the ocean.
They can be found in coastal waters around the UK between May and October, but are most often spotted in Cornwall, western Scotland, the Isle of Man and the western English Channel.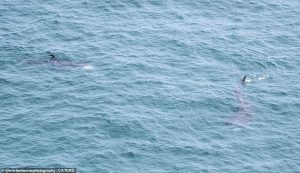 A basking shark sighting had been at the top of the student's bucket list for some time, so he says he was so excited to eventually experience a sighting himself.
Michael added: 'I have seen dolphins and seals down here, but I never thought I would get to see a basking shark. Seeing so many in one place at the same time was incredible.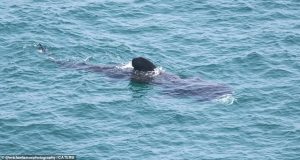 Although normally solitary creatures, basking sharks have been known to swim in single-sex shoals, as seen in Michael's pictures.
The 'basking' prefix stems from the shark's behaviour – when they often spend the summer months moving slowly at the surface of the sea.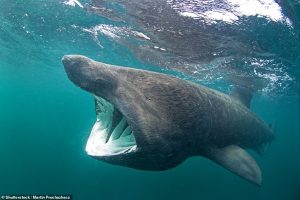 Basking sharks: The second-largest fish in the world but friendly to humans
Basking sharks are the second-largest fish in the world after whale sharks.
They have long gills which almost go completely around their heads.
The maximum size of the sharks is around 39ft but there have been unconfirmed reports of larger ones.
It is unknown how long they live, but scientists are trying to learn this by counting the number of vertebral spines – in a similar way to counting the rings of a tree trunk to discover its age – and comparing that to other animals whose age is known.
Basking sharks feed mainly on zooplankton and will swim slowly just beneath the surface with their mouths open to filter the tiny organisms from seawater.
They prefer to live in cooler waters, along coastlines and in open water, and can be found across the world.
Northern hemisphere countries where basking sharks can be found near include China, Korea, Japan, the east coast of the US, Great Britain and Norway, as well as in the Mediterranean.
In the southern hemisphere they can be found off Southern Australia, South America and the tip of South Africa.
These giants are relatively harmless to humans. According to the United States National Oceanic and Atmospheric Administration, they 'are considered passive and no danger to humans other than that posed by their large size and rough skin.'
Source: https://www.dailymail.co.uk/
600
true
thumbnails
bottomright
300
true
800
none

600
true
dots
under
150
true
800
https://www.sualtigazetesi.com/wp-content/plugins/thethe-image-slider/style/skins/white-square-2
5000

fade

https://www.sualtigazetesi.com/tayk-sunum-kuzey-kutup-dairesinden-guney-kutup-dairesine-gronland-ve-antarktika-prof-dr-talat-kiris/

5000

fade

https://www.sualtigazetesi.com/dadd-sunum-her-yonuyle-teknede-enerji-ve-enerji-sistemleri-zafer-turkmen/

5000

fade

https://www.sualtigazetesi.com/riza-epikmen-schuco-bayk-kis-trofesi-2-ayak-yarislari-oncesi-duygu-ve-dusunceleri/

5000

fade

https://www.sualtigazetesi.com/the-bodrum-cup-turkiyeyi-yelkencilik-dunyasinda-temsil-etti/

5000

fade

https://www.sualtigazetesi.com/banu-oney-ile-denizden-denize-marmarisden-seattlea-yelkenli-tekne-ile/

5000

fade

https://www.sualtigazetesi.com/rsx-kadinlar-sinifinda-2020-tokyo-olimpiyat-oyunlari%e2%80%99ndayiz/