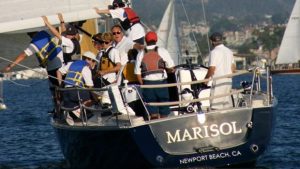 From a young boy in Sydney, as an America's Cup sailor in Newport, and now as a boat owner, delivery master, and high school sailing coach, Joe Cooper is a force when it comes to topics in which he see clearly through the haze. Here he opines on how to insure the youth generation of sailors also become the next generation of adult sailors.
To get kids to embrace sailing as the same kind of holistic part of their lives, that many of our generation have, and have had, they need to be exposed to the huge spectrum of experience that IS sailing. How is this done? Here are some ideas:
The Storm Trysail Foundation has Junior Safety at Sea Seminars around the country. The seminars are a great resource for a) finding kids who are interested in other sailing opportunities; and b) a great resource to get those kids introduced to owners of, at least in the first instance, "yachts".
Downstream from a seminar those involved in the seminar can bring these juniors on their boats or connect them with mates who can bring the kids out sailing. It does not have to be racing, and for the lesser skilled kids it is better if it is not.
————
Bring a group of kids down to the dock to see the big sporty yacht in town for a regatta. You don't even have to go sailing. Just 45 minutes with half a dozen kinds on a re-jiggered TP 52, with some sporty sea stories is more than enough to get the attention of some kinds.
Previously my High School kids have had a tour of the 40 meter French maxi tri Spindrift, Charlie Enright's Volvo Ocean Race boats, both times, and a couple of different Class40s and one year another mate took me and five HS sailors out in his RIB to follow the inshore races of the Atlantic Cup. Lunch on the beach and chilling with their mates was a highlight as was later on watching some IMOCA 60s start on a delivery race to New York.
————
IF the kids have enough sailing smarts, bring two or three on a race with a mate, if the boat is of a size that can carry a few extras. BUT this is not just a sail, give them tasks suitable to the boat and their experience. Instruction and mentoring is key. Don't just stick them on the boat and tell 'em to not get hurt. For this US Sailing has a book on Junior Big Boat training. It is waterproof and covers all the bases. It might be $20 bucks. Get it and use it.
————
IF there is a regatta in town, Melges, J/Boats or whatever is around that summer, bring a few out in a RIB for an hour. However, it is key to explain what is going on, help them understand the teamwork involved in racing with more than one crew in a dinghy. Use analogies from the other sports they may be used to, Lacrosse, Soccer and so on to highlight the teamwork aspects of such sailing.
————
In some cases, having kids bring a boat back to or from somewhere pre or post-race is a great introduction. BUT mentoring and teaching is critical. I live in Newport RI, so I get it, I have a huge palette with which to work but this summer I and some mates were able to do the following:
Fifteen kids at STC Jr SAS, 6 of whom arrived in a soccer mum Caravan driven up from Connecticut. There were three boats: A Class 40, a Baltic 47 with roller furler, and a 40-foot IMX handicap race boat with a headfoil and A-kites so a wide spectrum of the yacht sailing milieu.
————
From that 15, about 5 comprised 8 kids in the two groups of 4 per boat sailing on two Navy Farr 40's for three hours after the boats arrived in the Annapolis Newport race. The other 3 kids came to me via a group email to the RI league HS coaches list.
There were 6 Navy middies and two coaches on board and each middy had a HS sailor the middy had to mentor and instruct. That is great experience for the middies too, for they will be in leadership roles in the not too distant future.
————
Through the generosity of a few locals and the master and owner of a superyacht named Zenji, I was able to rotate 10 kids through three days of preparation for, and subsequently sailing aboard her, for the Candy Store Cup.
Yes, I get it, Newport is a special case and Zenji is a 56-meter Perini Ketch, but the kids got to sail with some of the best sailors in the world for two days and were all mentored by these sailors. They did not sit around enjoying the ride, they all were appointed tasks in the various evolutions. The kids loved it and of course it was an experience of a lifetime.
————
I have a mate with a retired and de-tuned race boat who offered to bring some junior sailors out on two races, both around Jamestown Island in Newport. The first race we had 6 HS sailors. They were not along for the ride. They got to steer, trim, grind, work on the bow all under the mentoring eye of some of the boat's regular crew.
The second race we had 11 juniors – the first six had told their mates and I was now getting calls and emails from parents outside the original community from the Jr. SAS. In this second race we had the original 6 aboard again and I had them mentor the new sailors.
This was all done under the eye of an adult uber-mentor Jedi in the various departments on the boat – bow, mast, pit, trim, and so on. Same deal, we rotated the kids through many different positions. The kids were absolutely fine trimming hoisting and dousing (OK in a sock) and steering Falcon 2000, a retired and detuned 80-footer. Forget the boat, you all know someone with a last generation 50-footer.
————
From my own list of HS sailors and the SAS group, I and some mates were able to get kids out sailing in something of a regular basis this past summer, as follows.
One girl joined the Tuesday evening race crew of a 40-footer, used in the SAS. She also was picked up by a Thistle sailor for Monday night sailing. She was recruited to sail with some Canadians in the VX One regatta in August. She sailed in the Ida Lewis Race and then the Vineyard Race with the same boat. She is addicted to big boat sailing, has brought her own foul weather gear and inflatable PFD and wants to do the Newport Bermuda race. She is likely to do the adult SAS soon too. And she sailed the last three Wednesdays of the local Shields fleet.
Another two lads, one with only a couple of years sailing to his name also joined the same 40-footer for Tuesday night racing.
One sailed with the Young American Sailing Academy in the Around Long Island Race late July.
I lent my Laser to one of my High School sailors. He is really on the big side for a C420, he should be a Finn sailor, but he had a blast sailing the Laser all summer. So much so his parents got him his own Laser as a Christmas present in August.
I ran into two of the kids who were call-ins to all this sailing, not through the SAS seminar, at the NBYA awards dinner last Saturday.
They came up to me introduced themselves again and said what a great time they had on Falcon and they wanted to know of anything else like that I had going on next summer. These two kids sail on their HS team but both parents told me they absolutely loved sailing on big boats.
Yes, I know not everyone lives in a sailing center like Newport or has mates with a retired maxi or contacts to boats like Zenji. Forget the location and the platform, it is the process that counts.
Really it does not take much, just an interest in doing it, a few mates and getting the word out.
A STC Jr SAS is a great place to start and making contact with the local HS coaches is a good way to get the word out into the local teenage sailing community. Like the rest of us, if kids find something that really gets them excited, they will tell their mates about it
Source: sailingscuttlebutt
600
true
thumbnails
bottomright
300
true
800
none

600
true
dots
under
150
true
800
https://www.sualtigazetesi.com/wp-content/plugins/thethe-image-slider/style/skins/white-square-2
5000

fade

https://www.sualtigazetesi.com/tayk-sunum-kuzey-kutup-dairesinden-guney-kutup-dairesine-gronland-ve-antarktika-prof-dr-talat-kiris/

5000

fade

https://www.sualtigazetesi.com/dadd-sunum-her-yonuyle-teknede-enerji-ve-enerji-sistemleri-zafer-turkmen/

5000

fade

https://www.sualtigazetesi.com/riza-epikmen-schuco-bayk-kis-trofesi-2-ayak-yarislari-oncesi-duygu-ve-dusunceleri/

5000

fade

https://www.sualtigazetesi.com/the-bodrum-cup-turkiyeyi-yelkencilik-dunyasinda-temsil-etti/

5000

fade

https://www.sualtigazetesi.com/banu-oney-ile-denizden-denize-marmarisden-seattlea-yelkenli-tekne-ile/

5000

fade

https://www.sualtigazetesi.com/rsx-kadinlar-sinifinda-2020-tokyo-olimpiyat-oyunlari%e2%80%99ndayiz/