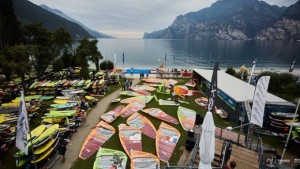 Twenty internationally renowned windsurfers will participate in the Paris 2024 Men's and Women's Windsurfer sea trials from September 29 to October 3 held out of Circolo Surf Torbole on Lake Garda, Italy.
Ten male and ten female windsurfers representing 18 nations are confirmed to participate in the 2019 sea trials. Twelve representatives are currently racing at the RS:X World Championships with the eight remaining windsurfers holding extensive Olympic sailing / coaching experience and foiling expertise.
Though Men's and Women's Windsurfing have been confirmed for Paris 2024, it was decided that a review was needed to determine whether the RS:X equipment, which has served the event since the 2008 Games, would continue beyond Tokyo 2020.
World Sailing received seven applications from class associations and manufacturers wishing to participate in the sea trials. The Paris 2024 Windsurfer Evaluation Working Party analyzed the supplied information against the criteria outlined in the invitation to tender and shortlisted the RS:X, Glide, iFoil, Formula Foil and Windfoil 1.
The windsurfers selected to test the Equipment are:
Female
Izzy Adcock (GBR)
Zofia Klepacka (POL)
Lilian De Geus (NED)
Noga Geller (ISR)
Marta Maggetti (ITA)
Bryony Shaw (GBR)
Farrah Hall (USA)
Anna Sagulenko (UKR)
Maja Dziarnowska (POL)
Helene Noesmoen (FRA)
Male
Luka Mratovic (CRO)
Christian Justesen (DEN)
Marcos Fernandez (ESP)
Vincent Langer (GER)
Vyron Kokalanis (GRE)
Kensei Ikeda (JPN)
Endre Funnemark (NOR)
João Rodrigues (POR)
Maksim Ombreko (RUS)
Elia Colombo (SUI)
In addition, tenderers have been invited to present a male and female windsurfer to ensure the required knowledge to use the equipment at its full potential is present. Chang Hao (TPE), Kiran Badloe (NED), Marina Alabau (ESP), and Gonzalo Costa Hoevel (ARG) will be advising the selected windsurfers and assisting the Paris 2024 Windsurfer Evaluation Working Party in evaluating the equipment.
The female age range is from 17 to 37 year's old with varying heights from 158cm to 178cm. The weight range of the female windsurfers is from 53kg to 68kg. In the male division, the age range of the sailors is from 20 to 47 years with height varying from 173cm to 191cm with a weight range between 70kg to 92kg.
The variety in age, height, weight and experience will enable the Paris 2024 Windsurfer Evaluation Working Party to receive a variety of feedback to make an informed recommendation to World Sailing's Equipment Committee ahead of the 2019 Annual Conference.
Shortlisted tender documents are available to review below:
• RS:X, Neil Pryde – Non foiling one design
• Glide, Glide Class – Non foiling one design
• iFoil, Starboard – Foiling (convertible) one design
• Formula Foil Limited, International Formula Windsurfing Class – Open Registered Series Production scheme – foiling
• Windfoil 1, Founding industry partners: Starboard, Severne, Phantom International – One design for the board – Open Registered Series Production scheme rest of equipment – foiling
Source: World Sailing

Kaynak: https://www.sailingscuttlebutt.com/2019/09/27/testing-windsurfing-gear-for-paris-2024/
Bizi Sosyal Medyada Takip Edin !
600
true
thumbnails
bottomright
300
true
800
none

600
true
dots
under
150
true
800
https://www.sualtigazetesi.com/wp-content/plugins/thethe-image-slider/style/skins/white-square-2