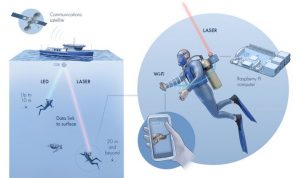 First there was Hi-Fi, then Wi-Fi. Get ready for Aqua-Fi.
By Melissa Smith
Checking your notifications on a dive or live-streaming from the reef may not be such a far-off reality thanks to an underwater internet dubbed "Aqua-Fi."
Developed by researchers at the King Abdullah University of Science and Technology (KAUST) in Thuwal, Saudi Arabia, Aqua-Fi uses a combination of lasers and existing computing technology to connect devices to the internet more than 30 feet underwater.
With the new technology, researchers were able to place a brief Skype call from a waterproof smartphone, using a standard Wi-Fi signal to connect to an underwater modem.
The modem is a Raspberry Pi computer, which is about the size of a credit card. It converts a wireless signal to an optical laser signal, which then is beamed to a receiver attached to a surface buoy. This creates a bi-directional wireless connection.
In order for Aqua-Fi to keep a constant connection, the lasers have to stay aligned with the buoys and have power banks to store their energy. Because of strong waves and currents, lasers can easily be knocked off their alignment. The team is currently looking into options to make the signal more reliable, Bassem Shihada, an associate professor of computer science at KAUST, tells TechRepublic.
Although commercial application of the technology is still a ways away, the team says it is making strides toward being able to deploy a reliable connection for underwater data centers and ocean conservation efforts.
The technology has many potential applications, including underwater robotics, marine life studies and live monitoring of pollution, environmental factors, ocean temperatures, natural disasters and underwater structures such as oil rigs.
Because Aqua-Fi is Wi-Fi based, it can also transfer GPS coordinates of underwater devices, Shihada says. Without an internet connection, GPS signals can't penetrate seawater, so this opens up a whole other realm of geographic information system (GIS) and other mapping possibilities.
"In 2019, we talked about connecting everything with everything, and we put together a vision on how to connect the underwater devices with the internet. Aqua-Fi will be the main element for the futuristic internet … where it will connect underwater stations, divers, autonomous vehicles, etc. with the terrestrial networks," Shihada says. "The future of Aqua-Fi based network will be a scalable, flexible, and efficient communication solution for and with the underwater environment."
Source: Sport Diver
600
true
thumbnails
bottomright
300
true
800
none

600
true
dots
under
150
true
800
https://www.sualtigazetesi.com/wp-content/plugins/thethe-image-slider/style/skins/white-square-2
5000

fade

https://www.sualtigazetesi.com/tayk-sunum-kuzey-kutup-dairesinden-guney-kutup-dairesine-gronland-ve-antarktika-prof-dr-talat-kiris/

5000

fade

https://www.sualtigazetesi.com/dadd-sunum-her-yonuyle-teknede-enerji-ve-enerji-sistemleri-zafer-turkmen/

5000

fade

https://www.sualtigazetesi.com/riza-epikmen-schuco-bayk-kis-trofesi-2-ayak-yarislari-oncesi-duygu-ve-dusunceleri/

5000

fade

https://www.sualtigazetesi.com/the-bodrum-cup-turkiyeyi-yelkencilik-dunyasinda-temsil-etti/

5000

fade

https://www.sualtigazetesi.com/banu-oney-ile-denizden-denize-marmarisden-seattlea-yelkenli-tekne-ile/

5000

fade

https://www.sualtigazetesi.com/rsx-kadinlar-sinifinda-2020-tokyo-olimpiyat-oyunlari%e2%80%99ndayiz/