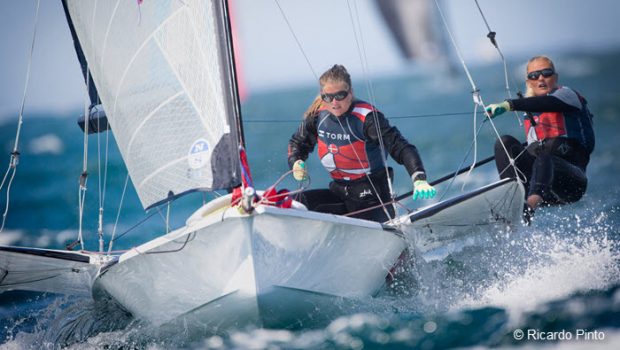 London, UK (March 8, 2020) – World Sailing, the world governing body of the sport, has become the first Olympic sport to sign the UN Women Sport for Generation Equality Declaration.
The signing of declaration follows from the World Sailing Trust's publication of their Strategic Review into Women in Sailing. The report explores gender balance and makes a case for change to address disparities within the sport and today, International Women's Day, World Sailing has taken this important step towards greater gender equity in the sport.
World Sailing joins the International Olympic Committee, Professional Squash Federation, Cricket Australia, the Ibero-American Council for Sports, and Male Champions for Change in Sport as initial signatories of the Declaration.
The global commitment and overall vision for UN Women Sport for Generation Equality Declaration is rooted in the 1995 Beijing Declaration and Platform for Action, which informs the Sustainable Development Goals – in particular Goal 5, "Achieve gender equality and empower all women and girls."
By signing the Declaration, World Sailing is committing to substantial, explicit and measurable actions that will support relevant aspects of the Principles.
World Sailing's first action in this regard is adopting a Gender Equality Charter, which will sit at the heart of the organization.
This Charter will include policies to remove all forms of gender-based discrimination and bias. This approach is in line with the IOC's Agenda 2020, the strategic roadmap for the Olympic Movement.
The scope of the policies under the Charter will encompass: the evolution of the sport of sailing across all disciplines to improve and increase participation, performance and conditions for women athletes, retirement from professional careers for women athletes, development of women's sailing among National Federations, increasing the representation and contribution of women in sailing governance, administration, and technical roles.
Kim Andersen, President of World Sailing commented, "World Sailing welcomed the World Sailing Trust's report and its recommendations when it was released. Today is another positive step forward for World Sailing as we continue our commitment to supporting women in sailing, enhancing female participation and achieving gender equity."
Dee Caffari, Chair of the World Sailing Trust, said, "What became very clear, once the World Sailing Trust published the Strategic Review, was that World Sailing had to take a fundamental step forward in terms of championing greater gender diversity.
"By 'leading from the front' and publicly aligning with UN Women, we are starting this process, and very much hope that this is a clear signal to the sport that gender equality needs to be front and center across all our decision-making."
UN Women's Jennifer Cooper added, "We read with great interest the strategic review carried out by the World Sailing Trust and appreciate its comprehensive and transparent examination of the state of gender equality in the sport. We wholeheartedly support the recommendations to address these issues in sailing.
"We are delighted to welcome World Sailing as our first Olympic sport signatory and very much look forward to working with them to develop the pathways to achieve the Principles of the Declaration."
The UN Women Sport for Generation Equality Declaration is based around six principles that are aligned to the Beijing Platform for Action:
• Principle 1: Undertake systematic efforts to promote women's leadership and gender equality in governance models
• Principle 2: Undertake efforts to prevent and respond to violence against women and girls in and through sports
• Principle 3: Undertake to close the gap in investment in women's sport and promote equal economic opportunities for women and girls
• Principle 4: Undertake efforts to promote women's equal participation and bias-free representation in sports media, including communications to eliminate harmful gender stereotypes and to promote positive role models
• Principle 5: Undertake efforts to support equal opportunities for girls in sports, physical activity and physical education
• Principle 6: Agree to systematically monitor and publicly report on progress on an annual basis
Source: sailingscuttlebutt
600
true
thumbnails
bottomright
300
true
800
none

600
true
dots
under
150
true
800
https://www.sualtigazetesi.com/wp-content/plugins/thethe-image-slider/style/skins/white-square-2
5000

fade

https://www.sualtigazetesi.com/dadd-sunum-her-yonuyle-teknede-enerji-ve-enerji-sistemleri-zafer-turkmen/

5000

fade

https://www.sualtigazetesi.com/riza-epikmen-schuco-bayk-kis-trofesi-2-ayak-yarislari-oncesi-duygu-ve-dusunceleri/

5000

fade

https://www.sualtigazetesi.com/the-bodrum-cup-turkiyeyi-yelkencilik-dunyasinda-temsil-etti/

5000

fade

https://www.sualtigazetesi.com/banu-oney-ile-denizden-denize-marmarisden-seattlea-yelkenli-tekne-ile/

5000

fade

https://www.sualtigazetesi.com/rsx-kadinlar-sinifinda-2020-tokyo-olimpiyat-oyunlari%e2%80%99ndayiz/