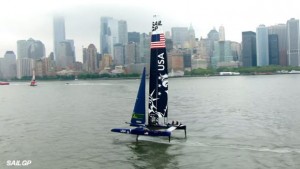 The third event of the new SailGP global sports league brings the six international teams to New York City for a two day series on June 21-22 in front of Manhattan's iconic skyline.
With racing on the Hudson River, the rivalry between Australia and Japan will continue as the field seeks to narrow the advantage these leading teams have demonstrated.
While Great Britain proved nearly the equal at the last stop in San Francisco (May 4-5), the USA team took a notable step forward as well.
"We are planning to come out swinging here in New York," said USA skipper Rome Kirby. "In San Francisco, we made massive improvements and were nipping at the heels of the leaders, leading in many of the races."
After training sessions this week in lighter winds, the forecast indicates wind in the teens for racing. However, the confined NYC venue will present a new challenge for the teams to keep the hydrofoiling F50 catamarans at top speed as they confront strong current and erratic winds due to the urban setting.
"It's going to be so different than anything we are used to," shared Kirby. "We're just going to have to make the best of it. It's going to be shify, it's going to be puffy. There's going to be puffs that you don't see on the water. You just got to make the most of it and keep battling."
Australia seeks for a three-peat after taking wins in Sydney and San Francisco. "I'm most excited to see the crowds here in New York," said helm Tom Slingsby. "The racing will be very close to the shoreline, and we'll be able to hear the cheering."
The format is for three fleet races on June 21 and two fleet races on June 22 before the top two teams in the standings advance to one final match race to determine the stage winner.
The New York SailGP Race Village, located at Brookfield Place in Battery Park City, will serve as the center of the festivities. Visitors will have access to big screens showing live race coverage and commentary, concessions, the official merchandise shop, entertainment (including the awards ceremony and athlete appearances), and other activities.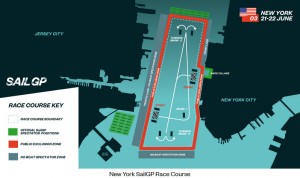 Overall Results (after 2 events)
1. Australia, Tom Slingsby, 95 points
2. Japan, Nathan Outteridge, 91
3. Great Britain, Dylan Fletcher, 79
4. United States, Rome Kirby, 68
5. France, Billy Besson, 61
6. China, Phil Robertson, 60
ABOUT SAILGP:
Established in 2018 and headquartered in London and San Francisco, SailGP seeks to be an annual, global sports league featuring fan-centric, inshore racing in some of the iconic harbors around the globe and culminates with a $1 million winner-takes-all match race. Rival national teams from Australia, China, France, Great Britain, Japan, and the United States battle it out in identical wing-powered, foiling F50 catamarans, engineered to exceed 50 knots.
2019 Schedule
Sydney, Australia (February 15-16)
San Francisco, USA (May 4-5)
New York, USA (June 21-22)
Cowes, UK (August 10-11)
Marseille, France (September 20-22)
Source: sailingscuttlebutt
600
true
thumbnails
bottomright
300
true
800
none

600
true
dots
under
150
true
800
https://www.sualtigazetesi.com/wp-content/plugins/thethe-image-slider/style/skins/white-square-2
5000

fade

https://www.sualtigazetesi.com/tayk-sunum-kuzey-kutup-dairesinden-guney-kutup-dairesine-gronland-ve-antarktika-prof-dr-talat-kiris/

5000

fade

https://www.sualtigazetesi.com/dadd-sunum-her-yonuyle-teknede-enerji-ve-enerji-sistemleri-zafer-turkmen/

5000

fade

https://www.sualtigazetesi.com/riza-epikmen-schuco-bayk-kis-trofesi-2-ayak-yarislari-oncesi-duygu-ve-dusunceleri/

5000

fade

https://www.sualtigazetesi.com/the-bodrum-cup-turkiyeyi-yelkencilik-dunyasinda-temsil-etti/

5000

fade

https://www.sualtigazetesi.com/banu-oney-ile-denizden-denize-marmarisden-seattlea-yelkenli-tekne-ile/

5000

fade

https://www.sualtigazetesi.com/rsx-kadinlar-sinifinda-2020-tokyo-olimpiyat-oyunlari%e2%80%99ndayiz/