................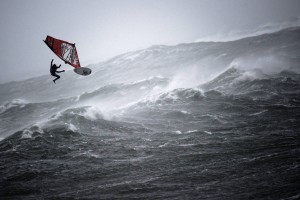 Winter is upon us and the Red Bull Storm Chase is back from 5th Jan 2018
The world's toughest windsurfing contest returns – the 2018 Red Bull Storm Chase waiting period starts January 5th!
Red Bull Storm Chase – the windsurfing contest that happens only in wind speeds of Force 10 (89-102kph) and huge waves – requires a peculiar set of weather conditions. In 2017 the perfect storm proved to be elusive – in 2018, the chase is on again.
Beginning on January 5th, 2018, the Red Bull Storm Chase waiting period is open. Organisers and competitors of the world's toughest windsurfing contest will be watching the charts for a Force 10 storm to hit the Northern Hemisphere. Despite the three-month waiting period in early 2017, no suitable storm appeared – leaving the storm chasers eager for more.
The unique contest format means eight of the best windsurfers in the world will mobilise on short notice to chase the storm to the ideal windsurfing location, where they will battle it out to see who is truly the best storm windsurfer in the world.
The expert judge's panel – including Professional Windsurfing Association Head Judge Duncan Coombs – will look for jump height and trick difficulty, the most stylish wave rides, and timing-critical moves as the riders take advantage of over mast-high waves and wind up to 100kph.
Key Facts:
• The world's toughest windsurfing contest
• Contest window begins January 5th, 2018 and runs to March 17th, 2018
• Riders judged on jumps, wave riding, and execution of tricks
• Four riders are qualified from last event; four more selected from a pool of ten in the
days leading up to the event
• Fans (and riders) can propose locations
Event is confirmed only 72 hours before the start of competition
Media:
A brand new teaser as well as images and event videos from the previous Red Bull Storm Chase can be found on Red Bull Content Pool and is free for editorial use with proper credits.
For all media enquiries contact:
Julius Niehus
ADDITIONAL INFORMATION
Riders
The four finalists from the last Red Bull Storm Chase (Leon Jamaer, Dany Bruch, Marcilio Browne, and winner Thomas Traversa) are automatically entered. The remaining four competition slots will be filled from the list of nominees below.
Nominees
Jaeger Stone (Starboard / Severne / SWOX / Shamal Sunglasses), Australia
Ricardo Campello (Point-7), Venezuela
Adam Lewis (Fanatic / NorthSails / SWOX), United Kingdom
Antoine Martin (JP / NeilPryde), France
Robby Swift (JP / NeilPryde / Mystic / SWOX) , United Kingdom
Philip Köster (Starboard / Severne / Maui Ultra Fins), Germany
Kai Lenny (Naish), USA
Camille Juban (Quatro / Simmer), France
Victor Fernández López (Fanatic / NorthSails / Shamal Sunglasses), Spain
Jules Denel (JP / NeilPryde), France
Location and safety
Competition Slot Guaranteed Thomas Traversa (Tabou / GA Sails), France
Dany Bruch (Starboard / FlightSails / AL360), Spain
Leon Jamaer (JP / NeilPryde), Germany
Marcilio Browne (Goya Windsurfing), Brazil
As stated, the mobile and reactive nature of the contest means the location is yet unknown. However, priority will be given to locations that offer: a likely combination of Force 10 wind and waves; close proximity to an international airport, adequate medical coverage and emergency services, and an absolute guarantee of adequate water access. During the given weather window these conditions are most likely to form in the Northern Hemisphere. Full safety crews consisting of water sports and medical professionals will be onsite to assist in the event of an emergency.
Event Coverage and timing
A 'watch' alert will go out approximately 120 hours before the event, and confirmation will come just 72 hours before the event, at which point, riders and event crews will travel to the selected location. Pre-, during, and post-event, updates will be available online at facebook.com/redbullstormchase.
Source: PWA
600
true
thumbnails
bottomright
300
true
800
none

600
true
dots
under
150
true
800
https://www.sualtigazetesi.com/wp-content/plugins/thethe-image-slider/style/skins/white-square-2