................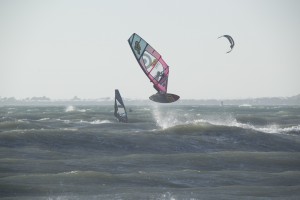 Highlights of the opening PWA Youth World Cup of the Season in Almerimar
The first edition of the Victor Fernandez Center Club PWA Youth World Cup, which was held between the 2nd-5th January, proved to be highly successful with results being gained in every age category in the wave discipline, but unfortunately no result was gained in the slalom discipline.
Over the course of the 4 day event 38 of the world's most promising youth's, from 7 different countries, registered for the contest and after a quiet few days the last day provided the action.
In the end Henri Kolberg (Starboard / Hot Sails Maui) took the victory ahead of Miguel Chapuis (JP / NeilPryde) and Titouan Flechet in the Males Under 20s, while Tessa Van der Meer saw off her sister – Nikki Van der Meer – in the Girls Under 20s – while Regina Villegas completed the podium.
In the highly competitive Male Under 17s Division local boy Jose Casanova (Fanatic / NorthSails) was able to defeat Pozo local Marino Gil (Goya Windsurfing) and those two look set for an enthralling battle over the remainder of the season. In the Girls U17s Mar de Arce took top honours ahead of Maria Morales (Quatro / Goya Windsurfing) and Sara Coll and Elena Cantón, who shared 3rd.
In the two youngest divisions – Under 15s and 13s – Neuba Lennart and Tobias Andersen recorded wins, while in the overall rankings Miguel Chapuis took first place ahead of José Casanova and Marino Gil.
You can see the highlights from the opening Youth PWA World Cup by visiting @ vimeo.com/250360641
You can find out more about the event via the two links below – including full results and photos:
http://victorfernandezcenter.com/blog.html
victorfernandezcenter.com
Result Youth Male Under 20
1st Henri Kolberg (Starboard / Hot Sails Maui)
2nd Miguel Chapuis (JP / NeilPryde / Mystic)
3rd Titouan Flechet (Tabou / Hot Sails Maui)
Result Youth Female Under 20
1st Tessa Van der Meer
2nd Nikki Van der Meer
3rd Regina Villegas
Result Youth Male Under 17
1st Jose Casanova (Fanatic / NorthSails)
2nd Marino Gil (Goya Windsurfing)
3rd Titouan Flechet
Result Youth Female Under 17
1st Mar de Arce
2nd María Morales (Quatro / Goya Windsurfing)
3rd Sara Coll
3rd Elena Cantón
Result Youth Male Under 15
1st Neuba Lennart
2nd Nicolo Spanne
3rd Miguel Casanova
Result Youth Male Under 13
1st Tobias Anderesen
2nd Miguel Mirón
Final Result
1st Miguel Chapuis
2nd José Casanova
3rd Marino Gil
Source: PWA
Diğer Konular
600
true
thumbnails
bottomright
300
true
800
none

600
true
dots
under
150
true
800
https://www.sualtigazetesi.com/wp-content/plugins/thethe-image-slider/style/skins/white-square-2

Bu konu şimdiye kadar