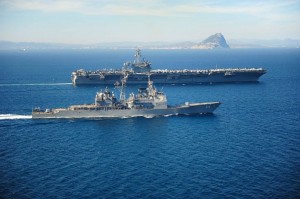 Chemical litter is sitting ominously at the bottom of the ocean. Is there destruction in the horizon? Scientists study the phenomenon.
According to a report from Hakai Magazine, an estimated one million tons of warfare chemicals are found in the ocean, which stretches long and wide throughout the world. In the Bari harbor in Italy, there have been reports of 230 sulfur mustard exposure cases in the past 70 years. On the other side of the world, sulfur mustard bombs have also appeared three times in Delaware.
"It's a global problem," sand Terrance Long, chair of the International Dialogue on Underwater Munitions (IDUM). "It's not regional, and it's not isolated."
But where did they come from?
In 1917, German soldiers used mustard gas against their enemies, a liquid chemical-warfare agent that shocked its victims: burned their skin, inflamed their eyes, and formed blisters on their genitals and arms. The use of the chemicals killed 90,000 soldiers in World War I, then in the second World War it was still being used despite the ban by the Geneva Convention in 1925.
When the war ended, disposal of the mustard gas became a priority – and a huge problem. To get rid of the chemical weapons, Russia, United Kingdom and the United States got creative; they all tossed all of their weapons on the ocean. Entire ships filled to the brim of chemical munitions and pushed the containers overboard.
Records of the location are inaccurate, but nowadays scientists are rushing to find them and catch signs of damage to the environment. Time is ticking as there is the possibility of the bombs rusting underwater, potentially leaking the harmful materials inside.
Jacek Beldowski, a geochemist at the Polish Academy of Science's Institute of Oceanography in Sopot, coordinated scientists to figure out how chemical weapons underwater could affect the environment and humans. He explained that while there's no evidence of marine life getting affected, they are concerned that rusting may happen simultaneously.
"We have the 'time bomb and catastrophe' approach versus the 'unicorns and rainbows' approach," Beldowski says. "It's really interesting at project meetings when you have the two sides fighting."
Kaynak: http://www.natureworldnews.com/articles/31777/20161113/one-million-tonnes-post-war-chemical-weapons-dumped-ocean-pose.htm
Bizi Sosyal Medyada Takip Edin !
600
true
thumbnails
bottomright
300
true
800
none

600
true
dots
under
150
true
800
https://www.sualtigazetesi.com/wp-content/plugins/thethe-image-slider/style/skins/white-square-2
5000

fade

https://www.sualtigazetesi.com/dadd-sunum-her-yonuyle-teknede-enerji-ve-enerji-sistemleri-zafer-turkmen/

5000

fade

https://www.sualtigazetesi.com/riza-epikmen-schuco-bayk-kis-trofesi-2-ayak-yarislari-oncesi-duygu-ve-dusunceleri/

5000

fade

https://www.sualtigazetesi.com/the-bodrum-cup-turkiyeyi-yelkencilik-dunyasinda-temsil-etti/

5000

fade

https://www.sualtigazetesi.com/banu-oney-ile-denizden-denize-marmarisden-seattlea-yelkenli-tekne-ile/

5000

fade

https://www.sualtigazetesi.com/rsx-kadinlar-sinifinda-2020-tokyo-olimpiyat-oyunlari%e2%80%99ndayiz/