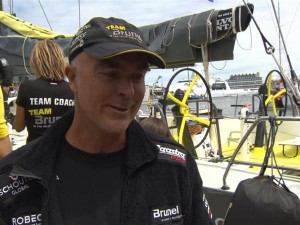 THE HAGUE, Netherlands, June 20 – Team Alvimedica (Charlie Enright/USA) led the Volvo Ocean Race fleet out on the final 'sprint' to Gothenburg today, as the seven teams bade farewell to The Hague after a hugely successful pit-stop in the famous old Dutch port.The Turkish/American boat retained the one hour, 46 minute lead they established in the first part of the 1,000-nautical mile-plus ninth and final leg from Lorient, France, to Gothenburg in Sweden, having arrived here just after 0130 local time on Friday morning.
The seven boats have around two-and-a-half days of challenging sailing ahead of them in fluctuating wind and sea states, with the possibility of a compression of the fleet as the breeze drops further into the leg. They also must steer clear of numerous Traffic Separation Schemes (TSS), which litter their paths and have already caused penalty points for three teams in earlier legs following inadvertent infringements.
Leg 9 victory in Gothenburg would taste so sweet for skipper Charlie Enright and the youngest crew in the race, which is also peppered with experience including 50-year-old navigator, Will Oxley (AUS), who is taking on his fourth Volvo Ocean Race. It would also give them an outside chance of an overall podium place, although a showdown for fourth spot looks more likely for them. Enright and his crew departed at midday local time/1000 UTC in around seven knots of breeze.
If the positions remain the same on arrival in Gothenburg as when the fleet finished in The Hague, Team Alvimedica would find themselves in the interesting position of being locked in joint fourth place on 34 points with MAPFRE (Iker Martínez/ESP). The Spanish boat left port in third place.That tie could only then be broken by the In-Port Race Series that reaches its own finale on Saturday, June 27, with the Inmarsat In-Port Race Gothenburg.
A similar situation exists for second place, where Dongfeng Race Team (Charles Caudrelier/FRA) are attempting to claw back a two-point deficit on current runners-up, Team Brunel (Bouwe Bekking/NED). The Chinese boat was second out of the harbour in The Hague, one hour 46 minutes behind Team Alvimedica, in three to four knots more wind speed than Enright's crew.
Team Vestas Wind (Chris Nicholson/AUS) and, finally, Team SCA (Sam Davies/GBR) were last to leave The Hague, the latter four hours and 32 minutes after Team Alvimedica.Abu Dhabi Ocean Racing (Ian Walker/GBR) were, meanwhile, simply hoping to avoid any mishaps on their way to what should be huge celebrations for them as overall Volvo Ocean Race 2014-15 champions in Gothenburg. They hold an unassailable eight-point lead at the top of the standings and only last place in Leg 9, victory for Team Brunel, and a two-point penalty can ruin their moment of glory now.
Article source: http://volvooceanrace.synapticdigital.com/news/no-sleep-until-gothenburg--leg-9-restart-in-the-hague/s/47f1e6e5-c866-4d3e-972c-0ca174b5383a
Bizi Sosyal Medyada Takip Edin !
600
true
thumbnails
bottomright
300
true
800
none

600
true
dots
under
150
true
800
https://www.sualtigazetesi.com/wp-content/plugins/thethe-image-slider/style/skins/white-square-2
5000

fade

https://www.sualtigazetesi.com/deniz-kuvvetleri-kupasi-oncesi-murat-tan-atilla-gokova-yaris-ekibi-roportajlari/

5000

fade

https://www.sualtigazetesi.com/tayk-sunum-kuzey-kutup-dairesinden-guney-kutup-dairesine-gronland-ve-antarktika-prof-dr-talat-kiris/

5000

fade

https://www.sualtigazetesi.com/dadd-sunum-her-yonuyle-teknede-enerji-ve-enerji-sistemleri-zafer-turkmen/

5000

fade

https://www.sualtigazetesi.com/riza-epikmen-schuco-bayk-kis-trofesi-2-ayak-yarislari-oncesi-duygu-ve-dusunceleri/

5000

fade

https://www.sualtigazetesi.com/the-bodrum-cup-turkiyeyi-yelkencilik-dunyasinda-temsil-etti/

5000

fade

https://www.sualtigazetesi.com/banu-oney-ile-denizden-denize-marmarisden-seattlea-yelkenli-tekne-ile/

5000

fade

https://www.sualtigazetesi.com/rsx-kadinlar-sinifinda-2020-tokyo-olimpiyat-oyunlari%e2%80%99ndayiz/