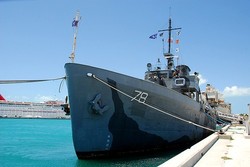 With a deal pending that would see the retired U.S. Coast Guard cutter Mohawk scuttled as an artificial reef in Southwest Florida, Bill Verge, proprietor of the museum ship, is preparing to the strip the vessel of items with both monetary and historical value.
Verge said things like pictures, plaques, brass, guns and portholes would be removed. "All they're getting is a hull."
Last week, a consortium comprising representatives from Charlotte, Lee, Manatee and Sarasota counties agreed to spend $1.5 million to scuttle the Mohawk about 13 miles off Sanibel Island.
The consortium, essentially a special taxing district called the West Coast Inland Navigation District, has been planning an artificial reef as a dive destination with Florida Keys-based Reefmakers. That company was integral in the 2008 scuttling of the 520-foot U.S.S. Hoyt S. Vandenberg off Key West, which has turned into a popular diving and fishing spot.
"I'd rather see it become a reef than turned in to razorblades," Verge said of the Mohawk, referencing the chance the ship could be sold for scrap metal.
Verge, who runs the nonprofit Miami-Dade Historical Maritime Museum Inc. that operates the USS Mohawk CGC Memorial Museum, said it would cost about $400,000 in repairs to keep the Mohawk at her berth along the East Quay Wall in the Truman Waterfront.
Steve Boutelle, marine services operations manager for Lee County, said that a little more than a year ago, county staff began a general dialogue with Reefmakers about a scuttling project. Then, he said, about six months ago, "we learned of [the Mohawk] through a number of different connections. It seems like it'll be a pretty good fit for us."
The plan is to have the ship on the bottom before next hurricane season starts June 1. "In a perfect world, that's the way it would work out," Boutelle said, cautioning, "We're not certain if that's a realistic schedule at this point."
Verge also operates the adjacent U.S. Coast Guard Cutter Ingham Maritime Museum & National Historic Landmark, which, like the Mohawk, is open for public tours.
The Mohawk, at 165 feet, was brought to Key West in 2006, after spending decades in a Staten Island, N.Y. shipyard. Launched in October 1934, the Mohawk was commissioned to patrol the Hudson and Delaware rivers on icebreaking duty in January 1935. During World War II, the Mohawk was used by the U.S. Navy as an escort in the North Atlantic, where it was involved in 14 attacks against Nazi U-boats.
Verge is resigned to see the vessel go, but belied a distaste for the tourism environment in Key West that sees attractions of historical and military significance fail: "It's hard to support things like this in a town that's more about drinking and puking than about history. You sure can't make it on $12 gangway admissions."
http://www.keysnet.com
600
true
thumbnails
bottomright
300
true
800
none

600
true
dots
under
150
true
800
https://www.sualtigazetesi.com/wp-content/plugins/thethe-image-slider/style/skins/white-square-2
5000

fade

https://www.sualtigazetesi.com/dadd-sunum-her-yonuyle-teknede-enerji-ve-enerji-sistemleri-zafer-turkmen/

5000

fade

https://www.sualtigazetesi.com/riza-epikmen-schuco-bayk-kis-trofesi-2-ayak-yarislari-oncesi-duygu-ve-dusunceleri/

5000

fade

https://www.sualtigazetesi.com/the-bodrum-cup-turkiyeyi-yelkencilik-dunyasinda-temsil-etti/

5000

fade

https://www.sualtigazetesi.com/banu-oney-ile-denizden-denize-marmarisden-seattlea-yelkenli-tekne-ile/

5000

fade

https://www.sualtigazetesi.com/rsx-kadinlar-sinifinda-2020-tokyo-olimpiyat-oyunlari%e2%80%99ndayiz/