By Domino Albert, Associate Director Global Communications, and Project AWARE®
There is no set formula when it comes to fundraising for ocean protection. Some bake cakes, others take on the challenge to run marathons in full scuba gear.
"Scuba Mark" ran the Chicago marathon to raise money for Project AWARE and then repeated the challenge, in the Dublin Marathon, but this time, wearing his diving gear to make a splash and show that not all heroes wear capes.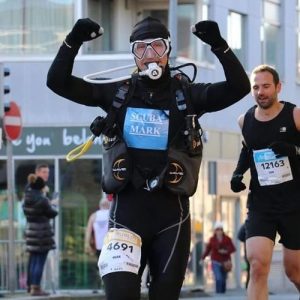 Scuba Mark is not new to fundraising for good causes. He previously ran the 2015 Dublin marathon in a fully inflatable Mr. Blobby costume to raise funds for the Irish Cancer Society, but this time he decided to connect his passion for scuba diving with the purpose of marine conservation. He joined the Project AWARE 2019 Bank of America Chicago Marathon Team as well as the Dublin Marathon and raised over $2,800 to help secure a brighter future for the health of our blue planet and specifically address the critical issue of marine debris.
"Funds raised by the marathon team support Project AWARE's conservation work and fuel the grassroots action and policy change necessary to ensure a clean, healthy ocean for us today and for future generations." says Mark.
Mark learned to dive in 2009. That was it! He was hooked and quickly went on the life-changing journey of becoming a scuba diving instructor. Through scuba diving, Mark became aware of the scale of the problems facing the ocean, including the onslaught of marine debris wreaking havoc on marine life and fragile aquatic ecosystems. Guiding a dive as a newly qualified instructor in 2016, Mark was horrified to see a dive site in Koh Tao, Thailand, almost entirely covered in fishing nets.
"Fishing trawlers would just drag their nets behind their boats and when they got caught in pinnacles, they would cut them loose and continue on. We noticed several fish had died after being caught between the net and pinnacle," said Mark, talking about the experience. "The horrible consequences of human actions finally hit me and I've tried to actively make a difference ever since."
Now more than ever before, ocean advocates are taking a stand for conservation and people like Mark are definitely making an impact. Join Mark and make a difference in 2020 by fundraising for the ocean. Get started now at projectaware.org/fundraise
Source: sport diver
600
true
thumbnails
bottomright
300
true
800
none

600
true
dots
under
150
true
800
https://www.sualtigazetesi.com/wp-content/plugins/thethe-image-slider/style/skins/white-square-2
5000

fade

https://www.sualtigazetesi.com/deniz-kuvvetleri-kupasi-oncesi-murat-tan-atilla-gokova-yaris-ekibi-roportajlari/

5000

fade

https://www.sualtigazetesi.com/tayk-sunum-kuzey-kutup-dairesinden-guney-kutup-dairesine-gronland-ve-antarktika-prof-dr-talat-kiris/

5000

fade

https://www.sualtigazetesi.com/dadd-sunum-her-yonuyle-teknede-enerji-ve-enerji-sistemleri-zafer-turkmen/

5000

fade

https://www.sualtigazetesi.com/riza-epikmen-schuco-bayk-kis-trofesi-2-ayak-yarislari-oncesi-duygu-ve-dusunceleri/

5000

fade

https://www.sualtigazetesi.com/the-bodrum-cup-turkiyeyi-yelkencilik-dunyasinda-temsil-etti/

5000

fade

https://www.sualtigazetesi.com/banu-oney-ile-denizden-denize-marmarisden-seattlea-yelkenli-tekne-ile/

5000

fade

https://www.sualtigazetesi.com/rsx-kadinlar-sinifinda-2020-tokyo-olimpiyat-oyunlari%e2%80%99ndayiz/