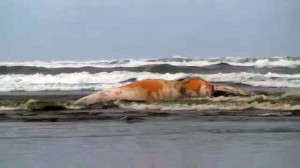 SEASIDE, Ore. – It's so bad, you can practically smell it from here.
A 40-foot grey whale began washing up on the beach at Seaside, leaving a big mess for cleanup crews and a powerful odor for everybody in the general vicinity on Tuesday.
"It's really smelly," said Keith Chandler, the general manager of the Seaside Aquarium. "We're quite a ways away from it and I can smell the whale. So after it gets totally beached, people are probably gonna want to stay away from it because it's really nasty.
"You don't want your pets getting on it and rolling on it. It'd really be a horrible way to spend your vacation."
Chandler said the whale has been dead for quite a while, but is only now washing in to shore.  The carcass is in the surf near Seaside beach, after first being spotted in the south jetty at Fort Stevens State Park on Sunday.
He said once his team is done collecting data from it, the city of Seaside will come bury it.
In the meantime, Chandler suggested steering clear.
"It's interesting to come look at, but I'd keep distance," he said. "Don't try to mess with it, cause it's really a nasty smelling thing.
"I don't think you're gonna want to smell like this whale."
Kaynak: http://www.underwatertimes.com/link.php?url=http://www.kboi2.com/news/local/Its-really-smelly-Dead-grey-whale-washes-ashore-on-Ore-coast-255403411.html
Bizi Sosyal Medyada Takip Edin !
600
true
thumbnails
bottomright
300
true
800
none

600
true
dots
under
150
true
800
https://www.sualtigazetesi.com/wp-content/plugins/thethe-image-slider/style/skins/white-square-2