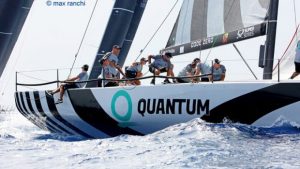 Mallorca, Spain (August 24, 2021) – It had been a 17 month postponement for the 52 SUPER SERIES, unable to continue on from the March 2020 event in Cape Town due to travel restrictions from the pandemic, but the grand prix TP52 fleet was back today with all the glamour afforded the leading edge of the sport.
With boats littered with Olympic medalists and America's Cup sailors, it was Doug DeVos and his Quantum Racing team that sit on top of the nine boat leader board after claiming a 2-1 on the Bay of Palma at the 52 SUPER SERIES Puerto Portals Sailing Week & 20th Anniversary Invitational.
While it was the 2019 World Champions Harm Müller-Spreer's Platoon who scored the first race victory, the German flagged crew were fourth in the next windward-leeward race to lie second overall by two points.
With tactician Terry Hutchinson, now partnered by Argentinian 470 Olympic bronze medalist Lucas Calabrese at the back of Quantum Racing and Michele Ivaldi navigating, there were glimpses of the gold standard team performances that have in the past won four 52 SUPER SERIES titles.
In particular they started well – DeVos has been doing a decent amount of racing with the Great Lakes 52 fleet and looked as sharp – and the afterguard did a good job of staying in the best wind pressure and away from the traffic. In both races they worked middle right and right off the start line – against the usual Palma conventions – and did well.
"It was good to see Terry and Lucas always putting us in the best places on the race course and that was the key," noted Ivaldi. "There are still races left, but we come out of the first day with a lot of confidence."
In an 11 knot sea breeze, Platoon had the first race won by the top half of the first beat. With John Kostecki and Jordi Calafat working their usual magic on the bay where Calafat grew up, Platoon extended away on the second round especially and had a handsome margin by the finish.
"We have all missed racing so much and Puerto Portals has an important place in the history of the TP52 in the Med and also our story as a team, winning the world championships here in 2019," said Platoon's Victor Marino. "We have all sailed here so much but Jordi Calafat really knows the bay and is great on a day like this."
After jumping the start gun on the first race and having to recross, Bronenosec atoned with a second in the next. Tactician Vasco Vascotto too was at his best on his return to the fleet, as with Morgan Larson steering, he brought the blue hulled Russian boat in from the left on a typically punchy but perfectly constructed port tack approach to round second.
As the late afternoon sea breeze diminished and the old offshore gradient pushed back in from the north, the last run was all but turned inside out. Speeds were down to two knots at times as Quantum Racing ghosted across the finish to a well earned winning gun from Bronenosec with Ergin Imre's Provezza taking third thanks to a good recovery, reading the shifts well on the second round.
Already there is a logjam in the middle of the standings table as Bronenosec, Provezza, and Andy Soriano's Alegre all finished the day on a 10 point aggregate from the pair of races.
The 20th Anniversary Invitational for seven older 52s had two good races which saw Karl Kwok's Beau Geste, with Gavin Brady and Ken Read combining their talents, triumph in both. Roberto Monti's Air Is Blue lie second overall after a second and third. The most recent newcomers to the class THA 72, the boat which was formerly Team Vision Future and is steered by Don Whitcraft and led by Pom Green and Nick Rogers, lies third.
52 SUPER SERIES, standings after two race
1. Quantum Racing (USA) (Doug DeVos) (2,1) 3 pts.
2. Platoon (GER) (Harm Müller-Spreer) (1,4) 5 p.
3. Bronenosec Gazprom (RUS) (Vladimir Liubomirov) (8,2) 10 p.
4. Provezza (TUR) (Ergin Imre) (7,3) 10 p.
5. Alegre (USA/GBR) (Andrés Soriano) (5,5) 10 p.
6. Phoenix (RSA) (Hasso Plattner) (3,8) 11 puntos.
7. Sled (USA) (Takashi Okura) (4,7) 11 p.
8. Interlodge (USA) (Austin Fragomen) (6,6) 12 p.
9. Gladiator (GBR) (Tony Langley) (9,9) 18 p.
20th Anniversary Invitational
1. Beau Geste (HK) (1,1) 2 pts
2. Air is Blue (ITA) (2,3) 5 p.
3. THA72 (THA) (4,2) 6 p.
4. Zero Emission (FIN) (6,4.5) 10.5 p.
5. XIO (ITA) (3,DNF8) 11 p.
6. Arobas (FRA) (5,6), 11 p.
7. Blue Carbon (ESP) (7,4,.5) 11.5 p.
2021 Schedule
July 13-17 – Royal Cup 52 SUPER SERIES Valencia Mar (CANCELLED)
August 24-28 – Puerto Portals 52 SUPER SERIES Sailing Week & TP52 20th Anniversary Invitational
September 28-October 2 – Menorca 52 SUPER SERIES Sailing Week
November 2-6 – Rolex TP52 World Championship RCNP
Following the cancellation of the 2020 season due to COVID-19, the abbreviated 2021 schedule will be the ninth edition of the 52 SUPER SERIES which was established as the world's leading grand prix monohull yacht racing circuit.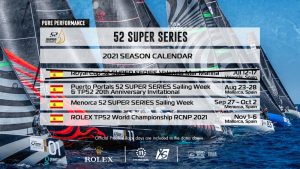 Source: scuttlebutt – https://www.sailingscuttlebutt.com/2021/08/24/grand-prix-racing-returns-in-bay-of-palma/
600
true
thumbnails
bottomright
300
true
800
none

600
true
dots
under
150
true
800
https://www.sualtigazetesi.com/wp-content/plugins/thethe-image-slider/style/skins/white-square-2
5000

fade

https://www.sualtigazetesi.com/4denizemeydanoku-film-gosterimi-akmnin-yesilcam-sinemasi-sahnesinde-gerceklesti/

5000

fade

https://www.sualtigazetesi.com/tayk-sunum-kuzey-kutup-dairesinden-guney-kutup-dairesine-gronland-ve-antarktika-prof-dr-talat-kiris/

5000

fade

https://www.sualtigazetesi.com/dadd-sunum-her-yonuyle-teknede-enerji-ve-enerji-sistemleri-zafer-turkmen/

5000

fade

https://www.sualtigazetesi.com/riza-epikmen-schuco-bayk-kis-trofesi-2-ayak-yarislari-oncesi-duygu-ve-dusunceleri/

5000

fade

https://www.sualtigazetesi.com/the-bodrum-cup-turkiyeyi-yelkencilik-dunyasinda-temsil-etti/

5000

fade

https://www.sualtigazetesi.com/banu-oney-ile-denizden-denize-marmarisden-seattlea-yelkenli-tekne-ile/

5000

fade

https://www.sualtigazetesi.com/rsx-kadinlar-sinifinda-2020-tokyo-olimpiyat-oyunlari%e2%80%99ndayiz/