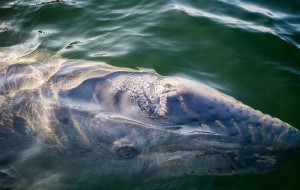 May 25 was the final day of the 34th season of the gray whale migration count, part of the American Cetacean Society's Los Angeles Chapter Gray Whale Census and Behavior Project founded by marine biologist Alisa Schulman-Janiger in January 1984. Today, about 100 volunteers help with the census count.
Each year, about 20,000 gray whales (Eschrichtius robustus) make a 10,000- to 12,000-mile round-trip journey from Alaska to Baja California, Mexico, where the females give birth to their calves. After spending time in Baja California waters so the calves can grow strong enough to make the dangerous journ, the gray whales journey back to Alaska in spring. It is the longest-known distance any mammal migrates on an annual basis.
The 2016-17 season's migration started slowly and ended earlier than normal. Whale count volunteers spotted their last gray whale May 17. All participants use binoculars, and several confirm and detail sightings with spotting scopes. The official project binoculars are Fujinon 7×50, with built-in reticles and compass.
The first southbound whale was spotted Dec. 4. In all, volunteers counted 1,256 southbound whales, the fourth-highest count in the program's history. They were accompanied by 68 newborn calves, the second-highest count in the 34 years of the program.
The first northbound gray whale was spotted Dec. 1. In all, volunteers counted 1,990 northbound whales, the eighth-highest tally; and there were 207 northbound calves, the sixth-highest total.
This is a unique long-term shore-based study of the marine mammals that utilize the nearshore waters of the Palos Verdes Peninsula, located approximately 8 miles north of the Los Angeles Harbor, in southern California.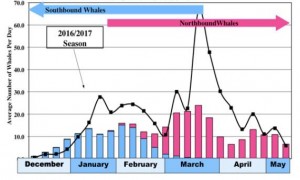 This station runs from December 1 through late May during daylight hours, seven days a week. Observers identify and record various marine mammals and their behaviors, focusing on gray whales. Because the majority of gray whales use offshore migratory routes in this area (primarily through the Channel Islands), especially on the southbound migration, observers see only a small proportion of the total gray whale population, so the counts cannot be used to determine that population. Instead, the project focuses on ascertaining seasonal usage of the nearshore migratory path, and documents changing trends over time. Variable weather and shifts in migratory path preferences result in annual counts that fluctuate dramatically, which does not necessarily mean the gray whale population is likewise fluctuating.
Spotters also detail migratory behaviors, including breaching, spyhopping, rolling, courtship, apparent nursing, possible feeding, and interaction with kelp and with other marine mammals. Participants also note possible human impacts on gray whales, including boat interactions, possible harassment incidents, and entanglements. In addition, observers identify and record behaviors of any other marine mammals, including common dolphins, Pacific bottlenose dolphins, Pacific white-sided dolphins, Risso's dolphins, northern right whale dolphins, killer whales, false killer whales, pilot whales, Dall's porpoises, sperm whales, minke whales, humpback whales, blue whales, fin whales, California sea lions, harbor seals, northern elephant seals, and southern sea otters.
Source: Sport Diver
600
true
thumbnails
bottomright
300
true
800
none

600
true
dots
under
150
true
800
https://www.sualtigazetesi.com/wp-content/plugins/thethe-image-slider/style/skins/white-square-2