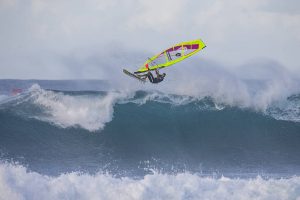 Marcilio Browne Talks About Just Missing Out On A Second Wave World Title, Becoming Vice-World Champion & Being The Only Sailor To Finish In The Top 5 At Every Event
2013 PWA Wave World Champion – Marcilio Browne (Goya Windsurfing) – came agonisingly close to adding a second wave world title to his cabinet this year… so close in fact that if the Brazilian had been able to advance just one more heat at the Mercedes-Benz Aloha Classic then he would have been crowned the 2019 PWA Wave World Champion. However, Browne finished just short finishing 3rd in the semifinals.
2019 still represents an exceptional year for Browne on tour with the 30-year-old finishing as the vice-world champion behind eventual champion – Philip Köster (Starboard / Severne / Maui Ultra Fins) – while he was the only sailor to boast a top 5 finish or better at every event. We recently caught up with Braw for an interview, which you can read below:
Hi Marcilio, congrats on a great season – finishing in the overall top 3 for the second time in three years – how does it feel to be the vice-world champion for 2019?
Feels great! The level these days is pretty scary and every heat is a really big challenge. So yeah, 2nd place is a huge achievement for me and its nice when all the work translates into results.
Ultimately, you were one heat away from being wave world champion for the second time in your career, how did it feel to be so close, but just miss out?
For the first week, it was quite hard. Being that close and not getting it for sure hurts a lot, so yes, the first couple of days didn't feel great. After a few weeks went by I started thinking of 2019 more as all the events and not just that last result and slowly I felt happier and happier about how it all went and all the amazing memories from the season.
You didn't finish outside of the top 5 in any of the 4 events – the only sailor in the overall top 10 to boast that record – how pleased are you with the level of consistency you showed?
I didn't know I was the only one who achieved that, but yes that's awesome, especially considering the mix of conditions we had to deal with this year.
What would you class as your highlights for the 2019 season? And which moments stand out for you?
I became a much better swimmer after the Maui event haha!
Just kidding, for me, the highlight was my heat against Philip [Köster] in Pozo, I think that was the best heat I ever put together, and it was against the guy I needed it the most, so I was really stoked.
Also, the double elimination in Germany was special for me. I was feeling very sick and to finish 2nd after a lot of heats in the double elimination felt almost like a win. Thanks to Francisco Goya and Mateus Isaac for caddying that day, they made all the difference.
On the flip side…. Is there anything you wish you could do differently if you were given another chance?
I mean there are always things we could have made different but at the time those decisions are very hard to make, wave selections, jump choices… If I could think of something that stands out the most it was my wave selection in Tenerife during the heat that I lost, I wish I had picked better/bigger ones.
Overall I am happy with how I trained and prepared, sometimes it's just not your day.
What do you think about the level on the world tour at the moment?
It's amazing, everyone took their preparation to a new level. There have always been certain guys that were really good at specific spots, but now more and more the sailors see the value in being more all round and it really shows in the majority of the fleet.
After a busy summer of competing – what have you been doing since the end of the season? And what are your plans for the rest of the winter?
I have been working on my boards a lot, with Goya we have been making lots of prototypes and figuring out my quiver for next year. Some really exciting things in the making! Apart from that, I have been sailing Ho'okipa, training with Sarah Hauser and spending some quality time with my wife and baby.
Thanks, Braw. Have a great new year and enjoy the rest of the winter!
Source: PWA
600
true
thumbnails
bottomright
300
true
800
none

600
true
dots
under
150
true
800
https://www.sualtigazetesi.com/wp-content/plugins/thethe-image-slider/style/skins/white-square-2
5000

fade

https://www.sualtigazetesi.com/deniz-kuvvetleri-kupasi-oncesi-murat-tan-atilla-gokova-yaris-ekibi-roportajlari/

5000

fade

https://www.sualtigazetesi.com/tayk-sunum-kuzey-kutup-dairesinden-guney-kutup-dairesine-gronland-ve-antarktika-prof-dr-talat-kiris/

5000

fade

https://www.sualtigazetesi.com/dadd-sunum-her-yonuyle-teknede-enerji-ve-enerji-sistemleri-zafer-turkmen/

5000

fade

https://www.sualtigazetesi.com/riza-epikmen-schuco-bayk-kis-trofesi-2-ayak-yarislari-oncesi-duygu-ve-dusunceleri/

5000

fade

https://www.sualtigazetesi.com/the-bodrum-cup-turkiyeyi-yelkencilik-dunyasinda-temsil-etti/

5000

fade

https://www.sualtigazetesi.com/banu-oney-ile-denizden-denize-marmarisden-seattlea-yelkenli-tekne-ile/

5000

fade

https://www.sualtigazetesi.com/rsx-kadinlar-sinifinda-2020-tokyo-olimpiyat-oyunlari%e2%80%99ndayiz/