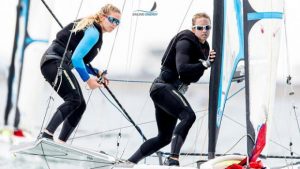 With selection to the Tokyo 2020 Olympic Team on the line, 2016 Olympian Paris Henken with 2008 Olympic medalist Anna Tobias (above) entered the 2020 49erFX World Championship (Feb. 10-15) just four points ahead of Stephanie Roble and Maggie Shea.
As the final event to determine the US representative for the Women's Skiff event, the finish position from the Worlds would be added to the previous points total, so there was no room for error.
After day one was blown out, that left just two days for qualifying in which the top 25 teams would advance to gold flight and fight for the title. If one of the teams failed to qualify, that guaranteed the other would earn a trip to Tokyo.
For Henken and Tobias, that was their reality as they returned from the opening races in 31st while Roble/ Shea were firm in 7th overall.
Said Paris afterwards, "We could whine and complain about the weed, but we aren't going to. We got very good at removing weed from the blades today, so that was a positive, and we are just going to move on and focus on tomorrow."
And move on they did, posting the low score for the day at 1-4-1 to launch up to 7th overall, one position ahead of their rival American team.
Willie McBride, who is coaching the pair, was not surprised at the turn around. "We've changed the tuning on the boat a lot since we've been here to optimize the speed in the flat water, and the girls have been a rocket ship all month. With less seaweed on the course today, Paris and Anna were able to really let the ponies out.
"Our training for the last year has really been focused on refining the fundamentals, and today was all about getting the details right: mainsheet, tacks, gybes – even at this level, it's about solid foundations. Right now we're in regatta mode, just taking things one race at a time and trying to laugh a lot."
But with three more days of racing, and just five points separating the teams, this battle is far from over. Will the teams race the fleet, or will they match race each other? If Henken/ Tobias have a speed advantage, expect them to use it, while Roble/ Shea have a huge edge with their experience on the match racing circuit.
Results: https://49er.org/event/2020-world-championship/#49erfxresults
The showdown will be streamed live online from Geelong, Australia:
February 13, 2020:
Source: sailingscuttlebutt
600
true
thumbnails
bottomright
300
true
800
none

600
true
dots
under
150
true
800
https://www.sualtigazetesi.com/wp-content/plugins/thethe-image-slider/style/skins/white-square-2
5000

fade

https://www.sualtigazetesi.com/tayk-sunum-kuzey-kutup-dairesinden-guney-kutup-dairesine-gronland-ve-antarktika-prof-dr-talat-kiris/

5000

fade

https://www.sualtigazetesi.com/dadd-sunum-her-yonuyle-teknede-enerji-ve-enerji-sistemleri-zafer-turkmen/

5000

fade

https://www.sualtigazetesi.com/riza-epikmen-schuco-bayk-kis-trofesi-2-ayak-yarislari-oncesi-duygu-ve-dusunceleri/

5000

fade

https://www.sualtigazetesi.com/the-bodrum-cup-turkiyeyi-yelkencilik-dunyasinda-temsil-etti/

5000

fade

https://www.sualtigazetesi.com/banu-oney-ile-denizden-denize-marmarisden-seattlea-yelkenli-tekne-ile/

5000

fade

https://www.sualtigazetesi.com/rsx-kadinlar-sinifinda-2020-tokyo-olimpiyat-oyunlari%e2%80%99ndayiz/