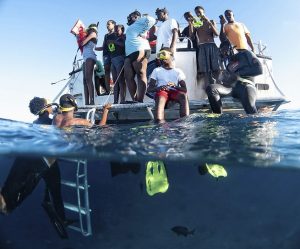 By Jillian Morris
Over the last decade, Sharks4Kids has visited schools in 15 countries and 16 U.S. states, teaching students about sharks and conservation. But our real impact is made during our field trips.
We take Bahamian middle and high school students to see sharks and rays in partnership with the Bimini Scuba Center and the Bahamas National Trust. Many local students have never been on a boat, despite the region's $114 million-a-year eco-tourism industry drawing in thousands of dive tourists annually. We want the islands' children to have their own experience and story to share. We want them to connect with their own environment.
The Bahamas—a renowned shark sanctuary—banned commercial shark fishing in its more than 240,000 square miles of ocean in 2011, as well as the possession or sale of sharks or shark parts. Such conservation triumphs most often occur when the local community participates in their creation. But even successful conservation programs usually overlook a key stakeholder—kids. Kids are absolutely critical for the future of sharks and our oceans in the Bahamas and around the world. We must involve them now to secure our sustainable future. Young people have a voice and more power than they realize.
Our shark field trips unlock that power. On dives, students connect directly to their neighborhood wildlife. Fear converts into a fascination with a single pass by, laying the bedrock for tomorrow's conservation leaders.
Students learn that fear of sharks through stories from family, the Internet and television. Fortunately, years of scary stories can melt away in a single afternoon. One field trip can change the conversation they have about sharks in the future. They tell their parents, their family and their friends about swimming with sharks. They become the voice for these animals.
We've seen it happen.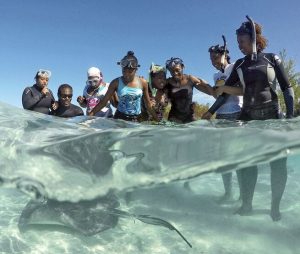 wo Bimini graduates, Ranelle and Caleb, participated in a field trip with us while in school. Like many of their peers, they were not eager to get in the water. But by the end of each trip neither wanted to leave. It's amazing how quickly fear gives way to awe after students to jump in shark territory.
Both now work as dive guides for the local dive shop. And, while Ranelle and Caleb share their beautiful island with visitors, they inspire their peers and younger students to learn about sharks and to protect the future of the Bahamas shark sanctuary.
These young people are now ambassadors for sharks and the oceans, with a real connection to these animals. They are the future for sharks in the Bahamas. It's amazing how education and diving can change perspectives—and perhaps the future for all of us.
Source: Scuba Diving
600
true
thumbnails
bottomright
300
true
800
none

600
true
dots
under
150
true
800
https://www.sualtigazetesi.com/wp-content/plugins/thethe-image-slider/style/skins/white-square-2
5000

fade

https://www.sualtigazetesi.com/dadd-sunum-her-yonuyle-teknede-enerji-ve-enerji-sistemleri-zafer-turkmen/

5000

fade

https://www.sualtigazetesi.com/riza-epikmen-schuco-bayk-kis-trofesi-2-ayak-yarislari-oncesi-duygu-ve-dusunceleri/

5000

fade

https://www.sualtigazetesi.com/the-bodrum-cup-turkiyeyi-yelkencilik-dunyasinda-temsil-etti/

5000

fade

https://www.sualtigazetesi.com/banu-oney-ile-denizden-denize-marmarisden-seattlea-yelkenli-tekne-ile/

5000

fade

https://www.sualtigazetesi.com/rsx-kadinlar-sinifinda-2020-tokyo-olimpiyat-oyunlari%e2%80%99ndayiz/