It's a bit complicated to talk about all the sailors: some are sailing in the Pacific Ocean while others are in the Indian Ocean and even in the Atlantic Ocean. The fact is that most of you are currently progressing on the planet's largest ocean, with more or less success. If the forerunners are approaching Cape Horn, (420 NM away), others, further back, have been struggling with non-supportive systems since days, if not weeks. "Bear and forbear" is today's motto.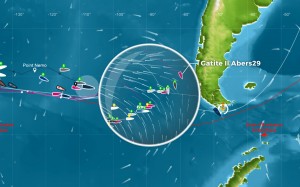 The leading pack approaching Cape Horn is quite unusual. Coming from North, West, or even Northwest, all are trying to find the best way to deal with the famous Cape Horn passage. So, who will be the first to cross it? There is 420 N left for the competitors to fine-tune their course, but at the moment, the group led by Nistagmus and phosphorIST, which is sailing on a broader reach and direct route, has as light advantage, even if, at general ranking, Gatite II Abers29, margael and Lito39 are in the lead. The next crossing will be significant, but one thing is sure: the top spots will be tight.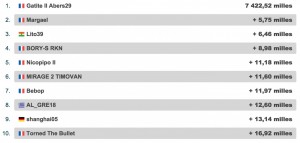 Further back, in the VR News group, it's the dreadful punishment. 11,000th yesterday morning, your courier boat hit a system that moves as fast as she does. Being 30,000th at noon, VR News is not the only boat in this misery, but if the forecast is accurate, the wind coming back from the South may well budge up the speedometer, which is right now stuck at less than 1 knot.
he competitor-friends who were some miles above have enjoyed a narrow lane of wind, enough to escape and gain thousands of ranks. But it's still a long way to go and, as we do remind restlessly, ranks may be lost, but they also may be gained. So, be patient, virtual skippers; first, let's reach Cape Horn and then we'll have a tremendous race up the Atlantic Ocean.
Sailors « Words » or sailors « Woes »?
Many of you send us messages stating how glad you are sailing alongside VR News and we're delighted to read them; but you should know that VR News has not every answer for the weather and may sometimes find herself in dire straits as it's happening since the last days. Thanks to be with me, and in the meantime, here are some boats messages.
alibato
Dear VR News, I'm so glad to see you again on starboard after my failed trial to overtake you by the North. Great regatta. Thanks for everything.
djiminic
Hello, I'm a bit in more the North-West than you ; do you think that the northern strategy will be the good one for the next days ? Thank you
Guigui des plages
Hi! I wanted to post a quick message once on your heels… But the break forces me to make a choice, which I hope will pay off within 3 days.
Anyway, I love this game; I was pessimistic but at the bottom line, I became completely hooked! Thanks for all what you do!
Corsaires40
Hi VR News and thanks for this exciting game! This other way to live the race can only make us pay an even more admiring tribute to the "real" sailors. We've sailed together an ocean or two ago… And here we are again, side by side. Until when…?
PS: The daily picture of the fleet is a (very) good idea. Don't look back, I think we're followed… Fair Winds!
ECPALAIN
Hello VR News! Very complicated sailing with these endlessly rotating winds; finally Cape Horn is in sight!!!!
ulyse
Hello VR! I just switched to 3D mode. Congratulations for the boats on port and starboard; soon we'll have the albatrosses! Kindly yours
Yao 2
I was 200,000th in the Atlantic Ocean and I came back to 30,000th. Which shows that you should never give up.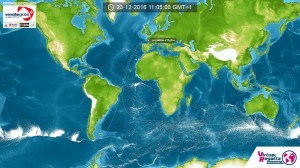 Picture of the day: Dec 23rd at 11:05 a.m.
You've been asking for it since a long time; here is the 2016 Virtual Vendée Globe global representation satellite image. You'll find it daily here and in your news.
If you happen to pass by the VR news boat, do not hesitate to leave a message; this vessel is the link between the players and the editors. As we already have told, the huge success of the boat does not allow us to answer all your questions. As news go by, we'll bring you some solutions, advises, answers, and all this kind of things…
Thanks to you all for your messages. Embark for the virtual race around the world! Join us at: http://www.virtualregatta.com/
Source: Vendee Globe
600
true
thumbnails
bottomright
300
true
800
none

600
true
dots
under
150
true
800
https://www.sualtigazetesi.com/wp-content/plugins/thethe-image-slider/style/skins/white-square-2
5000

fade

https://www.sualtigazetesi.com/deniz-kuvvetleri-kupasi-oncesi-murat-tan-atilla-gokova-yaris-ekibi-roportajlari/

5000

fade

https://www.sualtigazetesi.com/tayk-sunum-kuzey-kutup-dairesinden-guney-kutup-dairesine-gronland-ve-antarktika-prof-dr-talat-kiris/

5000

fade

https://www.sualtigazetesi.com/dadd-sunum-her-yonuyle-teknede-enerji-ve-enerji-sistemleri-zafer-turkmen/

5000

fade

https://www.sualtigazetesi.com/riza-epikmen-schuco-bayk-kis-trofesi-2-ayak-yarislari-oncesi-duygu-ve-dusunceleri/

5000

fade

https://www.sualtigazetesi.com/the-bodrum-cup-turkiyeyi-yelkencilik-dunyasinda-temsil-etti/

5000

fade

https://www.sualtigazetesi.com/banu-oney-ile-denizden-denize-marmarisden-seattlea-yelkenli-tekne-ile/

5000

fade

https://www.sualtigazetesi.com/rsx-kadinlar-sinifinda-2020-tokyo-olimpiyat-oyunlari%e2%80%99ndayiz/