Some divers like to tour a warm-water shallow coral reef at a leisurely pace. Others like the adrenaline rush that comes from diving with sharks. Some like the challenge of exploring harsh environments like the polar oceans. And some divers just like to have fun.
We think mechanical engineer Suneet Jain wanted to mix fun with a challenge when he embarked on a plan months in the making — setting the Guinness World Record for the longest human chain underwater. The New Yorker joined Chrysalis Entrepreneur Forum from India to smash the longest human chain underwater record with 182 scuba divers in Koh Tao, Thailand, a place known for stellar scuba diving. The previous record was held by 173 Italian divers.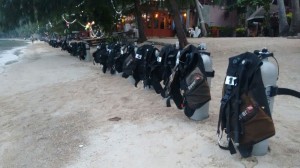 Remarkably, the team included more than 30 non-swimmers, several first-time scuba divers and all age groups, from 8-year-olds to 58-year-olds. They collectively overcame several challenges, including recruiting and training over 200 participants, scouting for a suitable location internationally and organizing a large-scale scuba diving event in a foreign country.
Unfamiliar with saltwater, the divers failed in their practice attempt the previous day, after six months of planning. One day later, they fine-tuned: they dropped and replaced several divers and created a winning dive plan to set the record, demonstrating their belief that "Impossible is nothing!"
According to a press release about the event, the ultimate goal of the event was to inspire ordinary people to undertake extraordinary accomplishments.
Twenty-four-year-old Jain plans to use his engineering skills for his next Guinness World Record. He has a few ideas and is already working on the logistics and their feasibility. Stay tuned.
Source: Sport Diver
600
true
thumbnails
bottomright
300
true
800
none

600
true
dots
under
150
true
800
https://www.sualtigazetesi.com/wp-content/plugins/thethe-image-slider/style/skins/white-square-2
5000

fade

https://www.sualtigazetesi.com/dadd-sunum-her-yonuyle-teknede-enerji-ve-enerji-sistemleri-zafer-turkmen/

5000

fade

https://www.sualtigazetesi.com/riza-epikmen-schuco-bayk-kis-trofesi-2-ayak-yarislari-oncesi-duygu-ve-dusunceleri/

5000

fade

https://www.sualtigazetesi.com/the-bodrum-cup-turkiyeyi-yelkencilik-dunyasinda-temsil-etti/

5000

fade

https://www.sualtigazetesi.com/banu-oney-ile-denizden-denize-marmarisden-seattlea-yelkenli-tekne-ile/

5000

fade

https://www.sualtigazetesi.com/rsx-kadinlar-sinifinda-2020-tokyo-olimpiyat-oyunlari%e2%80%99ndayiz/