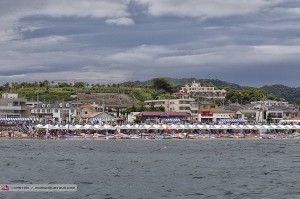 Day 5: Picking the Frontrunners Brains Heading into the Final Day
The forecast for the penultimate day always looked like it would be a difficult in terms of completing further races and that's how things played out with light cyclonic winds throughout the day.
To keep the crowds entertained a couple of fun races were held – one in the morning and one in the afternoon – which was won on both occasions by Team Japan.
With the official contests remaining on hold for the day we caught up with the event leaders – Antoine Albeau (RRD / NeilPryde), Delphine Cousin Questel (Starboard / S2Maui) and Gonzalo Costa Hoevel (Starboard / Severne / Chopper Fins):
Antoine Albeau: "Everyone is always asking me at the start of the season if I'm going to win, but there's so many guys who are capable of winning the final, so in the slalom you just need to save your life to try and find a place into the final. And then when you do make the final any of the 8 guys who made it can win, so I'm super happy to have won the first slalom because it looks like it's going to be tricky to finish another race here in Japan, but I guess we'll see that tomorrow.
In the foil race I'm super happy because this is the first official year for foiling, so to win the first ever race was great. In the next race I don't want to say that I was in a good position for winning, but I think I was and I was just too confident with my tack and I just missed the boom, which probably happens 1 out of a million tacks you know. But I fought back to 5th place and I counted back on the live that there were 20 guys passing me. I was thinking in my head maybe I can fight back to 10-12th, but I was flying."
How were you feeling coming into the opening event… it's always interesting to see how you match up against the rest of the fleet after the winter isn't it?
"I spent the winter training with Team Pryde again plus Ross Williams, Gabrielle Browne and Mateus Isaac in Maui, so I could see with Arnon [Dagan] that we had good speed and that the sails are fast. With the boards there are no problems as well, but all the other brands are working a lot as well, so there's a lot of brands that are fast. But yeah I knew that after testing with Arnon that we were fast on our slalom gear. We also worked a lot with Arnon on the foil board and the new NeilPryde foil and again I think we are competitive."
Delphine Cousin Questel, who currently leads the women's rankings after winning a thrilling first race ahead of Lena Erdil: "I'm super happy about my first result, but I'm staying focused on the event. Tomorrow looks as though there should be wind, but whether the wind comes early enough in the day remains to be scene. Either way I'll be ready to race if it does and lets just see what tomorrow brings and what the final result will be."
Gonzalo Costa Hoevel (Starboard / Severne / Chopper Fins), who currently leads the foil discipline with a first and a second from the two races completed: "The racing has been very good, I'm feeling fast on the water. The races have been very fun – especially the second one as there was a lot of action and the wind was slightly stronger.
When asked if he thought that was the best foil race on the PWA World Tour yet Costa Hoevel added: "Yeah it was definitely up there, but the races in New Caledonia were also really nice. The race here was intense because we are not supposed to be reaching so much in that kind of wind, so we were on edge of control, which made it fun. The upwind/downwind courses we had in New Caledonia when it was windy were also really nice. So, yeah, feeling really good. The equipment is working great and I think it should be a great season for the foil discipline. I think we're gonna see a lot of action and we try different courses. The level is quite high already, so you can probably win one race and then find yourself out of the top 10 in the next. It looks like it's going to be very competitive. Everyone has closed the gap on speed and equipment, so its all set to be a good year."
Plus we also caught up with Lena Erdil (Starboard / Point-7 / AL360) and Matteo Iachino (Starboard / Severne / Shamal Sunglasses), who are placed second heading into the final day:
We asked Lena Erdil if she was a little bit disappointed with how the women's final played out despite recording a solid second place, she said: "Yes… it was a very exciting final where I made a really nice start and I could've definitely won it I feel, but I messed it up a bit after the first gybe. I started sailing towards the starting buoy and only realised half way down the second reach, so I lost some distance. Then I had another chance, but it didn't work out. It was a good race, Delphine [Cousin] raced really well and won it. I'd of course love another chance, but it looks like sadly this might be a one race event, which is a shame because I think all the girls look in great shape and I think we could've had some really fun races."
Current vice-world champion – Matteo Iachino changed sail brands over the winter, so we asked the Italian how he felt about entering the first event of the season on a different brand and waiting to see if he was competitive against the rest of the fleet: "Already the first event of any season is usually quite stressful because you never know how it's going to go. Then when you change something as important as your equipment it's even more stressful, but I kind of like this excitement you get from such situations. It's interesting to see how you matchup. Over the winter I've been working a lot with my boards and sails to make sure I was ready for the first event. I felt confident coming here, but you still never really know until after that first race. Now I've been able to see that my speed is really good and that the gear is working, so for sure I feel more relaxed now."
In the event that there's no more racing tomorrow, second place would be a decent start to the season, right?
"Yeah for sure. I would be happy with a second place. In Asia you always know that you have to go for it in one or two rounds and everyone knows it. It's just another part of the game. But, yeah for sure I would be happy to start the season with a second place."
How do you deal with the waiting game at events?
"It's always hard. Year-by-year I'm getting more and more used to it, but at the beginning I found it super hard. For me this was actually the hardest part of my job actually. Now with more experience I am getting better at dealing with it, but for sure it's still not easy."
And finally Jordy Vonk (Fanatic / NorthSails), who earned his first ever podium here in Japan last year and qualified for the opening winners' final of the year in the opening round: "Making a winners' final to start the year is solid – especially in an event where it looks like we won't have a discard. It's simply solid. In the final I was also feeling good. I think I was lying about 4th coming into the opening mark, had to go a little wide on the gybe, but it was good to be in contention, so that's great going forwards."
On missing out on the top 10 last year after finishing tied on points with Sebastian Kördel (Starboard / GA Sails) the flying Dutchman added: "That hurt, but this year I'm aiming a little higher… without say exactly where, I'm aiming high and just seeing where it ends."
Thanks to all the above for their time and comments. Good luck heading into the final day.
The forecast for the final day still offers the potential for more racing with the wind returning to the prevailing south-south-west direction – 9-10 knots in the morning – increasing to 16-22 knots during the afternoon, but whether the wind comes early enough to allow for more racing to completed remains to be scene. The sailors will meet for the last skippers' meeting of the week at 9am tomorrow morning with the racing commencing from 10am (GMT+9).
To stay up to date with all the latest developments from Japan — including the live stream, elimination ladders, entry list, images and live ticker simply click HERE and scroll to the bottom of the page.
Current Ranking 2018 Fly! ANA Yokosuka PWA World Cup – Women's Slalom
*After One Elimination
1st Delphine Cousin Questel (Starboard / S2Maui)
2nd Lena Erdil (Starboard / Point-7 / AL360)
3rd Marion Mortefon (Fanatic / NorthSails)
4th Lilou Granier (Starboard / Severne)
5th Fulya Ünlü (Starboard / Point-7)
6th Esther de Geus (Fanatic / NorthSails)
7th Jenna Gibson (Fanatic / NorthSails)
8th Maëlle Guilbaud (Patrik / Loftsails)
Current Ranking 2018 Fly! ANA Yokosuka PWA World Cup – Men's Slalom
*After One Elimination
1st Antoine Albeau (RRD / NeilPryde)
2nd Matteo Iachino (Starboard / Severne / Shamal Sunglasses)
3rd Pierre Mortefon (Fanatic / NorthSails / Chopper Fins)
4th Tristan Algret (Starboard / Severne / Chopper Fins)
5th Pascal Toselli (JP / Loftsails / Chopper Fins)
6th Arnon Dagan (RRD / NeilPryde)
7th Ross Williams (Tabou / GA Sails / Shamal Sunglasses)
8th Jordy Vonk (Fanatic / NorthSails)
9th Sebastian Kördel (Starboard / GA Sails)
10th Maciek Rutkowski (I-99 / Challenger Sails)
Current Ranking 2018 Fly! ANA Yokosuka PWA World Cup – Men's Foil
*After Two Eliminations
1st Gonzalo Costa Hoevel (Starboard / Severne/ Chopper Fins)
2nd Julien Bontemps (JP / NeilPryde)
3rd Antoine Albeau (RRD / NeilPryde)
4th Mateus Isaac (JP / NeilPryde)
5th Alexandre Cousin (Patrik / GA Sails / Chopper Fins)
6th Julien Quentel (Patrik / Avanti)
7th Cedric Bordes (Tabou / GA Sails)
7th Sebastian Kördel (Starboard / GA Sails)
9th Antoine Questel (Starboard / S2Maui)
10th Matteo Iachino (Starboard / Severne / Shamal Sunglasses)
Source: PWA
600
true
thumbnails
bottomright
300
true
800
none

600
true
dots
under
150
true
800
https://www.sualtigazetesi.com/wp-content/plugins/thethe-image-slider/style/skins/white-square-2
5000

fade

https://www.sualtigazetesi.com/dadd-sunum-her-yonuyle-teknede-enerji-ve-enerji-sistemleri-zafer-turkmen/

5000

fade

https://www.sualtigazetesi.com/riza-epikmen-schuco-bayk-kis-trofesi-2-ayak-yarislari-oncesi-duygu-ve-dusunceleri/

5000

fade

https://www.sualtigazetesi.com/the-bodrum-cup-turkiyeyi-yelkencilik-dunyasinda-temsil-etti/

5000

fade

https://www.sualtigazetesi.com/banu-oney-ile-denizden-denize-marmarisden-seattlea-yelkenli-tekne-ile/

5000

fade

https://www.sualtigazetesi.com/rsx-kadinlar-sinifinda-2020-tokyo-olimpiyat-oyunlari%e2%80%99ndayiz/