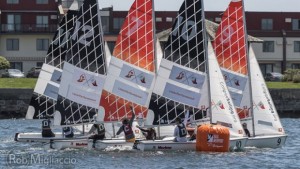 Newport, RI (May 26, 2019) – The second day of racing in the LaserPerformance Team Race National Championship was a full day as the sixteen top teams in the nation were cut down to the top eight and finally the top four today.
There was a light to medium sea breeze this morning from the southwest, which steadily picked up with gusts up to 18 knots at the peak of the winds, but it lightened up to around 8 to 10 knots later on, which made for great team racing conditions. The holiday weekend boat traffic caused some challenging chop for the competitors and racing late into the evening made for a long and tiring day.
The first round, with all 16 teams, was completed by early afternoon. There were 42 races left in the round and places 9-16 were determined as well as the top eight teams, who advanced to the next round of racing. After a break between the two rounds, the sailors competed in FJs for the top eight on a digital N course. All scores carry over from each round of racing.
Top 8 racing got underway this afternoon and did not end until around 8 p.m. This round determined places 5-8 and solidified the four teams advancing to the final four round, which will take place tomorrow.
In this morning's racing in the first round, Stanford University had some wins that helped to keep them in the top three most of the day. Yale University saw their first loss for the day and Georgetown University continued to sail strongly.
The top 8 racing this afternoon was competitive and exciting – each race was a battle. No one team came out of the round clean everyone took a loss, but the team with the best score and who has now clinched the win for the overall regatta is Yale. Yale won the last race of the day against Georgetown, which determined their fate, and because all of the scores carry over into the final four, by the math, they will win the regatta.
"The most notable race for us today was the last one against Georgetown," says Bill Healy associate head coach for Yale. "They are always tough to race against and it was a good race.
"It was a long day of racing and luckily we had a little break between the rounds to rest and re-hydrate. Our team has sailed well all season, but this was the best they have sailed as a unit. Martim [Anderson] joined as a coach with us last fall and he did a great job with the team."
Sailing for Yale is: Shawn Harvey '21, Graceann Nicolosi '20, Nicholas Baird '19, Kira Woods '19, Nicolas Hernandez '19, Sonia Lingos-Utley '21, Claudia Loiacono '21, Christine Klingler '20, and Sam Tobin '22.
Georgetown held onto second place today and had a record of 5-2 in the round of top eight racing.
"We made some simple errors today," says Mike Callahan, head coach for Georgetown. "It was not our perfect conditions, but we won a lot of close races today and sailed a lot of our players. The margin of error is so close in this tough top eight round.
"We will try to be more patient and stick to our plays. We still have three races tomorrow and we want to keep winning."
Sailing for Georgetown is: Andy Reiter '19, Haley Shea '19, Sean Segerblom '20, Rebecca Fung '19, William Logue '20, Caroline Teare '21, Claire Mohun '19, Noah Kelleher '19, Jack Hogan '21, Marley Mais '21, Andrew Person '21, and Lucy Beimfohr '21.
Moving into third place is Stanford University who moved up from sixth yesterday.
"We sailed pretty well today," says Clinton Hayes, head coach for Stanford. "We were good when it got windy and we had our heavy air crews sailing – something that we have been training for – we were really fast. We had some mistakes that cost us some races. We had a really good race with Yale with lead changes back and forth, but in the end one of their boats rolled ours on the last upwind.
"If we have a good final four tomorrow, we could get to second place and that would be great."
Sailing for Stanford is: Jacob Rosenberg '20, Meg Gerli '19, Jack Parkin '21, Camille White '22, Romain Screve '21, Madeline Bubb '20, Kathryn Booker '19, Taylor Kirkpatrick '20, Sammy Pickell '22, and Matthew Hogan '21
Dartmouth College rounds out the final four for the conclusion of racing tomorrow. The College of Charleston suffered penalties from yesterday and today and therefore incurred more losses on their record dropping them to fifth place overall.
Sailing for Dartmouth is: Christopher Williford '19, Rebecca McElvain '19, Jack McGraw '20, Paige Clarke '20, Timothy Greenhouse '21, Eloise Burn '21, Mary Amis '19, Aisling Sullivan '22, Alyssa Berger '19, Max Clapp '21, and Carlota Hopkins Guerra '22.
Racing is scheduled to continue tomorrow at 10 a.m. with the final four round in Z420s. No race can start after 5 p.m. An awards ceremony for the competitors will be held after racing at the Competitors Tent at Sail Newport.
Day Two Results (wins and losses)
1. Yale University, 20-2
2. Georgetown University, 17-5
3. Stanford University, 16-6
4. Dartmouth College, 14-8
Final Scores, places 5-8, (wins and losses)
5. College of Charleston, 13.50-8
6. U.S. Naval Academy, 12-10
7. Boston College, 12-10
8. Hobart and William Smith Colleges, 11-11
Final Scores, places 9-16 (wins and losses)
9. Bowdoin College, 6-9
10. University of California at Santa Barbara, 6-9
11. Fordham University, 6-9
12. University of Wisconsin, 4-11
13. Jacksonville University, 3-12
14. Texas A&M University at Galveston, 3-12
15. University of Washington, 1-14
16. University of Michigan, 1-14
Event details – Results – Facebook
The format for this event is a series of round robins. In the first round all sixteen teams race each other once. This round determines places 9-16. The top eight teams then advance to a single round robin, which determines places 5-8. The top four remaining teams advance to a "final four" another single round to determine places 1-4.
2019 Spring Nationals
May 21-24 – Women's Dinghy
May 25-27 – Team Race
May 28-31 – Coed Dinghy
Live coverage will include:
May 23, half day of Women's coverage.
May 24, full day of Women's coverage and awards.
May 25, half to 3/4 day of Team Race coverage, release of Women's recap video.
May 26, full day of Team Race coverage.
May 27, full day of Team Race coverage and awards.
May 28, release of Team Racing recap video.
May 29, full day of Coed coverage.
May 30, full day of Coed coverage.
May 31, full day of Coed coverage and awards.
June 3, release of Coed recap video.
Source: sailingscuttlebutt
600
true
thumbnails
bottomright
300
true
800
none

600
true
dots
under
150
true
800
https://www.sualtigazetesi.com/wp-content/plugins/thethe-image-slider/style/skins/white-square-2
5000

fade

https://www.sualtigazetesi.com/tayk-sunum-kuzey-kutup-dairesinden-guney-kutup-dairesine-gronland-ve-antarktika-prof-dr-talat-kiris/

5000

fade

https://www.sualtigazetesi.com/dadd-sunum-her-yonuyle-teknede-enerji-ve-enerji-sistemleri-zafer-turkmen/

5000

fade

https://www.sualtigazetesi.com/riza-epikmen-schuco-bayk-kis-trofesi-2-ayak-yarislari-oncesi-duygu-ve-dusunceleri/

5000

fade

https://www.sualtigazetesi.com/the-bodrum-cup-turkiyeyi-yelkencilik-dunyasinda-temsil-etti/

5000

fade

https://www.sualtigazetesi.com/banu-oney-ile-denizden-denize-marmarisden-seattlea-yelkenli-tekne-ile/

5000

fade

https://www.sualtigazetesi.com/rsx-kadinlar-sinifinda-2020-tokyo-olimpiyat-oyunlari%e2%80%99ndayiz/