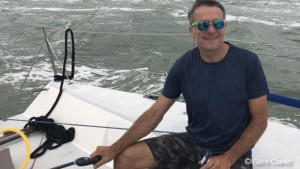 Tom Hutchinson, 52, perished August 7 in a kite surfing accident on the Isle of Wight, UK. The incident came as the area experienced heavy winds, with his brother Riff on the beach at Compton caring for Tom until emergency services airlifted him to the hospital where he was later pronounced dead.
Tom was born in Brighstone in 1967, and spent his childhood in the West Wight. His love of the sea saw him leave school at 16 and become a deckhand on a luxury yacht in the Mediterranean. He then delivered several yachts across the Atlantic, becoming a delivery skipper at 18. He decided to choose a niche career in yachting and specialized in rigging.
He took an apprenticeship to run a workshop servicing the America's Cup yachts competing in San Diego, CA. The opportunity enabled him to get to know all the international contacts associated with the event and these contacts proved invaluable when he established his own rigging company, Future Fibres, based in London.
He employed Riff and other Islanders, and the company was visited by Prince Charles, who was intrigued to see manufacturing taking place within the Square Mile, under the arches at Shoreditch.
When New Zealand won the 1995 America's Cup, Future Fibres transferred its business to Auckland to service the needs of the competing yachts. Four years later, the operation transferred to Valencia, Spain.
Along the way, Future Fibres would pioneer the use of continuously wound, unidirectional fibre for yacht rigging, soon becoming the world's leading supplier of composite rigging to the race, cruise, and superyacht markets.
"Tom's work took him all over the world, which suited his free-spirited, charismatic personality, and he made many life-long friends in the process," said his father Francis. "But the draw of the Island was always with him and he returned to his cliff-top cottage whenever he could to pursue his great love of kiteboarding in the Back of the Wight."
In a statement from Future Fibres: "Tom will be remembered for his energy and infectious enthusiasm, along with his extreme can-do attitude. Future Fibres was the perfect vehicle for Tom's combined love for water sports and passion for innovation, taking the company from it's very humble beginnings on the Isle of Wight to an internationally recognized company with a reputation for innovative products that helped our customers go faster and gain an edge on the race course, be it the field of yacht racing, motorsports, or indeed any arena in which Tom felt he could make a difference."
Tom leaves his father and brother, mother Johanna Farmer, and sister Frances.
Source: Future Fibres, County Press / sailingscuttlebutt
600
true
thumbnails
bottomright
300
true
800
none

600
true
dots
under
150
true
800
https://www.sualtigazetesi.com/wp-content/plugins/thethe-image-slider/style/skins/white-square-2
5000

fade

https://www.sualtigazetesi.com/deniz-kuvvetleri-kupasi-oncesi-murat-tan-atilla-gokova-yaris-ekibi-roportajlari/

5000

fade

https://www.sualtigazetesi.com/tayk-sunum-kuzey-kutup-dairesinden-guney-kutup-dairesine-gronland-ve-antarktika-prof-dr-talat-kiris/

5000

fade

https://www.sualtigazetesi.com/dadd-sunum-her-yonuyle-teknede-enerji-ve-enerji-sistemleri-zafer-turkmen/

5000

fade

https://www.sualtigazetesi.com/riza-epikmen-schuco-bayk-kis-trofesi-2-ayak-yarislari-oncesi-duygu-ve-dusunceleri/

5000

fade

https://www.sualtigazetesi.com/the-bodrum-cup-turkiyeyi-yelkencilik-dunyasinda-temsil-etti/

5000

fade

https://www.sualtigazetesi.com/banu-oney-ile-denizden-denize-marmarisden-seattlea-yelkenli-tekne-ile/

5000

fade

https://www.sualtigazetesi.com/rsx-kadinlar-sinifinda-2020-tokyo-olimpiyat-oyunlari%e2%80%99ndayiz/