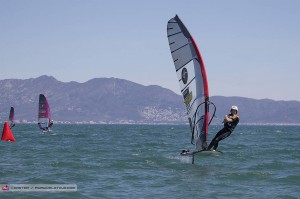 Day 3: Julien Bontemps Continues to Lead But Thomas Goyard Surges Back into Contention After First Bullet
The wind teased the competitors on several occasions today as the Tramontana fought with the local thermal effect for several hours. Eventually, as the temperature dropped the wind finally swung to the southeast and stabilised enough during the early evening to allow the third Foil elimination of the week to be completed in 5-13 knots.
Having been disqualified for a starboard tack infringement during yesterday's final, Thomas Goyard (FMX Racing / Phantom Sails / Phantom Foils) responded in the perfect fashion by securing his first bullet of the week as he beat Kiran Badloe (Starboard / Severne / Starboard Foil) and Nicolas Goyard (Tabou / GA Sails / Phantom Foils) to top spot in Elimination 3. Goyard's victory puts him right back in contention, as when the 4th elimination is complete, the Frenchman will be able to discard a 24th place, while his other counting result at the moment is second place, which potentially puts him in pole position for the event on current form. Goyard rises from 9th to 6th after today's performance.
Meanwhile, Julien Bontemps (JP / NeilPryde), who has led the event since the opening day continues to set the pace at the top of rankings, but sees his lead at the top reduced from 5.3 points overnight to 3.3 points with Mateus Isaac (JP / NeilPryde) moving into second place after an excellent 4th place today and cutting the Frenchman's advantage.
Nicolas Goyard, who finished 3rd in Elimination 3, is only two points further back and also stands to gain a great deal from the discard as he currently counts a 13th from yesterday after dropping his gybe when in the lead. The Goyard brothers are a serious threat and both are now prominently placed to attack the top moving into the second half of the event.
Elsewhere, Gonzalo Costa Hoevel (Starboard / Severne / Starboard Foil) is just one point outside of the top 3 after another solid showing – 6th – and the Argentine remains in 4th.
Alexandre Cousin (Patrik / Phantom Sails / Phantom Foils) started the day in second place, but drops 3 places to 5th after a 12th place today, while fellow countryman – William Huppert (Fanatic / Duotone / LOKEFOIL) – falls two places to 7th after his worst result of the week so far 18th, but can obviously look to discard that moving forwards.
Another Frenchman, Antoine Questel (I-99 / S2Maui / Starboard Foil) breaks into the top 10 – 8th – after his best result this week – 9th, while defending champion – Amado Vrieswijk (JP / Severne / Starboard Foil) completes the top 10 after an 8th place today. Sebastian Kornum (JP / NeilPryde) falls to 9th.
Yesterday, Tristan Algret (Starboard / Severne / Starboard Foil) won his first bullet on the world tour and he built upon that performance today to secure 5th place, which sees the 25-year-old rise to 12th in the overall rankings, while he is one of the sailors who could benefit the most with the discard as he is currently counting 36.5 points from the first race.
Both Pierre Mortefon (Fanatic / Duotone / LOKEFOIL) and Antoine Albeau (JP / NeilPryde) drop out of the current top 10 after they both missed out on the winners' final in Elimination 3. Albeau, in particular, will be kicking himself as he was leading his semifinal but was forced to tack back after failing to correctly round a buoy, which cost Albeau dearly as his missed out in 13th place with the top 12 qualifying. That result leaves Albeau needing at least two discards to have any hopes of mounting a comeback as he is also counting a 24th from the opening elimination.
The forecast for tomorrow doesn't look particularly promising on paper, but as always anything can happen. The sailors will meet again at 9am tomorrow morning with a first possible start at 10am (GMT+2).
You can stay up to date with all the latest developments from Costa Brava — including elimination ladders, entry list, images and live ticker simply click HERE and scroll to the bottom of the page.
Current Ranking 2019 Catalunya PWA World Cup – Men's Foil
*After 3 Eliminations
1st Julien Bontemps (FRA – JP / NeilPryde)
2nd Mateus Isaac (BRA – JP / NeilPryde)
3rd Nicolas Goyard (FRA – Tabou / GA Sails / Phantom Foils)
4th Gonzalo Costa Hoevel (ARG – Starboard / Severne / Starboard Foil)
5th Alexandre Cousin (FRA – Patrik / Phantom Sails / Phantom Foils)
6th Thomas Goyard (FRA – FMX Racing / Phantom Sails / Phantom Foils)
7th William Huppert (FRA – Fanatic / Duotone / LOKEFOIL)
8th Antoine Questel (FRA – I-99 / S2Maui / Starboard Foil)
9th Sebastian Kornum (DEN – JP / NeilPryde)
10th Amado Vrieswijk (NB – JP / Severne / Starboard Foil)
Source: PWA
600
true
thumbnails
bottomright
300
true
800
none

600
true
dots
under
150
true
800
https://www.sualtigazetesi.com/wp-content/plugins/thethe-image-slider/style/skins/white-square-2
5000

fade

https://www.sualtigazetesi.com/deniz-kuvvetleri-kupasi-oncesi-murat-tan-atilla-gokova-yaris-ekibi-roportajlari/

5000

fade

https://www.sualtigazetesi.com/tayk-sunum-kuzey-kutup-dairesinden-guney-kutup-dairesine-gronland-ve-antarktika-prof-dr-talat-kiris/

5000

fade

https://www.sualtigazetesi.com/dadd-sunum-her-yonuyle-teknede-enerji-ve-enerji-sistemleri-zafer-turkmen/

5000

fade

https://www.sualtigazetesi.com/riza-epikmen-schuco-bayk-kis-trofesi-2-ayak-yarislari-oncesi-duygu-ve-dusunceleri/

5000

fade

https://www.sualtigazetesi.com/the-bodrum-cup-turkiyeyi-yelkencilik-dunyasinda-temsil-etti/

5000

fade

https://www.sualtigazetesi.com/banu-oney-ile-denizden-denize-marmarisden-seattlea-yelkenli-tekne-ile/

5000

fade

https://www.sualtigazetesi.com/rsx-kadinlar-sinifinda-2020-tokyo-olimpiyat-oyunlari%e2%80%99ndayiz/