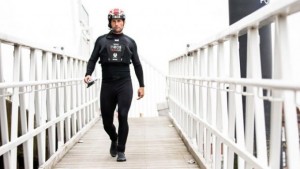 Ben Ainslie has cast further doubt over the three late America's Cup entries making the start line as the Ineos Team UK skipper works to prepare his well-backed bid to challenge Emirates Team New Zealand for the Auld Mug in 2021.
As Ineos Team UK continues the design and testing stage at their Portsmouth base, Ainslie has revealed the behind-the-scenes jostling since Malta Altus, DutchSail, and Stars and Stripes (USA) were three late additions to the challengers.
"Firstly we were welcoming having more teams and more competition," said Ainslie, the four-time Olympic champion. "We did have an issue with those three teams, two of which to our understanding hadn't paid any entry fee [$5.8million]."
"Stars and Stripes had paid entry and as far as we could see were properly entered but the other two teams hadn't, and were then put forward to have a vote on class rule amendments and so on.
"For us, that seemed completely unfair. Imagine in Formula 1 if you had some guys rock up and say we fancy a punt at this but we don't like the diffuser or we want different tires… there's no way that would happen.
"We were really frustrated by that because it was holding things up. We couldn't make decisions because the other teams weren't agreeing to vote or were voting against and you need a unanimous decision."
In the end Team New Zealand and Luna Rossa, Challenger of Record, altered the Protocol in order to make rule changes without approval from the late entry teams, allowing project plans to proceed.
Ultimately, Ainslie expects costs to be too prohibitive for the late syndicates to join Luna Rossa, New York-based American Magic, and Team UK in challenging Team New Zealand on home waters.
"We don't expect those teams to get to the start line. Stars and Stripes, our understanding is it's really shaky. We'd love to see them all there but the reality is the costs of this Cup are dawning on them just how expensive it is.
"They made the initial jump but are now pulling back because it's way more expensive than what they've been told. Hopefully those other teams make it but I'd be surprised to see all three of them there for sure."
Source: https://www.nzherald.co.nz
In addition to Challenges from Italy, USA, and Great Britain that were accepted during the initial entry period (January 1 to June 30, 2018), eight additional Notices of Challenge were received by the late entry deadline on November 30, 2018. Of those eight submittals, entries from Malta, USA, and The Netherlands have also been accepted. Here's the current list:
Defender:
• Emirates Team New Zealand (NZL)
Challengers:
• Luna Rossa (ITA) – Challenger of Record
• American Magic (USA)
• INEOS Team UK (GBR)
• Malta Altus Challenge (MLT)
• Stars & Stripes Team USA (USA)
• DutchSail (NED)
Key America's Cup dates:
✔ September 28, 2017: 36th America's Cup Protocol released
✔ November 30, 2017: AC75 Class concepts released to key stakeholders
✔ January 1, 2018: Entries for Challengers open
✔ March 31, 2018: AC75 Class Rule published
✔ June 30, 2018: Entries for Challengers close
✔ August 31, 2018: Location of the America's Cup Match and The PRADA Cup confirmed
✔ August 31, 2018: Specific race course area confirmed
✔ November 30, 2018: Late entries deadline
✔ March 31, 2019: Boat 1 can be launched (DELAYED)
✔ 2nd half of 2019: 2 x America's Cup World Series Preliminary Events (CANCELLED)
February 1, 2020: Boat 2 can be launched
During 2020: 3 x America's Cup World Series Preliminary Events
December 10-20, 2020: America's Cup Christmas Race
January and February 2021: The PRADA Cup Challenger Selection Series
March 2021: The America's Cup Match
Details: www.americascup.com
Source: sailingscuttlebutt
600
true
thumbnails
bottomright
300
true
800
none

600
true
dots
under
150
true
800
https://www.sualtigazetesi.com/wp-content/plugins/thethe-image-slider/style/skins/white-square-2
5000

fade

https://www.sualtigazetesi.com/deniz-kuvvetleri-kupasi-oncesi-murat-tan-atilla-gokova-yaris-ekibi-roportajlari/

5000

fade

https://www.sualtigazetesi.com/tayk-sunum-kuzey-kutup-dairesinden-guney-kutup-dairesine-gronland-ve-antarktika-prof-dr-talat-kiris/

5000

fade

https://www.sualtigazetesi.com/dadd-sunum-her-yonuyle-teknede-enerji-ve-enerji-sistemleri-zafer-turkmen/

5000

fade

https://www.sualtigazetesi.com/riza-epikmen-schuco-bayk-kis-trofesi-2-ayak-yarislari-oncesi-duygu-ve-dusunceleri/

5000

fade

https://www.sualtigazetesi.com/the-bodrum-cup-turkiyeyi-yelkencilik-dunyasinda-temsil-etti/

5000

fade

https://www.sualtigazetesi.com/banu-oney-ile-denizden-denize-marmarisden-seattlea-yelkenli-tekne-ile/

5000

fade

https://www.sualtigazetesi.com/rsx-kadinlar-sinifinda-2020-tokyo-olimpiyat-oyunlari%e2%80%99ndayiz/