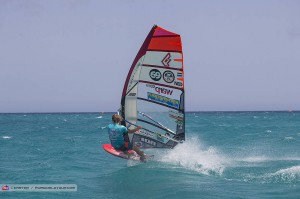 With Flying Dutchman Jordy Vonk
In 2017 Jordy Vonk earned his first podium on the Slalom PWA World Tour during the Fly! ANA Yokosuka PWA World Cup in Japan – where the 25-year-old finished second. However, the flying Dutchman just missed out on breaking into the world's overall top 10 for the first time in his career in 2017 after missing out on countback to Sebastian Kördel (Starboard / GA Sails). This season though Vonk seems to have raised his game to another level, which has seen him record a top 10 finish at each of the 5 events so far, while his latest performance in Fuerteventura saw him record his best finish of the season so far 4th. Vonk's fine form means he is currently deservedly on course to break into the overall top 10 this time around – with just one event to go – the Mercedes-Benz Sylt PWA Super Grand Slam, which starts on the 28th September. We recently caught up with Jordy for a 20 Questions interview:
1. Why are you so passionate about windsurfing?
Hard to explain after +/- 10 years having only windsurfing in my mind, it's the sport that basically shaped my life the way it is now. Although being pretty young windsurfing gave me so much already, must be the reason I'm so passionate about it!
2. What quality do you like most in other people?
I guess being Helpful, we're living a crazy life travelling all the time. If you would never get a
helping hand along the way it must be impossible to live this life.
3. What annoys or frustrates you the most?
Windless days! I'm lucky to be windsurfing lot's in a year, but I always feel so sorry for organizers having no wind during events. Especially this year in Holland, having so many volunteers organizing events and so far no slalom event has taken place in 2018 at home!! Really frustrating knowing how great those events could be with wind.
4. What do you most like in yourself?
The fact that I'm doing things my way. I've always received lot's of advices, but I always
considered if they made sense to me or not instead of just following them. I think this brought me where I am now.
5. What do you dislike in yourself?
I'm looking/thinking ahead often, which makes me sometimes forget to enjoy the moment.
6. What has been your best moment on tour?
Jumping on the podium in Japan 2017. We all knew it was a 'one hit wonder' event with lot's of seaweed, so was it fair result? Maybe not. But I think becoming 2nd in a PWA World Cup was such a dream that for me it didn't even matter at the moment, I was simply super proud to do it.
7. What has been your worst moment on tour?
Alacati 2015, we had a heat which got re-run 10 times. (Yes 10 times, not 9 or 11 ☺). It was a very strong first round heat and I managed to lead it 6 times, After 9 tries we were on the beach and I qualified in 4th, happy to be in qualifying position 9/9 times. They said something went wrong and we had to re-run the heat AGAIN. Guess what, the 10th time I missed out….. I'm definitely not an offensive person, but I guess you can imagine I was furious that moment.
8. Knowing what you know now, what advice would you have given yourself when your career started?
Set your goals high and work hard for it, but sometimes give yourself a break and allow yourself to enjoy other things too. This can give you energy and motivation to make even bigger steps in the future.
9. What is the best advice you have ever been given?
'ENJOY'!!!!!
10. What would be your perfect day?
A proper full power slalom session in the morning, a sweet wave session all afternoon finished off with a BBQ and beers with some amazing friends. Can't get better then that!
11. Do you have any superstitions?
No actually not!
12. Which living person do you most admire?
Not one particular person I most admire! I especially admire certain friends, each for different things, but best I keep that for myself 😉
13. What is your greatest fear?
Must be losing beloved people!
14. What is your most treasured possession?
I'm stoked every time I drive around in my van! It's really something I was dreaming off for a longer time. Non-material obviously friends/family.
15. If you weren't a professional windsurfer, what would you like to be?
I was actually playing lot's of field hockey before I got windsurf addicted, maybe would have done that professionally? Or work somewhere with my commercial economics university paper, think I could even enjoy that kind of work.
16. Where would you most like to go to that you haven't been to yet?
I've never been to the US! Okay I've been to Maui, but never mainland. That would be a destination I'd like to visit not windsurfing related. For windsurfing Mauritius seems to be a paradise!
17. Who would you most like to have as a dinner guest, dead or alive?
The two amazing guys PWA lost in the last few years….
18. What App do you open first in the morning?
Must be WhatsApp, can't remember waking up without some messages on my background!
19. Most visited website?
A mix of Social Media, WindGuru and mailbox.
20. A phrase you live by?
No Regrets
Thanks, Jordy. See you in Sylt.
Source: PWA
600
true
thumbnails
bottomright
300
true
800
none

600
true
dots
under
150
true
800
https://www.sualtigazetesi.com/wp-content/plugins/thethe-image-slider/style/skins/white-square-2
5000

fade

https://www.sualtigazetesi.com/dadd-sunum-her-yonuyle-teknede-enerji-ve-enerji-sistemleri-zafer-turkmen/

5000

fade

https://www.sualtigazetesi.com/riza-epikmen-schuco-bayk-kis-trofesi-2-ayak-yarislari-oncesi-duygu-ve-dusunceleri/

5000

fade

https://www.sualtigazetesi.com/the-bodrum-cup-turkiyeyi-yelkencilik-dunyasinda-temsil-etti/

5000

fade

https://www.sualtigazetesi.com/banu-oney-ile-denizden-denize-marmarisden-seattlea-yelkenli-tekne-ile/

5000

fade

https://www.sualtigazetesi.com/rsx-kadinlar-sinifinda-2020-tokyo-olimpiyat-oyunlari%e2%80%99ndayiz/