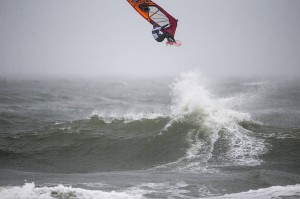 With Wave World No.4 Lina Erpenstein
Lina Erpenstein (Severne / Severne Sails) began windsurfing in 2010 and 5 years later made her debut on the Women's PWA Wave World Tour where she finished 12th overall in her first season tour. However, over the space of the last few years, the German has developed into one of the best female wave sailors on the planet with her powerful wave riding and radical jumping catching the eye. In 2016 the 22-year-old was able to finish 6th overall, while the last two seasons Erpenstein has placed 4th in the overall rankings, while developing the skill set to threaten the big top 3 of Women's wave sailing. There's much more to Lina than just windsurfing though with the German also being an avid DJ and studying Medicine. To find out more about Lina read our latest 20 Questions feature.
1. Why are you so passionate about windsurfing?
I think there are many reasons why I love windsurfing so much. I think the connection to nature is a really big part of it. You feel the power of the ocean the difference in every wave and session. You never know what nature is going to throw at you, that's what makes it so exciting. Also, I love how much windsurfing brings you into the moment. You're enjoying so much, that you forget everything around.
2. What quality do you like most in other people?
I'd say honesty. It takes the strength of character to look into someone's eyes and tell them what you really think and it is even more difficult if it's criticism. But I think it's a gift if someone is honest to you and it gives you the opportunity to work on yourself.
3. What annoys or frustrates you the most?
If people judge other people without knowing any background. Everyone has their reasons why they behave in a certain way and it takes time and effort to understand that. But I'd say the world would be a better place if people wouldn't judge too fast.
4. What do you most like in yourself?
Probably my confidence. I usually see the good part in whatever I'm experiencing and even in the bad things, I can see the chance to learn from it and do it better the next time.
5. What do you dislike in yourself?
I don't know if there's a part of me that I really don't like. I know I still have many weaknesses, many things that I can work on and remind myself of acting in a certain way, but that's probably an ongoing process that will never end.
6. What has been your best moment on tour?
There have been so many great moments and I'm happy for every single one of them. One very special moment for sure was our women's semifinal on Sylt this year. Steffi Wahl, Iballa Moreno, Sarah-Quita and I probably had the best conditions of the whole ten days in our 15min heat and all of us four were showing our best within that time. I remember cheering for the others and hearing cheering for myself too. The vibe on the water was so fun and we were all enjoying it so much. Also afterwards people on the beach and other windsurfers were telling us that our heat was exciting to watch and thrilling to see who would win until the end. And even though I didn't make it through, that heat was one of the most special moments for sure, for all of us.
7. What has been your worst moment on tour?
The worst feeling for me is coming off the water after a heat, knowing I didn't sail to my potential. Losing is fine, but knowing I could have done better makes me feel disappointed with myself. It happens every now and then. But with some time I can usually see how I can learn from it.
8. Knowing what you know now, what advice would you have given yourself when your career started?
Have fun and don't try too hard. I think that was the mistake I made in the first year. I didn't enjoy during the heats and didn't really think about what I was doing. Even now, the heats I enjoy the most, I sail the best.
9. What is the best advice you have ever been given?
For windsurfing heats probably: "breathe and think about what you're doing" haha. And personally probably to try to not judge too hard, neither with yourself nor with others.
10. What would be your perfect day?
Wake up before sunrise (not being tired haha), straight from the pyjama into the wetsuit and a glassy surfing session with friends. Afterwards a nice breakfast with good coffee (!!) and nice music.
For the afternoon a good windsurfing session with friends and waves both for jumping and riding until sunset. Then we would have a BBQ, everyone being happy from the good session we had. We'd sit together talk and laugh. Also, I really enjoy music and dancing so if we're not too tired from surfing and windsurfing we might still have a little party or sit together and sing :).
11. Do you have any superstitions?
Hmm no, not really. I think I'm a very matter-of-fact kind of person.
12. Which living person do you most admire?
I don't think I can name a single person. I love the different qualities in my friends. Each of them is so different and has got at different things they're good at, I love that. I love the variety.
13. What is your greatest fear?
I think we sometimes forget how valuable our health is. So I think, not being healthy.
14. What is your most treasured possession?
I think my van. It carries me and all my windsurfing and surfing gear wherever I navigate it too. That's such a gift and the possibilities are endless.
15. If you weren't a professional windsurfer, what would you like to be?
I wouldn't call myself a professional windsurfer. More of a professional student and passionate windsurfer haha. As I'm studying medicine I'll probably do something in that direction one day.
16. Where is the best place you've been?
There are so many places on this earth that are amazing, most of them I haven't seen yet. And I think it's a gift that we have the possibility to see so many of them.
I loved Western Australia, the nature, the relaxed people and the high quality windsurfing there. Seeing the pictures from people travelling there in the European wintertime makes me anxious to go back.
17. Where would you most like to go to that you haven't been to yet?
For windsurfing probably Chile. The pictures from there look amazing. But I would also like a non-windsurfing trip to a totally different country, maybe like Tibet, Iran or Canada. Anyway, I'm excited for all the places I will still get to see.
18. Who would you most like to have as a dinner guest, dead or alive?
Maybe Christoph Waltz or Emma Watson. Both of them are really inspiring personalities, intelligent and have interest into so man different directions. But there's a lot more persons I could think of. For sure, the discussions would be really interesting, hmm difficult question.
19. First App you open in the morning?
I usually try to not use my phone in the morning until I actually need it. Until then I use the App "Analog Life" haha.
20. A phrase you live by?
Don't forget the value of the moment.
Thanks Lina. Good luck with your studies and see you back on the tour in 2019.
Source: PWA
600
true
thumbnails
bottomright
300
true
800
none

600
true
dots
under
150
true
800
https://www.sualtigazetesi.com/wp-content/plugins/thethe-image-slider/style/skins/white-square-2