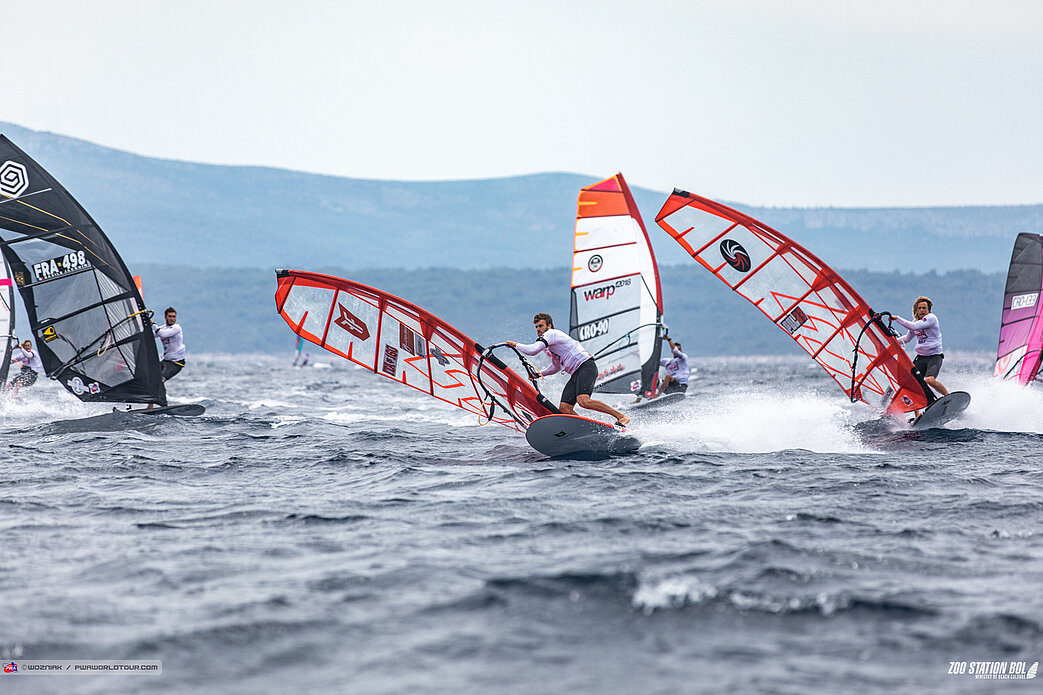 Event Preview: Croatia Set to Steal the Windsurfing Limelight as Several Stars Prepare to Descend Upon Bol
With racing opportunities being heavily limited in the last 18 months due to COVID-19 that has led to a star-studded lineup registering for the 2021 Zoo Station Bol PWA World Cup (1 Star), which will take place from 2nd-6th July, so whilst there may not be as much prize money on offer as a 5 star event, there will still be plenty of hotly contested racing.
Women's
Foil
Having finished second last week in Israel, Helle Oppedal (Fanatic / Duotone), will start the event here as the favourite, whilst it's likely that Sara Wennekes, who claimed 5th, will also be pushing for the podium positions.
Slalom
Meanwhile, the Slalom should be fiercely competitive and on paper, you would also have to think that Oppedal, Wennekes and Tuesday-Lou Judd (Patrik / Phantom Sails) would be the main candidates for the event title. 21-year-old Judd recorded a couple of top 3 places during the 7 Eliminations completed in Israel and with a little more consistency could be a real threat.
Men's
Slalom
The Men's fleet is littered with some of the biggest stars currently on the Slalom scene with 4 of 2019s top 10 registering and 10 of the overall top 20 on the list, which should guarantee some epic racing. Vice-World Champion – Matteo Iachino (Starboard / Severne Sails / Starboard Foil) – will start the event as the favourite, but it certainly won't be an easy job with Maciek Rutkowski (FMX Racing / Challenger Sails), who just missed out on the podium in Israel, looking to defend his event title from last year.
Meanwhile, the likes of Jordy Vonk (Fanatic / Duotone / LOKEFOIL) and Enrico Marotti (JP / NeilPryde), who will be the local favourite, will be serious threats, as will Antoine Questel (FMX Racing / S2Maui), Basile Jacquin (FMX Racing / Point-7), Cedric Bordes (Tabou / GA Sails), Bruno Martini (I-99 / Challenger Sails), Malte Reuscher (Tabou / GA Sails) & Ingmar Daldorf (Tabou / GA Sails).
Other names who can easily push for the top 10 and beyond include 2018 Youth Slalom PWA World Champion – Damien Arnoux (Goya Windsurfing / Loftsails), Alexandre Cousin (Patrik / Phantom Sails / Chopper Fins / Phantom Foils), veteran Ben van der Steen (Goya Windsurfing / Loftsails), Rytis Jasiunas (Future Fly / Point-7), who earned his best result in a single elimination in Israel – 4th, whilst Luka Mratovic (Fanatic / Duotone) will provide another local hope.
Whilst there won't be a live stream available in Bol, we do intend to bring you as much coverage as possible via our Instagram Stories, so if you don't already, please be sure to follow @pwaworldtour to stay up to date with the event.
Source: PWA
600
true
thumbnails
bottomright
300
true
800
none

600
true
dots
under
150
true
800
https://www.sualtigazetesi.com/wp-content/plugins/thethe-image-slider/style/skins/white-square-2
5000

fade

https://www.sualtigazetesi.com/deniz-kuvvetleri-kupasi-oncesi-murat-tan-atilla-gokova-yaris-ekibi-roportajlari/

5000

fade

https://www.sualtigazetesi.com/tayk-sunum-kuzey-kutup-dairesinden-guney-kutup-dairesine-gronland-ve-antarktika-prof-dr-talat-kiris/

5000

fade

https://www.sualtigazetesi.com/dadd-sunum-her-yonuyle-teknede-enerji-ve-enerji-sistemleri-zafer-turkmen/

5000

fade

https://www.sualtigazetesi.com/riza-epikmen-schuco-bayk-kis-trofesi-2-ayak-yarislari-oncesi-duygu-ve-dusunceleri/

5000

fade

https://www.sualtigazetesi.com/the-bodrum-cup-turkiyeyi-yelkencilik-dunyasinda-temsil-etti/

5000

fade

https://www.sualtigazetesi.com/banu-oney-ile-denizden-denize-marmarisden-seattlea-yelkenli-tekne-ile/

5000

fade

https://www.sualtigazetesi.com/rsx-kadinlar-sinifinda-2020-tokyo-olimpiyat-oyunlari%e2%80%99ndayiz/