................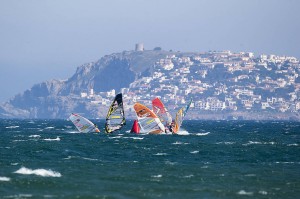 Los Alcázares to Host Second Youth+Junior Slalom PWA World Cup of 2018 Between 2nd-5th May
In January, the first PWA Youth World Cup was held in Almerimar, Spain, at Victor Fernandez's (Fanatic / NorthSails) Windsurfing Centre. The event hosted two disciplines – wave and slalom – but unfortunately it was only possible to gain a result in the wave discipline.
However, in just a couple of weeks the next generation of racers will be raring to go again as they get ready to compete in their second event of the year in Mar Menor (region of Murcia, the Alcázares), Spain, between 2nd-5th May.
The contest will be divided into the following age categories:
- Under 20s – MAX 1999, male and female.
- Under 17s – MAX 2002, male and female.
- Under 15s – MAX 2004, male and female.
- Under 13s – MAX 2006, male and female.
How to Sign Up
If you'd like to battle it out with the best youth slalom sailors in the world you can sign up below:
Registration @ https://www.inscribirme.com/worldcupslalompwayouthjuniormurcia
Mar Menor is blessed, on average, wth 300 days of sunshine per year, while it's reliable thermal winds and fantastic watersports infrastructure make it a great place to hone your windsurfing skills and it should provide the perfect arena for the latest Youth+Junior PWA Slalom World Cup.
You can find the official Notice of Race HERE
For more information about the event the following links are available:
http://windsurfesp-cef.blogspot.com.es/
https://www.fvrm.info/uploads/6/0/6/4/60648415/calendario_2018_windsurfing.pdf
https://www.facebook.com/Concejalía-de-Deportes-Los-Alcázares-315587555305809/
https://www.facebook.com/events/1643362219079672/?notif_t=plan_user_associated&notif_id=1522396790094293
https://murciatoday.com/2nd-to-5th-may-slalom-world-cup-los-alcázares_412245-a.html
https://www.evensi.com/world-cup-slalom-pwa-youthjunior-alcazares-spain/253176960
Source: PWA
Diğer Konular
600
true
thumbnails
bottomright
300
true
800
none

600
true
dots
under
150
true
800
https://www.sualtigazetesi.com/wp-content/plugins/thethe-image-slider/style/skins/white-square-2

Bu konu şimdiye kadar