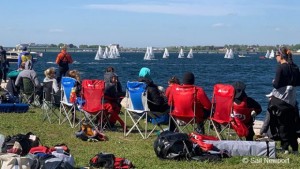 Newport, RI (May 21, 2019) – The College Women's Nationals got underway today for the 36 teams that qualified for the four day championship. With schools divided into two 18-team semifinal groups, winds of 15 to 20 knots allowed for 8 sets of racing to be completed.
#3 ranked Yale University dominated the Western Semis, with their A Division team (Louisa Nordstrom '20/ Kathryn Clulo '21 and Claudia Loiacono '21) and B Division team (Christine Klingler '20/ Catherine Mollerus '21 and Kira Woods '19) winning half the races to lead their groups. Yale holds a 49 point lead over #7 Dartmouth with #4 Charleston 8 points back in third.
"The strong winds today made racing mostly about boat speed," says Bill Healy, associate head coach for Yale University, "We had to overcome adversity today with a few over early starts and hitting a mark in a race, but fortunately we were able to turn those races into top five finishes.
"Today we wanted to get a feel for the current in the harbor and also the mainsails in the Z420s, which are more powerful than we are used to. Tomorrow will be another long day and we will be switching fleets into the FJ's, so we will keep up our boat speed and work on our crew combinations."
#5 ranked Boston College was nearly as dominant, with both their A Division team (Isabella Loosbrock '19/ Emma Perry '19) and B Division team (Sophia Reineke '21/ Tara Ferraris '19) leading their groups with a 17 point buffer over #1 ranked Brown University. In third is #16 Georgetown, 39 points behind BC, led by their A Division team (Haddon Hughes '19/ Annabelle Ayer '22 and Macey McCann '20) who is in third.
"We were very fast today," says Greg Wilkinson, head coach for Boston College, "It would be great if we were this fast all of the time – which we have the ability to be – we were able to sail our own race and not get pinned to a side today.
"We are looking to get past tomorrow, which will be another full day of races, but we are looking forward to some different conditions and we are hoping for a sea breeze."
The Western bracket today was in the Z420s with the Eastern fleet using the Club Flying Juniors, with the groups switching boats tomorrow.
The goal for the semifinals is to qualify for the finals, with the top nine teams from each group wiping the scoreboard clear for the 18-boat championship stage on May 23-24.
#2 ranked MIT hopes to make the finals but they will have to overcome their struggles in the Western group where they sit in tenth position, two points behind the ninth place cut.
DAY ONE RESULTS:
Western Semifinals (Top 9 of 18; 8 races)
1. Yale University, 38
2. Dartmouth College, 87
3. College of Charleston, 95
4. St. Mary's College of Maryland, 96
5. University of Rhode Island, 113
6. Old Dominion University, 113
7. Jacksonville University, 122
8. Tufts University, 125
9. Hobart and William Smith Colleges, 126
Eastern Semifinals (Top 9 of 18; 8 races)
1. Boston College, 46
2. Brown University, 63
3. Georgetown University, 85
4. George Washington University, 90
5. Harvard University, 112
6. Bowdoin College, 124
7. University of Pennsylvania, 134
8. University of South Florida, 134
9. U. S. Coast Guard Academy, 138
2019 Spring Nationals
May 21-24 – Women's Dinghy
May 25-27 – Team Race
May 28-31 – Coed Dinghy
Live coverage will include:
May 23, half day of Women's coverage.
May 24, full day of Women's coverage and awards.
May 25, half to 3/4 day of Team Race coverage, release of Women's recap video.
May 26, full day of Team Race coverage.
May 27, full day of Team Race coverage and awards.
May 28, release of Team Racing recap video.
May 29, full day of Coed coverage.
May 30, full day of Coed coverage.
May 31, full day of Coed coverage and awards.
June 3, release of Coed recap video.
The 2018-19 season for the Inter-Collegiate Sailing Association (ICSA) held the Match Racing Nationals and Singlehanded Nationals during the fall season, with the final three national titles on May 21 to 31 in Newport, RI.
Source: sailingscuttlebutt
600
true
thumbnails
bottomright
300
true
800
none

600
true
dots
under
150
true
800
https://www.sualtigazetesi.com/wp-content/plugins/thethe-image-slider/style/skins/white-square-2
5000

fade

https://www.sualtigazetesi.com/deniz-kuvvetleri-kupasi-oncesi-murat-tan-atilla-gokova-yaris-ekibi-roportajlari/

5000

fade

https://www.sualtigazetesi.com/tayk-sunum-kuzey-kutup-dairesinden-guney-kutup-dairesine-gronland-ve-antarktika-prof-dr-talat-kiris/

5000

fade

https://www.sualtigazetesi.com/dadd-sunum-her-yonuyle-teknede-enerji-ve-enerji-sistemleri-zafer-turkmen/

5000

fade

https://www.sualtigazetesi.com/riza-epikmen-schuco-bayk-kis-trofesi-2-ayak-yarislari-oncesi-duygu-ve-dusunceleri/

5000

fade

https://www.sualtigazetesi.com/the-bodrum-cup-turkiyeyi-yelkencilik-dunyasinda-temsil-etti/

5000

fade

https://www.sualtigazetesi.com/banu-oney-ile-denizden-denize-marmarisden-seattlea-yelkenli-tekne-ile/

5000

fade

https://www.sualtigazetesi.com/rsx-kadinlar-sinifinda-2020-tokyo-olimpiyat-oyunlari%e2%80%99ndayiz/