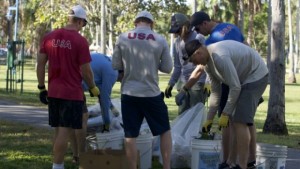 Miami, FL (January 24, 2019) – For the sailors entered in the 2019 Hempel World Cup Series regatta, the racing starts on Monday, January 28, and ends with Medal Races for each class the following weekend. The racing is mentally and physically taxing, and the stakes are high.
For 30 years, Olympic dreams have been made, and crushed, on Biscayne Bay. However, the end of the regatta is defined. For sailors, and others, who care about the future of the marine playing field, the race is ongoing and there is no end in sight.
In recognition of this critical battle, the organizers of the 2019 Hempel World Cup Series are committed to doing their part to reduce the environmental impact of their event while also educating competitors and spectators about what they can both on and off the water to help improve the health of the world's oceans and inland waterways.
The 2019 Hempel World Cup Series Miami is one of four stops on World Sailing's World Cup Series tour, the premiere competitive circuit for sailors with aspirations of representing their country at the Tokyo Games in 2020.
For 30 years, international sailors from around the globe have made Miami and Biscayne Bay a de facto winter training base, ensuring that the competition at the Hempel World Cup Series Miami is always of the highest level. Many of the sailors competing in the event will be standing on the podium in Tokyo in 18 months' time.
In Miami, the sustainability initiative will be led by former US Sailing Team member Elizabeth Kratzig, who quarterbacked the award-winning sustainability effort at the 2018 Youth World Sailing Championships in Corpus Christi, Texas, last summer.
"Having been involved in this regatta as a past competitor and coach on and off since 1991, I am excited that the organizers have recognized the large impact that the World Cup Series regatta has on the local community, its resources and its waterways," says Kratzig, a long-time Miami resident.
"We want to make sure we leave Regatta Park and Biscayne Bay in better shape than we found it. We also want to provide to anyone who comes in contact with the regatta the tools to reduce their environmental impact in their day-to-day lives."
The effort kicked off on Sunday, January 13, as US Sailing Team athletes joined sailors from around the world and other volunteers for the Coconut Grove Coastal Clean-Up. The event was organized by US Sailing in partnership with VolunteerCleanup.Org and was sponsored by World Sailing.
Upwards of 100 individuals collected over 850 pounds of trash from the mangroves lining Kennedy Park, Shake-A-Leg and Prime Point Marina. The evening prior to the clean-up, volunteers and members of the general public listened to a moving presentation from ocean advocate and explorer Emily Penn.
Click here for a story and video on the Coastal Cleanup.
Kratzig also has some specific goals for the regatta itself, including a drastic reduction in single-use plastics and a Clean Regattas Silver Level certification, as outlined by Sailors for the Sea.
"We have a unique opportunity to use the sport of sailing to promote environmental stewardship and sustainability not only to the competitors, race committee officials, but also to sailing fans and the local Miami community," says Kratzig.
"By following environmentally friendly practices and incorporating an educational component in the regatta festivities, we hope to lead by example and inspire changed behaviors. This year's event will include a special emphasis on promoting environmental best practices for motorboat operation, including information on using fuel spill pads and tips for reducing fuel consumption.
"We are also excited about growing the educational zone at the regatta festival. This year, the festival will include interactive displays from Miami Waterkeepers, Women's Club of Coconut Grove and University of Miami's Rescue a Reef program, among others."
Looking further down the road, the regatta hopes to establish a robust approach to sustainability at the World Cup Series Miami, sharing best practices and setting standards and targets, reduce the World Cup Series Miami carbon footprint and promote resource efficiency and create lasting legacy programs from this event.
Spectators who come to Regatta Park to watch the Medal Races on Saturday, February 2, and Sunday, February 3, will be enjoy fun and educational activities designed to develop individual awareness of what it takes to maintain a healthy relationship with the environment.
The 2019 Hempel World Cup Series Miami is one of four stops on World Sailing's World Cup Series tour, the premiere competitive circuit for sailors with aspirations of representing their country at the Tokyo Games in 2020. With racing planned for January 29 to February 3, all 10 Olympic events will be competing on Biscayne Bay.
Competition details – Entry list – Facebook
The World Cup Series is an annual circuit of Olympic sailing for elite and professional sailors, and a key touchpoint for fans and media to connect to the sport of sailing and develop support for athletes on their road to Tokyo 2020 Olympics and beyond. Over 2,000 of the world's leading sailors, representing 75 nations, have competed in the World Cup Series since its inception in 2008.
2018-19 World Cup Series
Enoshima Round: 9-16 September 2018
Miami Round: 27 January-3 February 2019
Genoa Round: 15-21 April 2019
Marseille Final: 2-9 June 2019
ABOUT WORLD SAILING
World Sailing is the world governing body for the sport of sailing, officially recognized by the International Olympic Committee (IOC) and the International Paralympic Committee (IPC). Founded in 1907, World Sailing's vision is for a world in which millions more people fall in love with sailing; inspired by the unique relationship between sport, technology and the forces of nature; we all work to protect the waters of the world.
World Sailing is made up of 145 Member National Authorities, the national governing bodies for sailing around the world and 114 World Sailing Class Associations. For more information about World Sailing please go to sailing.org.
ABOUT US SAILING
The United States Sailing Association (US Sailing), the national governing body for sailing, provides leadership, integrity, and advancement for the sport in the United States. Founded in 1897 and headquartered in Bristol, Rhode Island, US Sailing is a 501(c) (3) non-profit organization.
US Sailing offers training and education programs for instructors and race officials, supports a wide range of sailing organizations and communities, issues offshore rating certificates, and provides administration and oversight of competitive sailing across the country, including National Championships and the US Sailing Team. For more information, please visit www.ussailing.org.
Source: US Sailing / sailingscuttlebutt
600
true
thumbnails
bottomright
300
true
800
none

600
true
dots
under
150
true
800
https://www.sualtigazetesi.com/wp-content/plugins/thethe-image-slider/style/skins/white-square-2
5000

fade

https://www.sualtigazetesi.com/tayk-sunum-kuzey-kutup-dairesinden-guney-kutup-dairesine-gronland-ve-antarktika-prof-dr-talat-kiris/

5000

fade

https://www.sualtigazetesi.com/dadd-sunum-her-yonuyle-teknede-enerji-ve-enerji-sistemleri-zafer-turkmen/

5000

fade

https://www.sualtigazetesi.com/riza-epikmen-schuco-bayk-kis-trofesi-2-ayak-yarislari-oncesi-duygu-ve-dusunceleri/

5000

fade

https://www.sualtigazetesi.com/the-bodrum-cup-turkiyeyi-yelkencilik-dunyasinda-temsil-etti/

5000

fade

https://www.sualtigazetesi.com/banu-oney-ile-denizden-denize-marmarisden-seattlea-yelkenli-tekne-ile/

5000

fade

https://www.sualtigazetesi.com/rsx-kadinlar-sinifinda-2020-tokyo-olimpiyat-oyunlari%e2%80%99ndayiz/