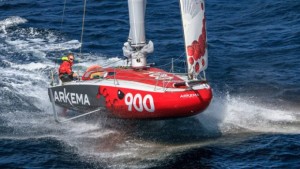 Initially scheduled for September 22, the start for the 87 solo sailors competing in the 22nd edition of the Mini-Transat La Boulangère has been postponed until a later date. The reasons for this are boisterous wind conditions and sea state forecast in the Bay of Biscay and offshore of Cape Finisterre.
"Maintaining the planned Sunday start date is not reasonable," reports Race Director Denis Hugues. "For the past two days, we've been monitoring the weather forecast very closely and observing the unsettled systems in the Atlantic.
"If we were to start the race on that day, the competitors would have to confront some very tricky conditions from Tuesday evening, with heavy seas and W/SW'ly winds averaging 30 knots, gusting to 40 knots."
The first of this two leg race for the Mini 6.50, a powered-up 21-footer, extends 1350nm from La Rochelle, France to Las Palmas de Gran Canaria. The second leg from Las Palmas de Gran Canaria takes the fleet 2700 nm to the final finish in Martinique, French West Indies.
"We've studied all the possible models, such as putting in a waypoint along the Spanish coast to avoid the worst conditions. However, that won't work for the majority of the fleet. The Bay of Biscay passage is always tricky. When the conditions aren't playing ball, this becomes dangerous."
The Mini Transat hosts two divisions – a production boat, built in over ten copies, and a prototype, the majority of which are unique and can use carbon, have a canting keel, daggerboards (or foils), and a bigger mast. The protos also offer the latest in design thinking which has trended toward bulbous bows and scow hull shapes.
"The Mini 6.50s are magical boats, but they are small and their design is more geared around downwind points of sail," notes Hugues. "However, the competitors would find themselves in a very tricky situation, punching into the wind and sea. It's the worst-case scenario for these boats. The aim of the Mini-Transat is to get as many sailors as possible to the final finish line."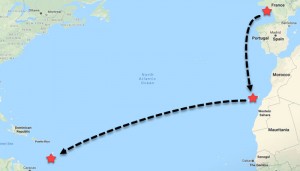 The first leg begins September 22 (now postponed) from La Rochelle, France and extends 1350 nm to Las Palmas de Gran Canaria. After an often complicated exit of the Bay of Biscay, sailors will expect some long slips down the Portuguese coast before arriving after 7 to 10 days in the Canary archipelago.
The second leg will start November 1 from Las Palmas de Gran Canaria and will take from 15 to 20 sailing days to complete the 2700 nm course and reach Le Marin in Martinique, French West Indies. Due to the numerous islands, the restart from the Canary can be tricky before reaching the famous trade winds that offer a long downwind run.
Source: Effetsmer / sailingscuttlebutt
600
true
thumbnails
bottomright
300
true
800
none

600
true
dots
under
150
true
800
https://www.sualtigazetesi.com/wp-content/plugins/thethe-image-slider/style/skins/white-square-2