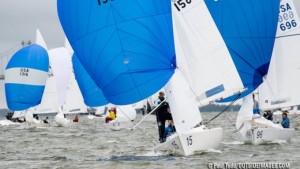 Annapolis, MD (May 5, 2019) – Top J/80 class skipper John White (Annapolis, MD) won three of eight races over three days, finishing the Helly Hansen NOOD Regatta weekend series 21-points ahead of runner-up Daniel Wittig's Turbo Sloth.
It was in impressive performance given the team hadn't sailed together since October 2018 and White's USA 1162 never finished worse than fourth place in the 23-boat fleet. White attributed his win to the collective skill of his crew, which included his son Kevin on the bow, trimmer and team boss Debbie Gosselin in the middle, and Johnathan Bartlett as tactician.
"Jonathan was on fire this weekend and had us going the right way all the time," White said. "We had the best boathandling of any boat out there. I would get us in trouble early on and they'd get me out of trouble. The boats are shockingly close in speed, and this weekend it was current and windshifts that made a difference, as well as going fast in a straight line."
As winner of his class, White was chosen as the Annapolis Helly Hansen NOOD Regatta's Caribbean Challenger. He sailed in the British Virgin Islands 10 years ago, and says he won't need much convincing to go and represent the Annapolis Yacht Club in October.
For Bruce Golison (Long Beach, CA), winning the 2019 Helly Hansen Annapolis NOOD in the J/70 fleet was a small step on the road to a larger goal. "I'm 62-years-old and still looking to win my first world championship," said Golison. In a class defined by boatspeed, Golison and crew have spent the past three years honing their skills in the hottest one-design fleet in the country.
"We really had to keep our heads out of the boat this weekend," said Golison. "It was shifty out there, and on our course, we couldn't get much current relief by going to a side. We stuck to the middle most of the time and used our speed to get us out of tough situations."
As an experienced sailor from Southern California, Golison keeps his J/70 on the East Coast to take advantage of larger fleet sizes, but he plans on taking it back to California for the summer to prepare for the world championships in Los Angeles next year. "I hope I have it in me," said Golison. "There's not many sports that you can still be competitive at 62, but we have great focus on our team and we're all putting in the work. We really want this."
In the nine-boat Etchells fleet, Matt Lalumiere (Chester, MD) repeated his victory from 2018 despite his mainsail coming down midway through the first race today. "It was crazy," said Lalumiere. "It was raining pretty hard and we heard a bang and the mainsail fell straight down. Luckily it just popped out and nothing was broken."
Lalumiere's crew was able to muscle the sail back up in time for them to get back in the race, which they eventually won. "The crew did a great job recovering from that one," said Lalumiere. "The wind was all over the place and the current was ripping down from the bridge, so we were able to put a few shifts together and claw our way back into it."
A third-place finish in the final race wrapped up the event for Lalumiere and crew. "We did a good job of keeping the second and third-place boats behind us, which is all we had to do. The rain definitely made things difficult, so props to the crew for getting it done."
For Matt Schubert (Annapolis, MD) in the 23-boat J/22 fleet, 4 points separated him and former college rival J.R. Maxwell (Annapolis, MD) heading into the final race. In the end, Schubert came out on top. "A bunch of people were in the mix," said Schubert. "It seemed like a lot of them were so fixated on getting out of the current that they missed a few windshifts, so we did a good job of staying in phase and keeping in the pressure."
Maxwell had been putting pressure on Schubert the entire series, and continued to do so to the end. "When we rounded the last mark heading up to the finish we knew we had it locked up," said Schubert. "There was a big gap between us and the third-place boat, so we took a breath and pushed on to the finish. J.R tried to tack on top of us and steal our wind a few times, but we it wasn't anything we couldn't handle."
James Sagerholm (Annapolis, MD) sailed his boat, Aunt Jean, to five race wins in the four-boat J/30 fleet. "It was a lot closer than it looks on paper," said Sagerholm. "We won a few of those races by less than a foot."
A veteran of the J/35 class, Sagerholm has been racing his boat since 1985. His accomplishments include wins at many past Annapolis NOOD regattas and the J/35 North American Championships. "It's great having this event come into town every year. There's a bunch of J/35s in the area, so this is a good chance for us to get out and race."
On the Viper 640 course, Tyler Moore (Hampton, VA) and Reed Baldridge (Newport, RI) went head-to-head as the two were separated by a single point at the start of the day. In the first race, Moore controlled Baldridge off the starting line, but a windshift had his opponent back on top halfway up the leg. After a tacking duel near the top of the first upwind leg, Baldridge rounded the weather mark ahead.
"There were at least four lead changes in the race," said Moore. "We passed them on the last downwind, but we went to the wrong end of the finish line and gave it right back."
Moore's mistake set up a winner-take all showdown for the final race of the event, but Moore was able to control the left side of the course in the final race and win it easily. "We had the entire fleet in our mainsail window, so from there on, all we had to do was not screw it up."
In the J/105 fleet, Peter McChesney (Annapolis, MD) closed out the regatta with a first and a second to take the championship. "We sailed clean, played the shifts, and had an overall conservative last day," said McChesney. "We didn't do anything fancy. Our goal was to get two solid scores to finish it."
The victory marks a reunion for McChesney's crewmates, who sailed with each other for more years than they would like to admit.
"It means a lot to us to be able to come here and perform at the NOOD," he said. "We had a lot of fun both on and off the water, and the conditions offered plenty of challenges. Our strategy was to stay out of trouble and start in the middle of the line. We have good boatspeed so we never had to do anything crazy to be in the mix. Once we started the last race clean, we knew we were going to win."
Racing was held May 3 to 5. The 2019 Helly Hansen NOOD Regatta Series continues in Chicago, June 7-9.
NOOD information – Event details – Results – Facebook
FINAL RESULTS (TOP 3 IN EACH CLASS):
J/22 (One Design – 23 Boats)
1. Bayhead, USA677, Matt/Lori Schubert – 9 -1 -4 -3 -2 -4 -5 -2 ; 30
2. Scooby, USA468, J.R. Maxwell – 1 -8 -2 -1 -9 -2 -10 -1 ; 34
3. Escape, USA1586, Todd Hiller – 2 -3 -7 -2 -5 -6 -8 -8 ; 41
J/24 (One Design – 9 Boats)
1. Bangor Packet, USA2503, tony parker – 1 -1 -10 -1 -1 -1 -1 -1 ; 17
2. Spaceman Spiff, USA2575, Pete Kassal – 2 -5 -1 -4 -5 -4 -3 -3 ; 27
3. SISU, USA3750, James Bonham – 5 -2 -5 -2 -3 -6 -2 -2 ; 27
J/30 (One Design – 13 Boats)
1. TOTALed MAYHEM, USA526, Doug & Amy Stryker – 2 -3 -1 -1 -2 -7 -1 -1 ; 18
2. Bebop, USA53273, Bob Rutsch & Mike Costello – 1 -3 -3 -3 -3 -2 -7 -2 ; 24
3. Shamrock, USA33504, Bruce Irvin – 3 -2 -5 -3 -1 -5 -6 -5 ; 30
Etchells (One Design – 9 Boats)
1. Marge, USA1327, Matt Lalumiere – 2 -1 -1 -5 -1 -9 -1 -2 ; 22
2. Make Mine A Double, USA819, Jeff Borland – 1 -8 -2 -2 -4 -4 -2 -3 ; 26
3. Playmaker, USA1260, Alan Kelly – 6 -7 -7 -3 -8 -2 -3 -1 ; 37
Alberg 30 (One Design – 6 Boats)
1. LinGin, USA244, Tim Williams – 1 -2 -2 -1 -1 -2 -1 ; 10
2. Prudence, 62, William Jensen – 2 -3 -1 -5 -3 -1 -3 ; 18
3. Windswept, 562, Lanny Helms – 3 -1 -4 -4 -2 -4 -5 ; 23
J/35 (One Design – 7 Boats)
1. Aunt Jean, USA53408, James Sagerholm / Jerry Christofel – 1 -1 -1 -1 -1 -2 -1 ; 8
2. Abientot, USA42979, Roger Lant – 3 -2 -2 -2 -2 -1 -3 ; 15
3. T-Bone, USA41870, Bruce Artman – 2 -3 -3 -3 -4 -3 -2 ; 20
J/105 (One Design – 18 Boats)
1. Dog House, USA202, Peter McChesney – 1 -3 -2 -6 -1 -2 -1 ; 16
2. Mirage, USA328, Cedric Lewis/ Fredrik Salvesen – 2 -4 -1 -3 -4 -4 -5 ; 23
3. Jester, USA143, Hugh Bethell – 3 -2 -7 -1 -3 -8 -4 ; 28
J/111 (One Design – 8 Boats)
1. Skeleton Key, USA115, Peter Wagner – 4 -1 -1 -4 -2 -1 -1 ; 14
2. Spaceman Spiff, USA93, Rob Ruhlman – 1 -3 -3 -2 -7 -2 -2 ; 20
3. Slush Fund, USA119, Jim Connelly – 2 -5 -4 -3 -5 -5 -3 ; 27
RS 21 (One Design – 6 Boats)
1. Zim Sailing #2, 5, Ben Chafee – 3 -2 -1 -1 -1 -3 -3 ; 14
2. Zim Sailing #1, 3, Carson Turowski – 1 -4 -2 -5 -3 -1 -1 ; 17
3. Team Sail22, 2, Sean Wilson – 4 -1 -3 -2 -2 -4 -2 ; 18
J/70 (One Design – 30 Boats)
1. Midlife Crisis, USA26, Bruce Golison – 1 -4 -1 -1 -1 -2 -2 -1 ; 13
2. Honeybadger, USA40, Travis Odenbach – 3 -2 -4 -2 -5 -8 -3 -4 ; 31
3. Surge, USA179, Ryan McKillen – 2 -6 -3 -8 -2 -1 -6 -7 ; 35
J/80 (One Design – 23 Boats)
1. , USA1162, John White – 1 -1 -4 -4 -3 -3 -1 -2 ; 19
2. Turbo Sloth, USA1313, Daniel Wittig – 4 -5 -1 -2 -15 -9 -3 -1 ; 40
3. Feisty, CAN78, Trudy Murphy – 9 -16 -2 -1 -1 -1 -4 -8 ; 42
Viper 640 (One Design – 9 Boats)
1. Big Rooster, USA231, Tyler Moore – 1 -1 -1 -1 -5 -2 -2 -3 -1 ; 17
2. Ullman Sails, 2, Austin Powers – 2 -2 -3 -2 -1 -1 -3 -2 -3 ; 19
3. Evil Hiss, USA297, Mary Ewenson – 5 -3 -6 -3 -2 -4 -1 -1 -4 ; 29
NS Rally – Cal 25 (Saturday Only) (One Design – 9 Boats)
1. White Cap, USA1226, Timothy Bloomfield – 1
2. ZEPHYR, USA896, David Hoyt – 2
3. Quintet, USA1297, Mike Miller – 3
NS Rally – Cruiser (Saturday Only) (One Design – 9 Boats)
1. Muskrat, USA93300, nicholas iliff – 1
2. LAZY BEAR, USA49, CATHERINE GUIADER – 2
3. Atlas, 121, Peter Holden – 3
NS Rally – Spinnaker (Saturday Only) (One Design – 10 Boats)
1. Flashpoint, USA60161, Dan Leonard – 1
2. Patriot, USA25, US Patriot Sailing / Peter Gibbons-Neff – 2
3. Blockade Runner, USA34, Bruce Bingman / Taran Teague – 2
————
2019 NOOD Event Schedule
February 15-17 – St. Petersburg, FL
March 15-19 – San Diego, CA
May 3-5 – Annapolis, MD
June 7-9 – Chicago, IL
July 25-28 – Marblehead, MA
Caribbean NOOD Championship
October 27-November 1
British Virgin Islands
Source: Michael Hanson / sailingscuttlebutt
600
true
thumbnails
bottomright
300
true
800
none

600
true
dots
under
150
true
800
https://www.sualtigazetesi.com/wp-content/plugins/thethe-image-slider/style/skins/white-square-2
5000

fade

https://www.sualtigazetesi.com/4denizemeydanoku-film-gosterimi-akmnin-yesilcam-sinemasi-sahnesinde-gerceklesti/

5000

fade

https://www.sualtigazetesi.com/tayk-sunum-kuzey-kutup-dairesinden-guney-kutup-dairesine-gronland-ve-antarktika-prof-dr-talat-kiris/

5000

fade

https://www.sualtigazetesi.com/dadd-sunum-her-yonuyle-teknede-enerji-ve-enerji-sistemleri-zafer-turkmen/

5000

fade

https://www.sualtigazetesi.com/riza-epikmen-schuco-bayk-kis-trofesi-2-ayak-yarislari-oncesi-duygu-ve-dusunceleri/

5000

fade

https://www.sualtigazetesi.com/the-bodrum-cup-turkiyeyi-yelkencilik-dunyasinda-temsil-etti/

5000

fade

https://www.sualtigazetesi.com/banu-oney-ile-denizden-denize-marmarisden-seattlea-yelkenli-tekne-ile/

5000

fade

https://www.sualtigazetesi.com/rsx-kadinlar-sinifinda-2020-tokyo-olimpiyat-oyunlari%e2%80%99ndayiz/