Mary Lee is perhaps America's most famous great white shark — not counting the fictional megastar Jaws — thanks to her Twitter following. Ocearch tagged the 16-foot adult Carcharodon carcharias off Cape Cod in September 2012. The tag on the female shark's dorsal fin has not been detected by satellite since 6:54 a.m. ET June 17, when she was swimming off the coast of Beach Haven, N.J.
The likely reason that Mary Lee has not been heard from in more than six months is a dead battery, said Chris Fischer, founder of Ocearch.
"We might hear from her again, but we might not. Her tag may have run its course," Fischer told the Virginian-Pilot. Fischer believes the shark is alive. "She's the queen of the ocean. She's a 50-year-old-or-so mature white shark that absolutely dominates wherever she goes."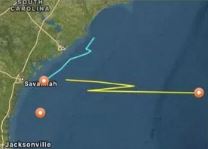 Since 2007, the Ocearch team has tagged roughly 300 sharks, ­including makos, tigers, hammerheads and great white sharks. Fischer credits Mary Lee with bringing positive attention to Ocearch. "She was a full-grown, healthy white shark. A big, full-bodied, breeding female," Fischer said. "Capturing and tagging one that big was huge. Having her as one of our first sharks really saved Ocearch."
Mary Lee's popularity soared after she spent several weeks off the coasts of North Carolina, Virginia and Georgia in 2015 and 2016. Jim Ware, a digital specialist with the Wilmington Star News, is the fun-loving Twitter voice of @MaryLeeShark.
Her Twitter fans miss her, and wonder whether they'll ever hear from the massive great white shark that captured their affection.
Ocearch says if given the opportunity, they will tag Mary Lee again, but admits on its Facebook page that it's not an easy task to find — and then tag — a 16-foot great white. Meanwhile on Twitter, hope is fading for her 128,000 followers.
Source: sport diver
600
true
thumbnails
bottomright
300
true
800
none

600
true
dots
under
150
true
800
https://www.sualtigazetesi.com/wp-content/plugins/thethe-image-slider/style/skins/white-square-2
5000

fade

https://www.sualtigazetesi.com/dadd-sunum-her-yonuyle-teknede-enerji-ve-enerji-sistemleri-zafer-turkmen/

5000

fade

https://www.sualtigazetesi.com/riza-epikmen-schuco-bayk-kis-trofesi-2-ayak-yarislari-oncesi-duygu-ve-dusunceleri/

5000

fade

https://www.sualtigazetesi.com/the-bodrum-cup-turkiyeyi-yelkencilik-dunyasinda-temsil-etti/

5000

fade

https://www.sualtigazetesi.com/banu-oney-ile-denizden-denize-marmarisden-seattlea-yelkenli-tekne-ile/

5000

fade

https://www.sualtigazetesi.com/rsx-kadinlar-sinifinda-2020-tokyo-olimpiyat-oyunlari%e2%80%99ndayiz/