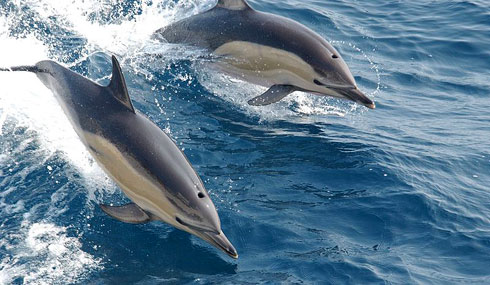 Strandings of whales, dolphins and porpoises around the UK have fallen in the last 6 years, according to a report by the UK Cetacean Strandings Investigation Programme (CSIP) published this week.
There were more than 3,400 strandings on UK beaches between 2005 and 2010, 22% lower than the previous 5-year period. However, some species such as the humpback whale had a small increase in strandings.
The strandings of whales, dolphins and porpoises (cetaceans) are investigated by a collaboration of organisations including the Natural History Museum, which has been monitoring them since 1913. The government-funded CSIP is coordinated by the Zoological Society London (ZSL) and stranding information is shared with scientists worldwide.
Causes of death
CSIP scientists carried out over 750 post-mortem examinations on stranded animals during the 6-year period. They found that infectious disease, starvation, entanglement in fishing gear (bycatch) and bottlenose dolphin attacks on porpoises were among the most common causes of death.
The reasons for cetacean strandings are still being investigated but are thought to be due to things like navigational error, disorientation from noise pollution, sickness, and extreme weather conditions. The largest stranding ever recorded was in 1927 when 150 false killer whales stranded off Sutherland in Scotland.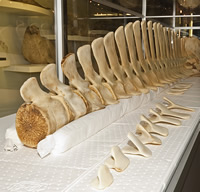 High profile strandings in the CSIP report include the northern bottlenose whale that stranded in the River Thames in 2006 and whose remains are looked after in the specimen collections at the Museum, and the UK's largest ever common dolphin mass stranding in Cornwall in June 2008 where 26 animals died. It also reported 76 marine turtle and 27 basking shark strandings.
The CSIP report highlights important discoveries that the stranding data has contributed to, including detection of high levels of the chemical contaminants polychorinated biphenyls (PCBs) in bottlenose dolphins and killer whales. Despite them being banned 30 years ago, PCBs continue to be a threat to marine top predators.
Public help needed
Sightings and recordings from the general public are crucial. 'Without the help of the UK public over the last six years, we would not have been able to investigate strandings effectively,' explains Rob Deaville, CSIP project manager.
'However, some strandings are still going unreported in the UK, so we are launching a new campaign to encourage more people to report stranded animals to us, helping to build on our understanding of the threats that these charismatic species may face in UK waters.'
The CSIP have also released a new leaflet that gives identification tips on the cetacean, sharks and marine turtles you're most likely to see in the UK.
Cetaceans and the Museum
Cetaceans are mammals and need to inhale air. They have excellent hearing, use their own form of sonar, and are sensitive to the Earth's magnetic field.
Museum scientists have been monitoring their strandings since 1913. In that time over 25,000 animals have been reported.
There are more than 3,000 whale and dolphin specimens in the Museum's research collection, representing 85% of all known whale and dolphin species. The oldest specimens were collected more than 400 years ago and they are studied by scientists from all over the world.
http://www.nhm.ac.uk
600
true
thumbnails
bottomright
300
true
800
none

600
true
dots
under
150
true
800
https://www.sualtigazetesi.com/wp-content/plugins/thethe-image-slider/style/skins/white-square-2
5000

fade

https://www.sualtigazetesi.com/dadd-sunum-her-yonuyle-teknede-enerji-ve-enerji-sistemleri-zafer-turkmen/

5000

fade

https://www.sualtigazetesi.com/riza-epikmen-schuco-bayk-kis-trofesi-2-ayak-yarislari-oncesi-duygu-ve-dusunceleri/

5000

fade

https://www.sualtigazetesi.com/the-bodrum-cup-turkiyeyi-yelkencilik-dunyasinda-temsil-etti/

5000

fade

https://www.sualtigazetesi.com/banu-oney-ile-denizden-denize-marmarisden-seattlea-yelkenli-tekne-ile/

5000

fade

https://www.sualtigazetesi.com/rsx-kadinlar-sinifinda-2020-tokyo-olimpiyat-oyunlari%e2%80%99ndayiz/