Scientists have recently discovered four new species of sharks that use their fins as feet to walk across coral reefs, rocks and seagrass beds.
Four new species of tropical sharks that use their fins to walk are causing a stir in waters off northern Australia and New Guinea.
While spending years sampling the DNA of the first known walking sharks, which trek across the ocean floor with their strong pelvic fins, marine scientists discovered four additional unique species of walking shark. The findings were recently published in Marine and Freshwater Research.
Walking sharks deviated from their nearest ancestors around nine-million years ago, but they didn't stop evolving for millennia. Scientists say, the youngest of the four newly discovered species could have evolved as recently as two-million years ago, which, by evolutionary standards, is recent. In fact, it could be the most recently evolved shark in the ocean.
This contradicts the widely held notion that sharks are slow to evolve, says Mark Erdmann, the paper's co-author and Conservation International's vice president of Asia-Pacific marine programs.
"The discovery proves that modern sharks have remarkable evolutionary staying power and the ability to adapt to environmental changes," says Erdmann.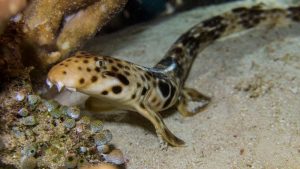 Walking sharks can be found throughout parts of Australia, eastern Indonesia and New Guinea. It's believed that migrations due to sea level and temperature changes, as well as moving tectonic plates, determined the sharks' current geographic ranges, which could potentially enjoy higher levels of protection thanks to the new findings.
To safeguard the animals and their habitats, Erdmann says their group hopes at least some walking sharks will be added to the IUCN Red List of threatened species due to how little is known about them.
"A global recognition of the need to protect walking sharks will help ensure they thrive providing benefits for marine ecosystems and to local communities through the sharks' value as tourism assets," he says. "It's essential that local communities, governments and the international public continue working to establish marine protected areas to help ensure our ocean's biodiversity continues to flourish."
Source: sport diver
600
true
thumbnails
bottomright
300
true
800
none

600
true
dots
under
150
true
800
https://www.sualtigazetesi.com/wp-content/plugins/thethe-image-slider/style/skins/white-square-2
5000

fade

https://www.sualtigazetesi.com/deniz-kuvvetleri-kupasi-oncesi-murat-tan-atilla-gokova-yaris-ekibi-roportajlari/

5000

fade

https://www.sualtigazetesi.com/tayk-sunum-kuzey-kutup-dairesinden-guney-kutup-dairesine-gronland-ve-antarktika-prof-dr-talat-kiris/

5000

fade

https://www.sualtigazetesi.com/dadd-sunum-her-yonuyle-teknede-enerji-ve-enerji-sistemleri-zafer-turkmen/

5000

fade

https://www.sualtigazetesi.com/riza-epikmen-schuco-bayk-kis-trofesi-2-ayak-yarislari-oncesi-duygu-ve-dusunceleri/

5000

fade

https://www.sualtigazetesi.com/the-bodrum-cup-turkiyeyi-yelkencilik-dunyasinda-temsil-etti/

5000

fade

https://www.sualtigazetesi.com/banu-oney-ile-denizden-denize-marmarisden-seattlea-yelkenli-tekne-ile/

5000

fade

https://www.sualtigazetesi.com/rsx-kadinlar-sinifinda-2020-tokyo-olimpiyat-oyunlari%e2%80%99ndayiz/