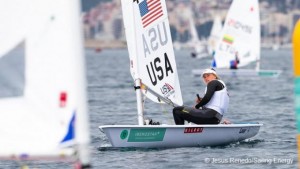 Majorca, Spain (April 1, 2019) – It was a long opening day of the 50th anniversary edition of the Trofeo Princesa Sofia IBEROSTAR as the winds to play ball for all ten Olympic classes on the Bay of Palma.
For the Nacra 17, Lasers, and Laser Radials which were sent out to race earlier in the day, they had to contend with an unsettled, very light offshore wind before the afternoon sea breeze which took time to fill.
The classes which started later had the best of the day, the 470s, 49erFXs, and Finn, required less time on the water waiting. However, that was it as conditions did not allow racing for the 49er and RS:X Mens and Womens fleets.
Winner of the Laser Radial class here last year, Denmark's Anne Marie Rindom went on to take bronze in Aarhus at last year's world championship. She made the best possible start to her Sofia title defense with two solid wins in the light airs today. Top North American Erika Reineke (USA) trails by seven points in third.
The USA's Paige Railey has been in the Radial for 15 years on and off and has won five world championship medals. After a good second place in Miami in January she, too, wants to follow that up here with a complementary finish to stake her claim to the American berth at the test event.
"This is part of our test event trials and so I would like to just secure that spot and get to that event," said Railey. "I am looking at that but really I take it one race at a time. We have done a lot of work here and right now I am just wishing those normal conditions would come in so we could see it. I am frustrated today but in general I feel like things are going really, really well."
The return to Europe is always highly anticipated by Australia's hugely experienced Mat Belcher, double Olympic 470 medallist, and Will Ryan. The 2018 class champions here made a solid start to their European season with a fifth and a first to lie second in the Mens 470 behind Spain's Miami World Cup winners Jordi Xammer and Nicolas Rodriguez.
"It is good way to start out first day back on the race courses in Europe," said Belcher. "The competition was really good and it was a great decision to have us wait for the wind. We had 8-11kts and great racing, so much so it already makes you want to come back next year.
"We got here about a week ago and so we are keeping it fresh. I have a young family now and I have to try and have a balanced life. But it is great to be back in the with the main guys. We are highly motivated and to start off like we did today is good."
With the 2020 Tokyo Olympic regatta just 15 months away, Belcher confirms that the top of the 470 fleet is racing at an exceptional level.
"We have so much experience and have been training pretty hard in Australia," reports Belcher. "But we love it here and the conditions match our style and so we always feel very comfortable here.
"Every time we come back to the fleet we are amazed at how much the everything moves on. The level gets higher and higher. The racing, the dynamics of how people are racing and sailing the boat, the finesse, the detail, how active they are. There are too many good teams. There are a bunch of younger guys coming through and really sticking it to us.
"The list of what we have to improve on is too big. We have been sailing these boats for nearly two decades and the more you are this level, the more you realise what you have to do. You have to keep working harder and for us it is all about next year."
Olympic 470 champion Hannah Mills and Eilidh McIntyre also made a solid opening for the British team posting a 3,4, to lead the Womens class. Their GBR compatriots in the FX fleet Charlotte Dobson and Saskia Tidey have a share of the top place along with Australia's Natasha Bryant and Annie Wilmot.
Looking toward the 2020 Olympic regatta, this event figures highly in selections for the Olympic test event. After medalling in Miami, Dobson and Tidey will have this front of mind through the event, just as the closely matched British 49er pairs will be among the many, many teams looking to make a firm statement on the Bay of Palma.
"There's a huge fleet of FXs here and it's going to be a big week," notes Tidey. "We're really happy with the solid day that we had. We couldn't have asked for any more. It sets us off on the right foot and it's a good position to build on."
The Nacra fleets ran three races across the transition between the breezes. Germany's Paul Kolhoff and Alicia Stuhlemmer count two wins from three races to lead.
Australia's Olympic silver medallists Jason Waterhouse and Lisa Darmanin, Miami winners, are sixth. Waterhouse comments, "We made a few silly mistakes today. We are a little rusty in terms of racing. But we have some good things up our sleeves. The way we approach the racing is good, today was tricky in the offshore in the morning then adapting to the sea breeze and we are happy with 2,5,3 on Day 1.
"We are heading towards the pointy end of the Olympic cycle now and so everyone is knuckled down, working on their weaknesses. We are just doing the same and keeping an eye on everyone to see if we can learn a thing or two along the way. Today the fleet was really close, it was awesome, it was congested with good action at the front end."
In the Finn class Olympic champion, Britain's Giles Scott bounced back from a disappointing first race to win the second comfortably.
Racing for the ten Olympic events is from April 1 to 6.
North American Results (Canada, Mexico, and USA):
Top ten or top position
• 470 Men (2 races): 20th Stuart McNay/ David Hughes (USA).
• 470 Women (2 races): 14th Nikole Barnes/ Lara Dallman-Weiss (USA).
• 49er Men (0 races):
• 49erFX Women (3 races): 6th Paris Henken/ Anna Tobias (USA), 7th Stephanie Roble/ Margaret Shea (USA).
• Finn (2 races): 38th Caleb Paine (USA).
• Laser Men (2 races): 6th Charlie Buckingham (USA), 10th Chris Barnard (USA).
• Laser Radial Women (2 races): 3rd Erika Reineke (USA), 10th Paige Railey (USA).
• Nacra 17 Mixed (3 races): 5th Riley Gibbs/ Anna Weis (USA).
• RS:X Men: (0 races):
• RS:X Women: (0 races):
North American Entries (Canada, Mexico, and USA):
• 470 Men: Stuart McNay/ David Hughes (USA).
• 470 Women: Kathleen Tocke/ Charlie Bess, Nikole Barnes/ Lara Dallman-Weiss, Carmen Cowles/ Emma Cowles, Atlantic Brugman/ Nora Brugman (USA).
• 49er Men: William Jones/ Evan Depaul (CAN); Nevin Snow/ Dane Wilson, Harry Melges/ Finn Rowe, Judge Ryan/ Hans Henken, Andrew Mollerus/ Ian MacDiarmid, Ian Barrows/ Joseph Kiss (USA).
• 49erFX Women: Alexandra Ten Hove/ Mariah Millen (CAN); Stephanie Roble/ Margaret Shea, Kate Shaner/ Charlotte Mack, Paris Henken/ Anna Tobias (USA).
• Finn: Tom Ramshaw, Kyle Martin (CAN); Eric Anderson, Caleb Paine, Jack Jennings, Luke Muller (USA).
• Laser Men: Forrest Wachholz, Robert Davis, Justin Norton, Norman Struthers, Luke Ruitenberg, Hugh Macrae (CAN); Juan Ignacio Perez Soltero, Yanic Gentry (MEX); Marek Zaleski, Malcolm Lamphere, Charlie Buckingham, Chris Barnard, Paul Didham (USA).
• Laser Radial Women: Clara Gravely, Coralie Vittecoq, Maura Dewey, Sarah Douglas (CAN); Christina Sakellaris, Erika Reineke, Paige Railey, Hanne Weaver, Lillian Myers (USA).
• Nacra 17 Mixed: Allie Surrette/ Max Flinn (CAN); Riley Gibbs/ Anna Weis, Bora Gulari/ Louisa Chafee, Ravi Parent/ Caroline Atwood, Sarah Newberry/ David Liebenberg (USA).
• RS:X Men: Ignacio Berenguer (MEX); Pedro Pascual (USA).
• RS:X Women: Mariana Aguilar, Cristina Ortiz Vivas (MEX); Farah Hall, Carolina Mendelblatt (USA).
Source: Trofeo SAR Princesa Sofía / sailingscuttlebutt
600
true
thumbnails
bottomright
300
true
800
none

600
true
dots
under
150
true
800
https://www.sualtigazetesi.com/wp-content/plugins/thethe-image-slider/style/skins/white-square-2