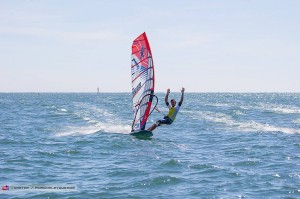 Day 6: The Wind Machine Takes a Break After 5 Nuclear Days
The wind looked as though it was going to kick in again during the early afternoon on Day 6 of the Viana PWA World Cup, but while gusts of over 20 knots were recorded the inconsistent nature of the wind meant that it wasn't suitable for competition – meaning for the first time this week no official contest was completed.
However, today was another stunning day in Portugal with wall-to-wall sunshine, which saw the mercury rise above 30 degrees Celsius, and with a few small waves left over this morning several sailors took to the water for a surf, SUP or foil.
During the afternoon many sailors ventured out on to the water, but while the wind was fine for free sailing it wasn't appropriate for racing, so after waiting on standby for most of the afternoon the sailors were finally released for the day at 5:30pm.
The forecast for the last couple of days of the event currently doesn't look as promising as earlier in the week with just 8-10 knots forecast for 4pm on both Tuesday and Wednesday. However, there is still a chance the thermal could kick in on either day and as long as it is stable enough there is certainly still scope for further racing. The skippers' meeting has been called for 11am tomorrow morning with a first possible start of 11:30am (GMT+1).
You can stay up to date with all the latest developments from Portugal — including elimination ladders, entry list, images and live ticker simply click HERE and scroll to the bottom of the page.
Current Ranking 2018 Viana PWA World Cup – Women's Slalom
*After Seven Eliminations
1st Delphine Cousin Questel (FRA – Starboard / S2Maui)
2nd Sarah-Quita Offringa (ARU – Starboard / NeilPryde / Maui Ultra Fins)
3rd Lena Erdil (TUR – Starboard / Point-7 / AL360 / Chopper Fins)
4th Marion Mortefon (FRA – Fanatic / NorthSails)
5th Maëlle Guilbaud (FRA – Patrik / Loftsails)
Current Ranking 2018 Viana PWA World Cup – Men's Slalom
*After Seven Eliminations
1st Matteo Iachino (ITA – Starboard / Severne / Shamal Sunglasses)
2nd Antoine Albeau (FRA – RRD / NeilPryde)
3rd Pierre Mortefon (FRA – Fanatic / NorthSails / Chopper Fins)
4th Julien Quentel (SXM – Patrik / Avanti)
5th Ben van der Steen (NED – I-99 / Gun Sails)
6th Cedric Bordes (FRA – Tabou / GA Sails)
7th Pascal Toselli (FRA – JP / Loftsails / Chopper Fins)
8th Antoine Questel (FRA – Starboard / S2Maui)
9th Jordy Vonk (NED – Fanatic / NorthSails)
10th Ross Williams (GBR – Tabou / GA Sails / Shamal Sunglasses)
Result Double Elimination I – 2018 Viana PWA World Cup – Women's Freestyle
1st Sarah-Quita Offringa (ARU – Starboard / NeilPryde / Maui Ultra Fins)
2nd Maaike Huvermann (NED – Starboard / Severne / Maui Ultra Fins)
3rd Oda Johanne (NOR – Starboard / Severne / Maui Ultra Fins)
4th Arrianne Aukes (NED – Fanatic / NorthSails / Maui Ultra Fins)
5th Lena Erdil (TUR – Starboard / Point-7 / AL360 / Chopper Fins)
Result Double Elimination II – 2018 Viana PWA World Cup – Women's Freestyle
1st Sarah-Quita Offringa (ARU – Starboard / NeilPryde / Maui Ultra Fins)
2nd Oda Johanne (NOR – Starboard / Severne / Maui Ultra Fins)
3rd Maaike Huvermann (NED – Starboard / Severne / Maui Ultra Fins)
4th Arrianne Aukes (NED – Fanatic / NorthSails / Maui Ultra Fins)
5th Johanna Rümenapp (GER – I-99 / GunSails / Maui Ultra Fins)
Source: PWA
600
true
thumbnails
bottomright
300
true
800
none

600
true
dots
under
150
true
800
https://www.sualtigazetesi.com/wp-content/plugins/thethe-image-slider/style/skins/white-square-2
5000

fade

https://www.sualtigazetesi.com/dadd-sunum-her-yonuyle-teknede-enerji-ve-enerji-sistemleri-zafer-turkmen/

5000

fade

https://www.sualtigazetesi.com/riza-epikmen-schuco-bayk-kis-trofesi-2-ayak-yarislari-oncesi-duygu-ve-dusunceleri/

5000

fade

https://www.sualtigazetesi.com/the-bodrum-cup-turkiyeyi-yelkencilik-dunyasinda-temsil-etti/

5000

fade

https://www.sualtigazetesi.com/banu-oney-ile-denizden-denize-marmarisden-seattlea-yelkenli-tekne-ile/

5000

fade

https://www.sualtigazetesi.com/rsx-kadinlar-sinifinda-2020-tokyo-olimpiyat-oyunlari%e2%80%99ndayiz/