The British skipper Alex Thomson is still leading the way this morning as they prepare to enter the Indian Ocean on Friday morning after nineteen days of racing. They had an incredible route down through the Atlantic, but the situation is changing with areas of high pressure forming from Brazil to South Africa and with the 26 sailors still in the race seeing their speeds yo-yo up and down depending on the local weather situation.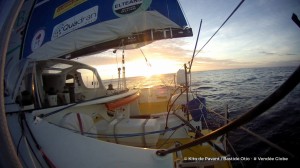 In the long procession down the Atlantic, which has seen many splits develop over the past fortnight or so, there have been upsets in the rankings. The leading group was blown apart when the rear guard lost the 25-30 knot winds as the front passed over and they were left with a gentle breeze and unstable conditions, meaning skippers like Jérémie Beyou (Maître CoQ) and Paul Meilhat (SMA) in particular have had to carry out lots of manoeuvres. They have been gybing to try to get away from this sticky patch separating them from the second front. Unfortunately this second low pressure area from Argentina is set to slide down to below 50°S and so they will have to wait for the next system coming out of South America to finally get moving at speed towards the tip of South Africa on Friday…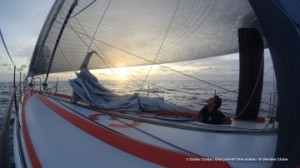 A wall of ice
With Cape Agulhas, the official point marking the entrance into the Indian Ocean only 500 miles ahead of Alex Thomson (Hugo Boss), we can see that the fleet has stretched out from the Equator, (Didac Costa on One Planet-One Ocean is due to cross into the Southern Hemisphere tonight) and the Forties, but the latter are not going to be roaring for much longer. The gentle breeze will give way to light airs. This time, it is the frontrunners, who will be the first to be affected and they will slow considerably. The front which has propelled them at high speed over the past three days is breaking up and will be replaced on Thursday evening by a light westerly air stream, still with slightly more pressure down at 42°S.
That is where the British skipper is heading with Armel Le Cléac'h (Banque Populaire VIII) and Sébastien Josse (Edmond de Rothschild) a hundred miles or so north with winds forcing them to continue eastwards. The gap from north to south is set to increase with the advantage going to Thomson, who will be sailing along the Ice Wall at 42°30S: more wind and a better bearing should see him extend his lead.
The following little group will be busy seeking out the wind. It may well be Jérémie Beyou, who decided to dive south, who comes off best… As for Yann Éliès (Quéguiner-Leucémie Espoir), he will be able to continue his route in the first front, which is gradually disappearing, meaning his speed will also drop off as the cloud masses melt away in the St. Helena high… We can imagine him closing the gap on his former Figaro rivals, but catching or overtaking them would be a different ball game.
Patience as time drags on
More than 1600 miles further back, another trio is already experiencing the building westerly with a low coming out of Brazil: Jean-Pierre Dick (StMichel-Virbac), Jean Le Cam (Finistère Mer Vent) and Thomas Ruyant (Le Souffle du Nord pour le projet Imagine) have finally got to the other side of the area of high pressure, which is also collapsing. However, tonight looks complicated if they want to stay in the air stream backing to the NW between the high, a front and a low.
Kito de Pavant's situation is even trickier. The skipper of Bastide Otio was more or less halted for two days in a calm and now he has to get away from this tropical area to get down to 25°S before tonight to hop onto the third low moving out of Buenos Aires.
Keep calm
The pack is also in trouble. There are nine skippers within just over a hundred miles of each other with Fabrice Amedeo (Newrest-Matmut) in front and the American Rich Wilson (Great America IV) at the rear a little further north. Their situation is not the easiest, as while they are now taking advantage of some light trade winds from the NE, they are on the edge of a ridge of high pressure which looks like remaining there for a day or so. After that, there are only moderate winds around the St. Helena high. The low coming out of Argentina is too far south for them…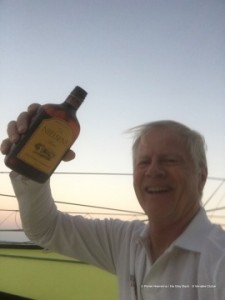 Maybe that is the reason why Dutchman, Pieter Heerema (No Way Back) is diving south only a hundred miles behind Arnaud Boissières (La Mie Câline). He is following the track taken by Kito de Pavant and hopes to make it to Cape Frio to take advantage of the Argentinean Low expected on Thursday evening… Finally, after downloading the software required for him to be able to communicate, Swiss sailor Alan Roura (La Fabrique) is back racing and getting away from the coast of Brazil. He now has Irishman, Enda O'Coineen (Kilcullen Voyager-Team Ireland) in his rear-view mirror.
As for Sébastien Destremau (TechnoFirst-faceOcean), the easterly trade winds around the St. Helena high are propelling him gently towards the south, but the skipper cannot hang around for too long, as the South Atlantic weather is going through an upheaval. The Argentinean Low which will get to South Africa this weekend is changing the pressure charts off Brazil. Another area of high pressure will be developing behind the low. There are no ifs and buts about it. He is going to have to go around the high via the west and Didac Costa will probably have to do the same…
Dominic Bourgeois/M&M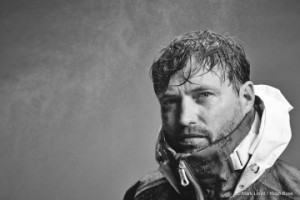 Quotes
Alex Thomson (Hugo Boss): "The wind is very slowly going down. It'll be nice to have a bit of respite I guess. It's slowly going left, going aft. At some point I'm going to have to stick a gybe in. I think it's going to get very light for a while so it'll be interesting to see how it all pans out. Not everyone's dropped off this front – Banque Populaire and Gitana are still with me. It allows the gap to grow, which is good. It'll be interesting to see when the guys get into the same wind as me how much of a disadvantage I'm at without my foil. I think at the moment I'm in good wind and big seas, and the disadvantage of not having a foil is relatively small. The thing for me now is that I can use my other foil so I'm praying the rest of the race is on starboard."
A quick word on Vincent Riou – I really feel for the guy, he's one of the best out here on one of the best boats. He was well prepared and it's horrible what happened to him. It's very sad, I feel very sorry for what's happened to him. Very clearly things could have been worse for me. Last time he hit a mooring rope in the middle of the ocean…"
Pieter Heerema (No Way Back): "The wind is bouncing up and down from eight knots to 14 and back, and the direction is east-north-east. Actually this light wind is a very welcome thing for me because I have three tasks that require a bit of a quiet period. I need to work on the rudder, which is quite dicey because I need to hang over the transom to do it, and I must not lose parts, then I have a foil that is stuck and I know I should not lose the foil, and I have a watermaker that doesn't work so I have to fiddle around with buckets of water in the boat."
"It's sad for him [Vincent] – all the preparation and four years looking ahead. He so much wants to complete another Vendee and possibly even win it, though I think that was not on the cards. It's really sad that he's had to abandon more or less the same way as four years ago. It's scary how much there is floating around in the ocean. If you're on a slow boat doing eight or nine knots you maybe hear a thump and that's it, but on boats like we have, the speeds and forces are so enormous and the boats are so fragile that you can immediately have major issues. It's quite scary."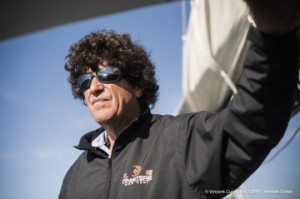 Jean Le Cam, Finistère Mer Vent: "I think I'll call up Vincent sometime. In our line of work that happens all the time. There is nothing you can do about it. In the first week, the boat was knocked down and I thought a rudder had snapped; I told myself it was over. We all know it is down to chance. There comes a time when you come across an object. Life goes on and you have to bounce back. Vincent is one of the guys I appreciate. It's the end of an adventure. It's happened to Vincent, and will happen to others. You can have all the alarms you want, but if there's something there in the water, there's nothing you can do about it. We spend 80% of our time inside the boat."
Source: vendee globe
600
true
thumbnails
bottomright
300
true
800
none

600
true
dots
under
150
true
800
https://www.sualtigazetesi.com/wp-content/plugins/thethe-image-slider/style/skins/white-square-2
5000

fade

https://www.sualtigazetesi.com/deniz-kuvvetleri-kupasi-oncesi-murat-tan-atilla-gokova-yaris-ekibi-roportajlari/

5000

fade

https://www.sualtigazetesi.com/tayk-sunum-kuzey-kutup-dairesinden-guney-kutup-dairesine-gronland-ve-antarktika-prof-dr-talat-kiris/

5000

fade

https://www.sualtigazetesi.com/dadd-sunum-her-yonuyle-teknede-enerji-ve-enerji-sistemleri-zafer-turkmen/

5000

fade

https://www.sualtigazetesi.com/riza-epikmen-schuco-bayk-kis-trofesi-2-ayak-yarislari-oncesi-duygu-ve-dusunceleri/

5000

fade

https://www.sualtigazetesi.com/the-bodrum-cup-turkiyeyi-yelkencilik-dunyasinda-temsil-etti/

5000

fade

https://www.sualtigazetesi.com/banu-oney-ile-denizden-denize-marmarisden-seattlea-yelkenli-tekne-ile/

5000

fade

https://www.sualtigazetesi.com/rsx-kadinlar-sinifinda-2020-tokyo-olimpiyat-oyunlari%e2%80%99ndayiz/