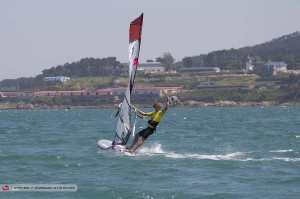 Day 5: Jordy Vonk Claims First World Tour Bullet While Lena Erdil Wins First Elimination Since Returning From Injury
The first Slalom eliminations of the 2019 Ulsan PWA World Cup were finally completed on the penultimate day in South Korea on a day with possibly huge title race implications for the men's fleet should things remain as they are, while in the women's fleet Lena Erdil ((Starboard / Point-7 / AL360 / Chopper Fins) showed she's ready to challenge for the top spot on the podium again after winning the opening slalom elimination.
Slalom
Women's
Lena Erdil showed everyone she's ready to challenge to top honours again after returning from a lisfranc fracture. The Turk led from start to the finish in the opening women's elimination to claim her opening bullet of the season and her first since that injury. Erdil looked blisteringly quick throughout and was required to call upon that speed in the second elimination after being taken out by Maëlle Guilbaud (Patrik / Loftsails) in the semifinals, which left Erdil outside of the qualification places. However, the 30-year-old overtook several rivals to move back into 4th place by the final buoy and is safely into the winners' final. Erdil has an excellent record here over the last few year's – winning the event in 2016, while finishing second in the last two years and it looks as though she could add to that victory heading into the final day as the event leader.
However, reigning world champion and current world tour leader, Delphine Cousin Questel (Starboard / S2Maui), will have other ideas as she looks to extend her winning run which dates back to November 2017. The 3-time world champion finished second in the opening elimination and it wouldn't take much to see the tides reversed tomorrow.
Marion Mortefon (Fanatic / Duotone) maintained her strong start to the racing year by securing third place in the opening slalom race ahead of Guilbaud and Lilou Granier (Starboard / Phantom Sails), who finished 4th and 5th respectively. However, Guilbaud will drop down the rankings slightly after missing out on the winners' final of elimination 2.
Having missed out on the opening winners' final Nimet Tulumen (Tabou / GA Sails) successfully navigated her way into Heat 4 of the second elimination, while Mio Anayama (Starboard / S2Maui) and Noriko Nishikata (Starboard) also booked their place in the top 8.
Men's
Jordy Vonk (Fanatic / Duotone) will be sitting on cloud nine after today's racing after the flying Dutchman claimed his first ever bullet on the PWA World Tour and he was understandably delighted, punching the air in celebration as he crossed the finish line. Vonk has been in many winners' finals over the last couple of years and today everything clicked Into place as he led from start to finish. Vonk leads the event heading into final day and is safely into the semifinals of Elimination 2. If things were to remain as they are then Vonk would also take control of the title race with many of the other top seeds struggling here.
Taty Frans (Future Fly / Point-7) qualified for just his second winners' final since that infamous crash in Fuerteventura in 2017 by winning his semifinal heat. The Bonairean endured a tough 2018 with no top 16 results and looked firmly on course to eradicate that record after finishing second in the opening race, while also gaining a confidence boost. However, Frans was then involved in a crash with Malte Reuscher (Tabou / GA Sails) in the quarterfinals of the second elimination, which resulted in the 35-year-old being disqualified from the round for dangerous sailing. Frans accepted the outcome, but did add that he was blinded by the glaring sunlight as he approaches the mark and simply couldn't see Reuscher. Frans' result now rests on what the wind does tomorrow as the second round does not count yet. A further two heats need to be completed in order to validate the result, so Frans could yet hang on to a podium finish or plummet down the rankings.
Matteo Iachino (Starboard / Severne / Shamal Sunglasses) suffered an early exit in Marignane in the opening event of the year, but the Italian bounced back today with a solid third place.
Like Iachino, Ross Williams (Tabou / GA Sails / Shamal Sunglasses), Alexandre Cousin (Patrik / Phantom Sails / Chopper Fins), Cedric Bordes (Tabou / GA Sails), Tristan Algret (Starboard / Severne / Chopper Fins), Ben van der Steen (Goya Windsurfing / Gun Sails) and Antoine Questel (FRA – I-99 / S2Maui) were all looking to bounce back from disappointing results in France and they all did that in the opening elimination here in South Korea. Williams secured 4th place, while Cousin claimed 5th ahead of Bordes finished 6th, Algret 7th, van der Steen 8th and Questel 10th. However, Cousin, van der Steen and Questel will all be praying for no wind tomorrow after being eliminated in the quarterfinals of the second elimination.
Ethan Westera (Tabou / GA Sails) continued his solid start to the season thus far by winning the b-final – Heat 13 – to secure 9th place in the opening elimination, while also navigating his way into the top 16 of elimination 2. If things were to remain as they are then Westera would rise to 3rd in the overall world tour rankings after a very consistent start and many of the top seeds faltering.
While some sailors will be praying for a no wind scenario on the final day, there will also be several sailors praying for wind so that they can improve their result here. Pascal Toselli (JP / Loftsails / Chopper Fins), Julien Quentel (Patrik / Gun Sails), Andrea Ferin (I-99 / Challenger Sails / AL360), Antoine Albeau (JP / NeilPryde), Arnon Dagan (Future Fly / NeilPryde), Mateus Isaac (JP / NeilPryde) and Bruno Martini (I-99 / Challenger Sails) will all be looking to improve their results here after early exits in the opening elimination, while already being in the top 16 of the second round.
Pierre Mortefon (Fanatic / Duotone / Chopper Fins) had been in tremendous form coming into South Korea having won the last two slalom events and his first foil event. However, the Frenchman has been well off the pace here with two quarterfinal exits and realistically he will be looking to discard this event by the end of the season. As things stand Mortefon would go from world tour leader to 9th.
Elsewhere, Amado Vrieswijk (JP / Severne) produced another superb comeback in Heat 9 as he pipped Alexandre Cousin to the final qualifying place in Heat 9. Cousin looked to be in control as they headed down the last and looked to squeeze Vrieswijk out of it, but in doing so Vrieswijk quite literally sat on Cousin's board, which slowed the Frenchman down and allowed Vrieswijk to accelerate into the top 16 of elimination 2.
The forecast for the final day predicts lighter gradient winds than the last couple of days with 9-12 knot southwesterly winds currently expected for the afternoon. With clear skies and the wind remaining in its prevailing southwesterly direction there is definitely a chance of more thermal activity during the afternoon, but there are no guarantees that it will be windy enough to finish the second Slalom eliminations, however, there should definitely be enough for the Women's Foil Fleet. The sailors will meet for the final time this week at 9am for the skippers' meeting with a first possible start at 10am (GMT+9).
You can stay up to date with all the latest developments from South Korea — including the live stream, elimination ladders, entry list, images and live ticker simply click HERE and scroll to the bottom of the page.
Current Ranking 2019 Ulsan PWA World Cup – Women's Foil
*After 4 Eliminations
1st Delphine Cousin Questel (FRA – Starboard / S2Maui / Starboard Foil)
2nd Marion Mortefon (FRA – Fanatic / Duotone / LOKEFOIL)
3rd Marina Alabau (ESP – Starboard / Severne / Starboard Foil)
4th Blanca Alabau (ESP – Starboard / Severne / Starboard Foil)
5th Helle Oppedal (NOR – Fanatic / Duotone)
Current Ranking 2019 Ulsan PWA World Cup – Women's Slalom
*After 1 Elimination
1st Lena Erdil (TUR – Starboard / Point-7 / AL360 / Chopper Fins)
2nd Delphine Cousin Questel ( FRA – Starboard / S2Maui)
3rd Marion Mortefon (FRA – Fanatic / Duotone)
4th Maëlle Guilbaud (FRA – Patrik / Loftsails)
5th Lilou Granier (Starboard / Phantom Sails)
Current Ranking 2019 Ulsan PWA World Cup – Men's Slalom
*After 1 Elimination
1st Jordy Vonk (NED – Fanatic / Duotone)
2nd Taty Frans (NB – Future Fly / Point-7)
3rd Matteo Iachino (ITA – Starboard / Severne / Shamal Sunglasses)
4th Ross Williams (GBR – Tabou / GA Sails / Shamal Sunglasses)
5th Alexandre Cousin (FRA – Patrik / Phantom Sails / Chopper Fins)
6th Cedric Bordes (FRA – Tabou / GA Sails)
7th Tristan Algret (GPE – Starboard / Severne / Chopper Fins)
8th Ben van der Steen (Goya Windsurfing / Gun Sails)
9th Ethan Westera (ARU – Tabou / GA Sails)
10th Antoine Questel (FRA – I-99 / S2Maui)
Source: sailingscuttlebutt
600
true
thumbnails
bottomright
300
true
800
none

600
true
dots
under
150
true
800
https://www.sualtigazetesi.com/wp-content/plugins/thethe-image-slider/style/skins/white-square-2